LAS VEGAS — For three years, San Diego State has had to deal with it.
Not just the disappointment of losing to Utah State in back-to-back Mountain West title games. The Aztecs have had to deal with the Aggies taking the conference's automatic berth in the NCAA Tournament — a berth they didn't always need, but it sure is nice to have — and watched as Sam Merrill played hero ball on CBS to lead the representative of the "Mountain" side of the conference of the "West" side.
They watched Craig Smith cut down the nets at the Thomas & Mack Center in each of his first two seasons in Logan. And they watched as the spotlight was placed squarely on their league rivals in Logan just days before the start of the NCAA Tournament.
Merrill wasn't walking through the doors of the Thomas & Mack Center this time. There was no dramatic game-winner, no One Shining Merrill that echoed up I-15 from Las Vegas to Logan.
There was only Matt Mitchell and the Aztecs, their quest to finally lift the tournament hardware fulfilled.
Mitchell had 14 points and four rebounds, and San Diego State held the Aggies to 37% shooting to win their third game in three days and upend the two-time defending Mountain West Tournament champions, 68-57 in Las Vegas.
Nathan Mensah added 10 points, eight rebounds and two blocks and Trey Pulliam 10 points and three assists for the Aztecs (23-4), who were ranked No. 19 by the Associated Press, No. 22 in the NET, and considered by some to be the second-best team in west coast college basketball (behind only top-ranked and undefeated Gonzaga).
.@terrellgomez3 with the steal, @lamont_butler1 with the 𝘚𝘓𝘈𝘔@Aztec_MBB up 10 on @CBSSports#MWMadness | #GoAztecspic.twitter.com/ZuFUGcVvPJ

— Mountain West (@MountainWest) March 14, 2021
A week after Mitchell split the league's Player of the Year award with Utah State's Neemias Queta — Mitchell won the coaches' pick and Queta the vote by the media — the San Diego State senior clinched the tiebreaker.
"Maybe I did. But regardless, Queta is an amazing player," said Mitchell, who was named Tournament MVP. "Everyone saw what he did against Colorado State, almost put up a triple double. All praise to Queta, because he's a phenomenal player, a phenomenal defender, and I know he will move on to the next level at some point."
The Aggies committed 16 turnovers and allowed 14 points of those turnovers.
"With two teams as good as they are defensively like this, a play here and a play there can change the game. They made a few more of those than we did," Utah State coach Craig Smith said. "A couple of catastrophic turnovers hurt. Those are big-time game changers and momentum changers.
"We overextended some guys with some of the minutes and really went with the guys who have been there and done that. … But I'm proud of them. We have such a great group of young men, very connected. It's tough to be in that locker room right now."
After back-to-back losses in the tournament final — not to mention two losses in Logan this year — the Aztecs were back on top. Since San Diego State gave up a 57-45 loss and 64-59 defeat in Logan, the Aztecs have rallied for 13 wins in a row. Before returning to play the next week at Air Force, Mitchell called a players-only meeting at the team hotel, when his knee was still unknowingly injured and he wasn't sure of his status moving forward.
But Mitchell wanted to send one clear message: it's not happening again. That included the tournament championship game — even if he didn't specifically mention it.
"I don't think we had much conversation about getting back. But I know the guys who were there last year definitely had it in mind," Mitchell said. "Winding down toward the end of the season, that was our goal — to make it to the championship. We kind of hoped that Utah State would be here, so we could get our redemption.
"The energy spoke for itself. The concentration was there."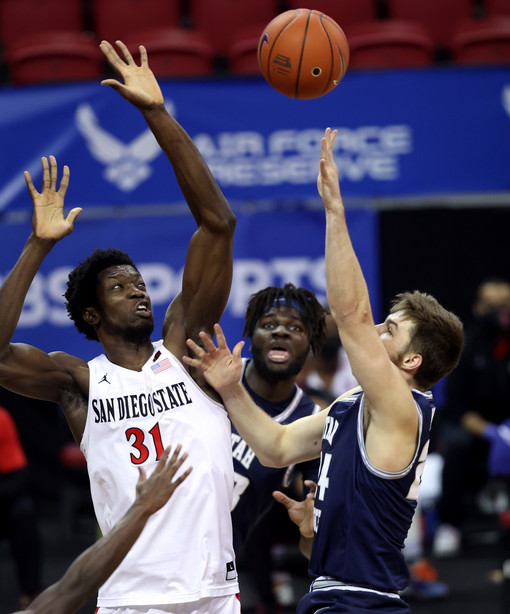 San Diego State Aztecs forward Nathan Mensah (31) blocks a shot by Utah State Aggies guard Rollie Worster (24) as Utah State and San Diego State play in the championship game of the Mountain West Tournament at the Thomas & Mack Center in Las Vegas on Saturday, March 13, 2021. (Photo: Scott G Winterton, Deseret News)
The Aggies, meanwhile, are back on the bubble, sweating through an anxious night. Selection Sunday and a plane ride back to Cache Valley await while they ponder their postseason fate.
Queta had 18 points, six rebounds and three blocked shots to lead Utah State, which looked tired early and never found the same rhythm of its semifinal win over Colorado State.
Justin Bean added 12 points and six rebounds for the Aggies (20-8). Marco Anthony had 7 points, eight rebounds and four assists, and Alphonso Anderson supplied 8 points off the bench for Utah State.
But the Aggies shot just 37% from the field — worse until the final 10 minutes of the game — and finished just 3 of 13 from 3-point range.
San Diego State held the Aggies scoreless for more than four minutes midway through the first half to take a 5-point lead early. Miller's 3-pointer with 6:36 remaining stopped the bleeding and tied the game at 18-18 briefly, but the Aztecs held Utah State to two field goals in the final five minutes — including a rim-rattling dunk from Queta — to take a 28-24 halftime lead.
Queta was a force in himself with 12 points, three rebounds and three blocked shots at the break. But San Diego State held the Aggies to 38% shooting with eight turnovers before the break in a near wire-to-wire effort that saw Utah State lead for just 45 seconds.
the queta effect🔥#AggiesAllTheWaypic.twitter.com/V8HbuP3S8B

— USU Men's Hoops (@USUBasketball) March 13, 2021
The Aztecs opened the second half on a 6-0 run, taking a 34-24 lead on Mensah's dunk just two minutes after halftime.
Prone to long scoring droughts and playing just 14 hours after finishing the Friday night's semifinal win over Colorado State — a game that didn't tip until nearly 10 p.m. local time — Utah State could scarcely cut into the double-digit deficit.
Queta didn't use fatigue as an excuse — both teams were playing under the same factors, if he did — but both teams looked tired as they shortened 3-point attempts and missed bunnies at the rim.
"The last few years, we didn't use it as an excuse, so I wouldn't use it as an excuse for now," Quetta said. "It's always a factor, but the past few years we were able to get it, and this year we just couldn't.
"They just played better than us. It's a credit to them."
In the previous two Mountain West title iterations, the Aggies had Merrill to push them to the end. In Saturday's finale, the No. 60 NBA draft pick wasn't walking through the doors of the Thomas & Mack Center, which didn't house any fans due to COVID-19 protocols.
They also didn't have the defense they found in the first two games of the tournament. Colorado State shot 25% from the field, including 18% in the second half of Friday's semifinal, while UNLV was 32% from the field in the quarterfinals.
San Diego State, meanwhile, shot 56% down the stretch and the Aggies didn't go three consecutive trips with a stop — commonly labeled a "kill" — to pull away for good.
"We didn't get a kill in the second half, and then they shot 56%," Smith said. "They made it tough on us, as well. It just wasn't our night."
×
Photos
Related Stories
More stories you may be interested in