Lone Peak's Luke Durfey, Easton Comer and Savea Fitisemanu celebrate a touchdown against Corner Canyon at Corner Canyon High School in Draper on Thursday, Oct. 7, 2021. (Laura Seitz, Deseret News)
Estimated read time: 5-6 minutes
DRAPER — Make it 48 and one.
Easton Comer threw for 274 yards and a touchdown, Jaxson Willits ran for 138 more and two scores, and No. 3 Lone Peak handed Corner Canyon its first loss in nearly four years 41-16, snapping the top-ranked Chargers' state record-tying 48-game winning streak in emphatic fashion Thursday night.
The 6-foot-3 senior quarterback didn't know what to say after the game as he pried himself away from the rush of students and fans on the Chargers' field Thursday night. Speechless. Breathless.
But his smile said it all.
"At this point, it's just pure happiness," Comer said. "We know we haven't reached our end goal. But we talked about one step of the way yesterday, and we knew that if we played our game, we would be fine. I think we showed it tonight."
Lone Peak jumped out to a 7-3 lead on its first offensive series of the game and never looked back, holding the Chargers (8-1, 3-1 Region 4) to 21 yards rushing in the first half en route to a 13-10 edge at the break.
The gulf widened the rest of the way. It wasn't as wide as the Chargers' previous 40.8 point average margin of victory through the first eight games of the season. But it might have been as wide as some of the holes opened up by the Knights' offensive line.
Lone Peak owned the trenches like they owned the postgame dance pit Thursday night — a game plan Comer and his underdog side would have to do to contend against a team with multiple Division I-bound seniors celebrating their final home regular-season game of a storied career. And they did just that.
In addition to Willits, Luke Durfey added 56 yards and two touchdowns on the ground, scoring on the Knights' opening possession and adding a 6-yard touchdown to start the fourth quarter that helped put the game away for good. Tyler Bilbro added 29 yards on seven carries, and Comer scrambled for 28 yards when the play broke down.
"Our line is incredible; we have the best line in the state," Comer boasted. "It's not even a question — and we have kids who can come in when someone gets hurt and just keep going.
"The line makes us look so good."
The hogs up front ate, led by BYU commit Trevor Pay and Virginia-bound lineman Joe Brown . And when they had finished eating, they ate some more. When the offensive line wasn't on the field, the defensive line took their place.
Again, they had to, Lone Peak coach Bart Brockbank relented.
"We felt like we could own the line of scrimmage if we executed, and I think we did," said Brockbank, moments after pulling "a lot of things" after crowd-surfing on top of many of those linemen. "Defensively, we got pressure on (USC quarterback commit Devin Brown), which was one of our goals. He's a really good player, but we at least made him move and have to throw on the run.
"I think on both sides of the lines, I think we played really well."
After holding Corner Canyon to a 25-yard field goal from Cody Christensen on their opening drive, Lone Peak used a 15-play, 6:17 drive to take a 7-3 lead on Durfey's first touchdown.
That became the norm of the night, with the Knights using long, protected series to pull away from Corner Canyon's quick-striking, spread offense.
Brown finished with 301 yards and two touchdowns for the Chargers, and Hagen — who committed to BYU last week — had 121 receiving yards and a score.
Comer found Luke Hyde with a 16-yard strike on the Knight's opening drive of the second half, and Lone Peak never looked back. The Knights (5-3, 3-1 Region 4) scored on seven of their eight offensive possessions and held Corner Canyon out of the end zone on all but one second-half series.
By the time Willits trotted into the end zone with his second touchdown with 44 seconds left in regulation, the outcome was a formality. Lone Peak students mercilessly jeered "end the streak" from the visiting grandstand, and a stunned home crowd celebrating senior night for a remarkable senior class that includes BYU commits Hagen and Micah Wilson, in addition to Brown, was left in shock.
Corner Canyon, which tied Duchesne for the state record at 48 straight with last week's win at Westlake, lost for the first time since Nov. 9, 2017. The Knights, meanwhile, were coming off a 14-9 loss to Skyridge, which propelled the Falcons to the No. 2 spot in the latest KSL.com High School Top 20+1.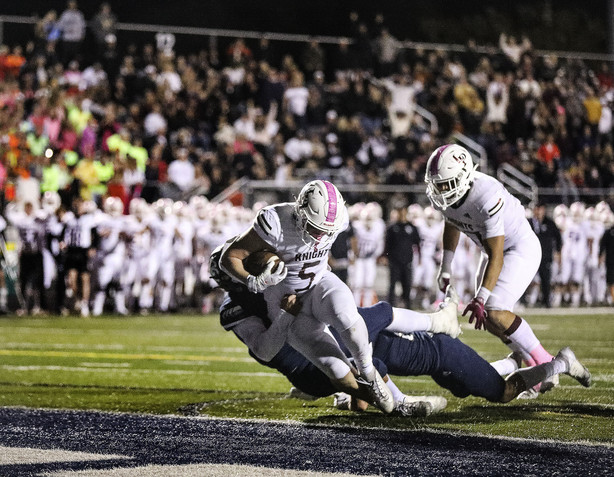 It wasn't for the fault of the defense, though, which held Skyridge to 7 points for most of the game, Comer said. He knew the offense had to step up if they wanted to bounce back.
"We had to be able to bounce back from last week," Comer said. "I think we could've won that game. But this shows confidence being able to bounce back.
"It's always good to ruin someone else's senior night."
Lone Peak outscored the Chargers 28-6 in the second half, including two touchdowns by Willits and a pair by Hyde and Durfey.
Blaze DeGracie hauled in a 7-yard touchdown from Brown with six minutes left in the game, pulling the Chargers within 34-16. But Corner Canyon failed to convert on the 2-point try, and Lone Peak recovered the ensuing onside kick to drain most of the rest of the clock.
And as his students celebrated on the field several yards downfield from him, Brockbank took a second to think of the magnitude of the win.
The Knights, after all, are a program accustomed to winning — and competing for — state championships. They've been arguably the Chargers' most chief rival during their nearly unprecedented run that includes three consecutive state championships.
So was Thursday night the biggest win since he's been head coach in Alpine?
Not even close.
"We didn't talk much about the streak. Others made a big deal of it, but we didn't," he said. "For us, it's a region win in a tough region, and we've got one left. At the end of the day, we'll probably see them again.
"We're going to let them enjoy it tonight, but we've got a short turnaround to play again on Wednesday. I know the kids will celebrate over the weekend, but the coaches are going to watch film on Westlake starting tomorrow. This isn't a championship, and that's not our goal."
×
Photos
Related Links
Related Stories
More stories you may be interested in