TAYLORSVILLE — Farmington's third-year boys basketball program has plenty of leaders, and they were mostly on display in the Phoenix's Class 5A state semifinal Friday night against Timpview.
There was Collin Chandler, the 6-foot-4 wing voted captain as a junior who scored 29 in Wednesday's quarterfinals, who certainly commands plenty of respect from opposing defenses. Ditto for Caleb Mordue, the senior who had a couple of crowd-firing, emotional dunks during the night.
But when the Phoenix needed a bucket, or a run, or just momentum at the worst time, it came from an unlikely source.
Chandler scored 12 of his team-high 16 points in the second half, Mordue added 14 points and four rebounds, and Everett Page keyed a 16-2 run from the middle of the third quarter to help Farmington unseat top-seeded Timpview, 60-51, at Salt Lake Community College.
"I don't know if it was schematic; guys just stepped up and made big shots when they needed to," Farmington coach Kasey Walkenhurst said. "Here's a kid who has never been talked about, never in the newspaper. But I sure hope he is tonight. He deserves it."
Like the girls' program before it, the Phoenix (19-7) advanced to Saturady's 5A championship, where they will tip off against Lehi at 5 p.m. MT.
In the words of Walkenhurst, the crowd at SLCC's Bruin Arena should have a strong tint of teal Saturday afternoon and evening.
As much as Chandler deserves credit — like he has all year, averaging 22.3 points and 4.7 rebounds per game — the junior captain deferred plenty of credit to the senior role player who was in the right positions during a pivotal third quarter.
"Everett stepped up, hit some tough shots, and his threes really brought us back into the game," said Chandler, who also complimented the throng of Farmington supporters — some who bought multi-game tickets for the boys and girls programs. "It's nice; the last two games, we've had some pretty big crowds, but nothing like that."
BYU signee Jake Wahlin had 15 points, three rebounds and three assists for the Thunderbirds, but was limited in the final minutes before fouling out with 18.6 seconds on the clock and a 7-point deficit. James Rust had a team-high 16 points and 10 rebounds for Timpview (22-4), which outrebounded the Phoenix 35-28 with a 14-6 margin on the offensive glass.
But games aren't played out on paper, even when the two are as even as the Phoenix and Thunderbirds, who played to a dead-even 24-24 halftime draw.
After the break, Timpview had all the momentum, holding the Phoenix without a field goal for nearly half the third quarter and taking a 33-27 lead on Coleman Ford's finish at the rim.
The momentum didn't just change; it flipped upside down.
"We called timeout, then ran a slip play to get our freshman (Paul Beattie) a layup, and we executed that perfectly," Walkenhurst said. "Then Everett, one of our role guys, comes in and knocks down three 3s."
Farmington trailed only 38-36 ahead of the final quarter, cutting the deficit back to two just in time for the fourth quarter.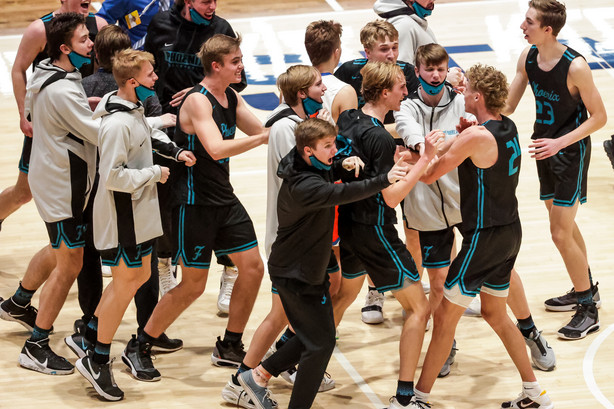 Farmington celebrates after beating Timpview in a 5A boys basketball semifinal game at Salt Lake Community College in Taylorsville on Friday, March 5, 2021. (Photo: Spenser Heaps, Deseret News)
The Phoenix open the fourth on a similar note, too. Chandler and Mordue hit back-to-back buckets to start an 8-2 run, and the Thunderbirds were held to just one field goal until Timpview cut the deficit to 51-45 with 1:17 remaining.
Timpview shot just 4-of-19 from the field in the fourth quarter, and the Phoenix were an efficient 5-of-7 while scoring 9 points on 11 turnovers.
The Thunderbirds cut the deficit as low as 56-51 on Ford's and-one play with 39 seconds left. But back-to-back empty possessions — mixed with a Farmington team that finished 15-of-22 from the free-throw line — helped the Phoenix hold on for the first title game appearance in the school's basketball history.
Well, second — Van Price's Farmington girls team won earlier in the afternoon.
"It's pretty awesome, having two teams in the title game in the same year," Walkenhurst said. "Regardless of what happens tomorrow night, I think our community and our school are extremely proud of what we've been able to do."
Lehi 69, Olympus 58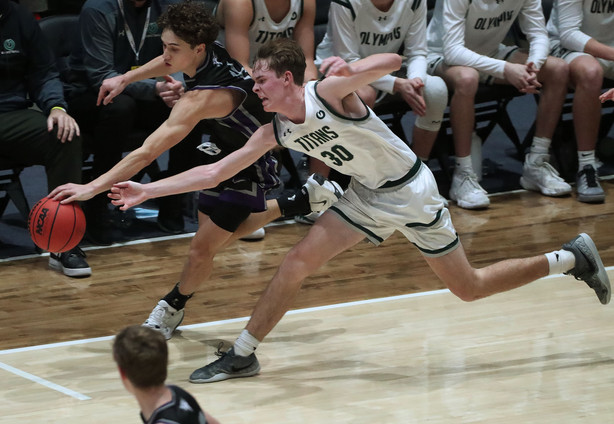 Lehi's Noa Gonsalves and Olympus' Dutch Dowdell compete for the ball during the 5A boys basketball semifinal game at Salt Lake Community College in Taylorsville on Friday, March 5, 2021. Lehi won 69-58. (Photo: Jeffrey D. Allred, Deseret News)
The second semifinal between Lehi and Olympus lived up to the highly-billed prizefight bout of two of the hottest offenses in the state.
Plenty of metaphorical punches were thrown — but the Pioneers had one more uppercat to advance to Saturday's championship.
Noa Gonsalves had 22 points, eight rebounds and five assists, and Peter Amakasu added 16 points and five rebounds to help third-seeded Lehi outlast the Titans, 69-58, Friday night.
Blake Hill added 11 points and there assists for the Pioneers (16-8), who shot 58% from the field and drained nine 3-pointers.
"It was just not letting it go when things got really tough," Lehi coach Quincy Lewis said. "It did get tough tonight; they gave us some haymakers — and we hung in there."
Tyson Hawkins supplied 10 points, three rebounds and two assists for Lehi, which advanced to face Farmington in Saturday's title game at 5 p.m. MT.
Jack Wistrcill, Ben Krystkowiak and Dutch Dowdell each scored 13 points, and Alex Johnson aded 11 points and two steals for the Titans (22-3).
Make no mistake; the Titans were good. They didn't go away. But Lehi stayed one step ahead of them — making a fast start all the more pivotal.
Lehi jumped out to a 15-7 lead en route to a 19-11 first-quarter advantage.
"I think it just gave us momentum," Amakasu said, "and we were able to keep that up the whole game."
The Titans came back, anchored by the closing speed of a pair of triples from Wistrcill and Dowdell in the final 90 seconds of the half to pull within four, 36-32. Olympus shot 60% from the field in the second quarter, and outrebounded the Pioneers 14-11 in the first half.
Lehi never pulled away for good. But the Pioneers never gave up the lead or let the game get away from them, either.
"We just got together, and talked through each (run)," Amakasu said. "We just pushed through it."
Lehi out-gunned the Titans 20-18 in the third quarter and held on for a 13-8 finish down the stretch. Every time Olympus tried to get back into the game, the Pioneers responded.
It wasn't just Gonsalves, either.
Sure, the Dixie State-bound senior found his game. But so, too, did Amakasu, including a clutch three to cap an 8-0 spurt midway through the third quarter that gave the Pioneers the lead for good.
"We've come a long way," Lewis said. "First game of the year, we were up three on Westlake in the fourth quarter, and we couldn't hold it.
"We've come a long way over these three months, and we've got one more step."
×
Photos
Related Stories
More stories you may be interested in