Whether buying, selling or trading, it's always important to keep an eye out for potential fraud. These tips can help.
It's no secret that KSL Classifieds is one of the best ways for people all over the region to buy, sell and trade goods online. Its ease of use and community interaction keep people coming back again and again. But it's also no secret that "online" can sometimes be a scary place, even when precautions are in place. KSL Classifieds makes it easy for users to report fraud in an instant. But fraud can be hard to recognize — online grifters don't always wring their hands, twirl their mustaches and cackle with glee when they're about to get away with something. Sometimes, but not always.
Scammers' strength lies in their ability to seem like everyday people, to avoid triggering the warnings in your head that something might not be right. To help you stay fraud-free online, we prepared this cautionary list to keep your inner fraud detectors sharp, so you can buy and sell safely and have the best possible experience on KSL Classifieds.
The first things that might tip you off to potential fraud as a buyer are the item's description and your correspondence with the seller. If the description or messages are full of grammatical mistakes, sound generic or are just plain weird, that's a good indication to read on with some skepticism. Another good rule of thumb is to be wary of offers that seem too good to be true — they usually are. It could be the real deal, but you should always dig a little deeper to find out. If it's been posted too recently, it could be a scammer coming back to reel in another potential victim. It's also easy to look at some of the other items they've listed to see if there are other suspicious offers on the table.
If the message checks out (or you're still suspicious) take a look at the photos. Some warning signs here could be the use of a stock photo that's clearly from a manufacturer's website or a single photo that doesn't display the object in much detail. The more detail their photos have the better! It's also okay to ask for more pictures. If the seller seems hesitant to oblige, the item may be in poor condition or may not exist at all. Another tip if you're suspicious? Check online to see if the product has been recalled — someone could be trying to unload a faulty product on you.
If the listing checks out and you've gotten to the point where you're communicating directly with the seller, you should still be on alert for fraud. This is probably the spot where you can trust your own instincts the most, but some extra tips are always a good idea. If someone says they'd like to ship the item and get money from you first, that's a red flag and a good sign that the item doesn't exist. Their reasons for not being able to meet in person might involve dramatic and overly detailed stories to tug at your heartstrings or put your mind at ease. A potential seller could be a charity worker who broke both of their legs on their way to care for their sick grandmother, but it's unlikely. If, on the other hand, they're okay with meeting you in person, this is a good sign that they're legit.
A relatively new scam, which targets sellers, involves the scammer using your phone number to set up a Google Voice account and then using your number in an attempt to scam others. They'll act as a concerned buyer, asking you to prove your identity by sending them a six-digit code. What they're really doing is setting up an account associated with your number and using your unique code to get them through the process. There's no reason to ever give out a code to anyone when you add a listing.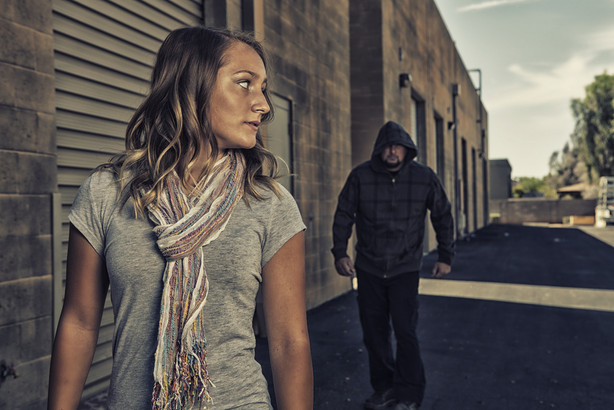 Photo: Shutterstock
The most important rule to follow when buying and selling online is to meet in a public place if possible. If the deal seems to be straightforward but the warning lights in your head are still spinning a little, it could also be a good idea to bring a friend or family member along. They don't necessarily have to act as your personal bodyguard, but another set of eyes might help spot a scam that you may miss in your desire to snag a great deal. Another thing to consider when meeting up for a particularly high-value item is to meet near a police station or have an appraiser look at it before you agree to the deal. If possible, you should also test out the item to see if the quality is as advertised. And remember, just because you've met up doesn't mean you need to go through with the exchange. If the quality isn't what you expected, you can always politely decline.
An important rule to never break when it comes time to pay, whether buying or selling, is to never give out any personal financial information. If someone is asking for the type of information usually reserved for banking professionals, they probably don't have your best interests at heart.
Just like you shouldn't have an item shipped that might not come, you also shouldn't pay in advance before a meetup that might not happen, especially if the seller asks you to wire money or use a similar money-transfer method that allows them to hide their identity. The best way to pay is in person, either with cash or with a secure money transfer service that can confirm that the transaction has gone through in real-time.
Much like those posts with an overly detailed sob story, any time a seller needs money prior to a meeting in order to resolve an urgent situation it is likely a sign of a scam. They're going to need to bail their cousin out of Canadian jail without your help. Likewise, any time the money needs to be handled by some third party unrelated to the transaction, this is likely a scam too.
While sellers inherently have fewer opportunities to stumble upon scams by virtue of not browsing the site, they're targeted just as often as buyers. In fact, some of the most common online scams target sellers. These usually occur at the payment stage.
What will most often happen is that for payment you will receive a cashier's check or money order exceeding the purchase price. You'll inform them of the mistake and they'll ask for the money back. You send the money, usually via wire transfer or Western Union, and suddenly your bank tells you that the check was a fake, and you not only returned your own money to them, but also may have already shipped the item. A similar scam is one in which the buyer asks you to ship the item before they pay you. No matter what reason they give, this situation should always be avoided. As a seller, you should try and stay away from strange payments and always try to meet in person.
One final thing to remember is that KSL Classifieds is never involved in a transaction. Anyone claiming that KSL Classifieds will handle money, has an associated online payment company or has a warranty/protection plan is a scammer.
KSL Classifieds is committed to stopping fraud wherever it occurs. Unfortunately, with more than 300,000 listings there's a lot of room for shady people to hide. Remember to always report potential fraud when you see it, and to keep these tips in mind when you buy, sell and trade on KSL Classifieds.
×
More stories you may be interested in