TAYLORSVILLE — Throughout its state tournament run and for all 32 minutes of Westlake's Class 6A state semifinal game against Region 4 rival American Fork, the Thunder bench wore shirts with the words "Our Time" emblazoned across the chest.
For over 10 years, Westlake has languished at the bottom of its region in most sports. The Thunder's first state title came just a few weeks ago, in the inaugural season of Class 6A girls wrestling, and while the marching band has been a regular bright spot, that activity isn't sponsored by the Utah High School Activities Association.
So Thursday night's game represented a chance to make history for Westlake basketball: the first team to advance to a state final, to do one better than the semifinalists four years ago that were led by current Utah Valley swingman Asa McCord.
Noah McCord remembers that year, when he was in eighth grade and playing with a lot of his friends that would stand out on this year's squad. He remembered wanting to be his brother's team.
He remembered, moreso, wanting to beat his brother's team.
Mission accomplished.
McCord had 5 points and a team-high 10 rebounds with three assists and four blocks, and Westlake advanced to its first state championship game in school history with a 68-60 win over American Fork at Salt Lake Community College.
Kaleb Furey led Westlake (21-3) with 17 points, Noah Madsen added 14 points and five assists, and Kaden Hopkins supplied 14 points and five rebounds with three assists for the Thunder.
But few meant as much to the team as McCord, a team captain and motivational leader for his squad. And on Thursday night, he finally got to experience what his brother did as a middle schooler.
Only one better; take that, big bro, he joked.
"We all felt that we wanted to be them some day, and we wanted to be better than them someday," the younger McCord said. "We've been playing together for so long, there's so much love in that locker room and on the court.
"There's no other team in the state that has it. That's why we're here while some teams are sitting at home."
The biggest influence on the court, though, was one player who could suit up: senior Hunter Phillips, the 6-foot-9 center who played just 12 games this season before an injury cut his career short.
"He's one of our most important players; we all love him to death," Furey said. "We've been around him and with him for years.
"We're doing all this for him. This is all for Hunt; he means so much to all of us."
Jaxon Kohler poured in a game-high 26 points, 18 rebounds and seven blocks for American Fork (17-7), which was seeking its first state title game in three seasons after winning the 6A championship in 2019.
Evan Young added 10 points, five rebounds and four assists for the Cavemen, who split the season series with their region rivals, including a 75-59 win Feb. 19 at Westlake.
That last victory didn't just ruin Westlake's senior night; it also snapped the Thunder's 16-game winning streak.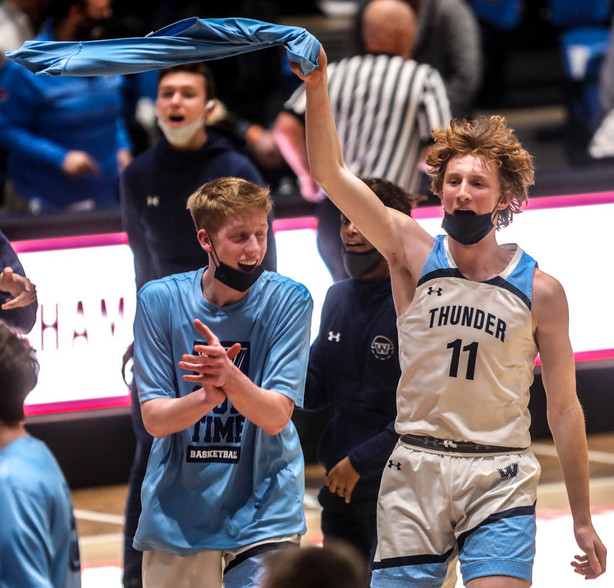 American Fork and Westlake compete in the 6A boys basketball state semifinals at Salt Lake Community College in Salt Lake City on Thursday, March 4, 2021 (Photo: Annie Barker, Deseret News)
So, yeah, they took it personally.
"They had the mental edge," said Westlake coach Nate Carling, who gave the final pregame moment to his captain, McCord. "He was very passionate. He said, 'these guys ruined our 16-game winning streak. They ruined our senior night. Now it's our turn to get them when it counts.'
"We were fired up at that point. They really took it to us; they held the mental edge. We were not ourselves that night, but we locked in today and played a tremendous game."
Founded in 2009, Westlake will play for its first-ever boys basketball state title — the first in a boys' team sport in school history — Saturday, when the Thunder will likely be favored against Davis.
Nothing against those schools; the top-seeded Thunder are simply that good.
Westlake clung to a 26-30 halftime lead, and were tied at 36-all with three minutes left in the third quarter in the Region 4 rubber match. That's when Slade started a 13-4 run through the end of the quarter to give the Thunder a 48-40 lead into the final frame.
The spurt included a bit of everything: from a triple by Madsen to a smooth backdoor cut by Noah McCord in the final minute of the quarter.
There were plenty of back-door cuts, a staple in Carling's offense. There was also plenty of momentum on the Thunder's side.
"We just embraced the moment, and did what our coach always says," Fuery said. "We're just taking advantage of that, and having a lot of fun."
Kohler's 3-pointer from the top of the key pulled the Cavemen within seven, 53-46 with 3:58 remaining, and Yaw Renner's putback followed off a steal from the in-bounds pass.
But the Thunder made just enough plays to hold, including 5 of the next 8 free throws and a key drive by Furey, to hold on for the win.
"It's huge. We've all worked really hard to get here," Furey said. "We're all going to enjoy it right now."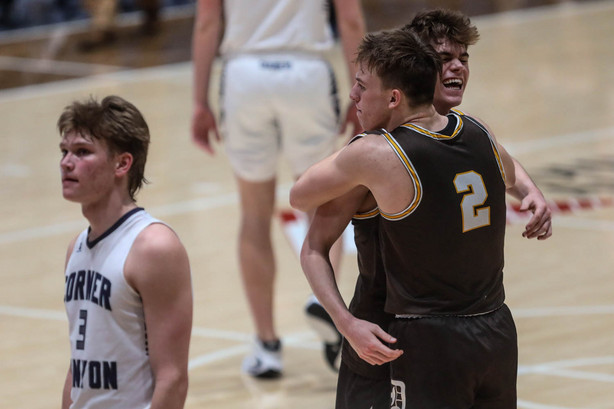 Corner Canyon and Davis compete in the 6A boys basketball state semifinals at Salt Lake Community College in Salt Lake City on Thursday, March 4, 2021. (Photo: Annie Barker, Deseret News)
Davis 63, Corner Canyon 54 (OT)
Davis High has heard everything you're saying about Region 4, about the powerhouse that put four teams into last fall's Class 6A state football semifinals and threatened to do the same thing during the boys' basketball season.
The Darts heard it all — and they have a message.
Don't sleep.
Rex Sunderland poured in a game-high 25 points with five rebounds and three steals, and Chance Trujillo added 20 points, including five 3-pointers, to help the seventh-seeded Darts hold off the third-seeded Corner Canyon, 63-54 in overtime Thursday night at Salt Lake Community College.
For the second time in as many seasons and one season after falling to region rival Fremont in the state championship, the Darts (21-4) are taking a Region 1 presence to the state championship game.
"You hear about Region 4, and nothing about Region 1 anymore. We take that personal; we just want some respect on our name," said Trujillo, whose team stunned Pleasant Grove in Tuesday's quarterfinals. "We try to earn it every night.
"We're not surprised. We've been (making deep playoff runs) for the past three years, and it's props to our coach for getting us here. He's a freaking dog."
Max Toombs had a game-high 21 points and five rebounds for the Chargers (18-8), and Peyton Call added 16 points, five rebounds and two assists.
Corner Canyon leading scorer Carter Well was held to just 7 points and 12 rebounds, and was limited to only four shot attempts all night as he battled foul trouble.
Toombs had 11 points on 5 of 8 shooting to lead the Chargers to an 18-14 halftime edge, one they had to rally from a first-quarter deficit.
The Darts shot just 26% from the field in the first half, led by Rex Sunderland's 8 points, and Corner Canyon outrebounded the Region 1 foe 19-12 to turn a one-point deficit into a four-point advantage in eight minutes.
Davis needed someone to take over in the second half — and Trujillo, a three-sport athlete who also plays quarterback for the Darts' football team, did just that.
"I just credit our guys for grinding it out until we found a little bit of a rhythm," Davis coach Chad Sims said. "And then Chance got us going, and Rex finished it up. By then, we had held ourselves in the game defensively, and gave ourselves a chance.
"I'd like to say we've been there before — but we've been there before, and it's kind of ugly."
The senior Trujillo was unconscious after the break, scoring all 20 of his points in the second half, including three consecutive 3-pointers to pace an 11-5 run to end the third quarter with a 30-28 edge.
"In the beginning, I was still getting used to the 3-point line (in the NBA G League arena)," Trujillo said. "I just had to get used to the distance, and then trusting my shots, having the confidence to shoot my shots that I've been doing this whole season."
The Darts led by as much as 38-32 with just over four minutes remaining. But Corner Canyon rallied back through hustle plays — and a little foul help down the stretch.
With 24.9 seconds left, Call drove to the rim for an and-one play that pulled the Chargers within two. The senior guard missed the freebie, but Welling was fouled on the rebound attempt, and made 1 of 2 from the line to force overtime at 49-49.
But Davis didn't panic, and Corner Canyon ran out of time in the extra session, when they were out-scored 14-5 that included a 7-2 stretch from the free-throw line.
"I didn't want to say too much, because I thought the more I said, the more they'd worry about the moment," Sims said. "I kind of just wanted to keep the momentum going.
"They made a run with a minute left, but I didn't think it was because of us. They had a couple of calls go their way, and Corner Canyon is a great team. So I didn't want to get in their mind; we had the momentum, so let's just go play."
×
Photos
Related Stories
More stories you may be interested in