If you're heading to one of southeastern Utah's world-famous national parks, well, you're one in a million—or one in 1.5 million, to be exact. That's how many visitors make the trek to Arches National Park alone. Another three-quarter of a million pass through Canyonlands National Park each year, making Utah's southeastern region one popular stop for outdoor enthusiasts, adventure aficionados and the occasional movie director.
Whether you're a frequent visitor or an enthusiastic first-timer, there are a few fun facts you might not have known about Arches and Canyonlands.
It's not just a geology lesson
Sure, a visit to Arches National Park might teach you a bit about geological formations, but you'll no doubt learn a little history while you're at it. That's because the Arches region has been inhabited for more than 10,000 years—and it shows.
Rock art panels throughout the park depict ancient history – if you can interpret the drawings. What is known, according to National Park Services (NPS), is that hunter-gatherers migrated to the area at the end of an Ice Age, while Ancestral Puebloans made their way there more than 2,000 years ago.
What's here today may be gone tomorrow
As delicate as they are beautiful, you'll want to take in the scenic majesty of each of the more than 2,000 natural arches in Arches National Park. That's because, as Wall Arch reminded park-goers in 2008, these rock formations don't last forever. The natural arch—which had been standing longer than civilization –collapsed overnight. According to NPS, campers at the nearby Devils Canyon Campground claimed to hear thunder—but noted clear skies overhead.
It's the scene of regeneration
If you believe in reincarnation, you'll feel right at home in Arches National Park – a region which, arguably, has reformed itself several times over. According to National Geographic, inland seas covered the park's basin more than 300 million years ago, evaporating and reforming 29 times. The evidence is found in the salt beds that are now thousands of feet thick.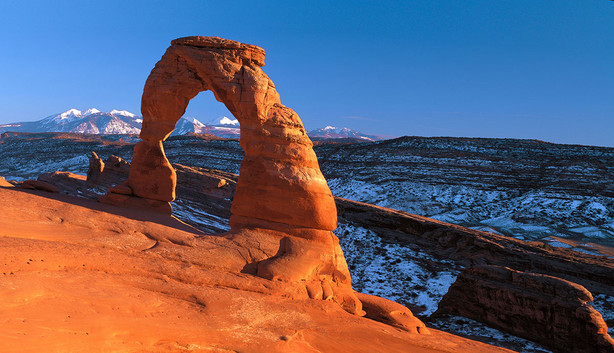 Photo: SUNParks
The state license plate in real life
If you're hiking around Arches National Park and stumble upon a scene that looks curiously familiar, you're not experiencing an episode of de ja vu; you're just witnessing the live version of your Utah state license plate or postage stamp. Delicate Arch is the most famous arch in the park – and in the world, for that matter. Of course, you're unlikely to stumble upon it; the crowd of people hoping to catch a glimpse of the famous formation will tip you off immediately.
It has mysterious geology
Upheaval Dome near Island in the Sky a scientific wonder. That is, scientists are still trying to figure out how it exists. According to NASA, the dome exists either from a salt dome or a meteor smashing into Earth about 60 million years ago. The 3-mile area's rock layers are "dramatically deformed," a different story than the rest of the very systematically-formed park, according to NPS.
While the dome itself is a protected geologic laboratory, you can do many hikes near and around Upheaval Dome. Be sure to check it out and learn more about how this anomaly came to be.
A scenic spot in Canyonlands might look familiar
It's not the most popular hike on TripAdvisor in the park for nothing. Mesa Arch in Canyonlands National Park is so scenic you may have seen it before – right on your laptop screen. The iconic view of the arch at sunrise also happens to be a favorite wallpaper in the Microsoft Windows 7 operating system.
You don't have to be a seasoned hiker to see the spectacular view yourself—or snag your own Instagram shot. An easy half-mile trail takes you to Mesa Arch—and the vast landscape unfolding beyond it.
If you want to take it a (literal) step further, consider going into the Needles District for more than 60 miles of hiking trails. Seasoned hikers will enjoy the more strenuous trails, and you won't be surrounded by as many people.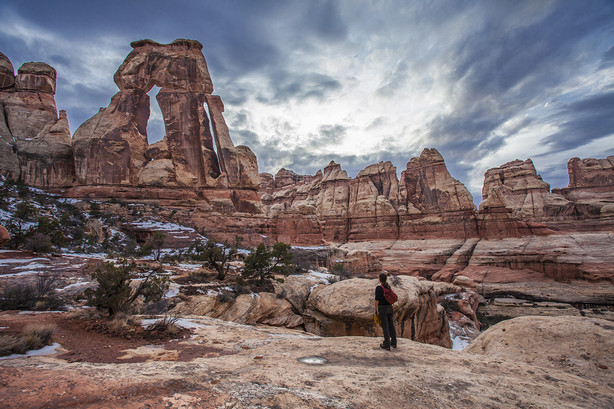 Photo: SUNParks
It's a little bit Hollywood
While slot canyons, spectacular rock formations and colorful mesas might not be reminiscent of the Sunset Strip, the area in and around Canyonlands and Arches National Park is certainly worthy of the silver screen. In fact, Moab Museum of Film and Western Heritage, located in the Red Cliffs Lodge, features memorabilia from many of the movies made in the area, from classic westerns to modern comedies. Some of the most famous flicks filmed in the region include "Geronimo," "City Slickers" and "Thelma and Louise."
If a trip to Canyonlands or Arches National Park is on your to-do list, there's never been a better time to witness southeastern Utah's majestic landscapes. The cooler weather, spectacular sunsets and smaller crowds make the last quarter of the year a smart time to visit. For more information on the parks or to plan your trip, visit SUNParks.
×
More stories you may be interested in