For some people, camping provides a wonderful opportunity to connect with the great outdoors, escape from all distractions and recharge. Others prefer a hotel.
If you land in the first category but have family members who fit the latter description, it can be tough convincing them to join you for a few nights out under the stars.
Aside from shelling out money for a true glamping experience (which is essentially an outdoor hotel), there are other ways to make camping more enjoyable — even luxurious.
Here are a few things you can do to ensure that everyone stays a happy camper.
Pick a good campsite
The No. 1 rule for creating an enjoyable camping experience seems like a no-brainer, but it's worth mentioning: Pick a good campsite. You'll want to pitch your tent on a level surface with plenty of shade and easy access to facilities. Unless you're looking for a true roughing it experience, firepits, tables, potable water, toilets, and showers are necessary amenities. (The last one is particularly important if you have teenagers. Otherwise, it's going to be a long trip in that little tent.)
To find a good campsite in Utah, check out this list from Utah.com.
Sleep on something ultra-comfortable
If you're going to splurge on anything for your camping trip, your sleeping gear is the best place to do it. No one likes sleeping on top of a tree root, rocks, or an uneven surface, so simply throwing a sleeping bag on the ground won't cut it if you want to wake up bright-eyed and bushy-tailed.
Most seasoned campers will tell you that a good air mattress or quality sleeping pad is absolutely worth the investment. Bonus points if you bring along a good comforter and some extra cozy blankets to make it feel like you're sleeping in your own bed!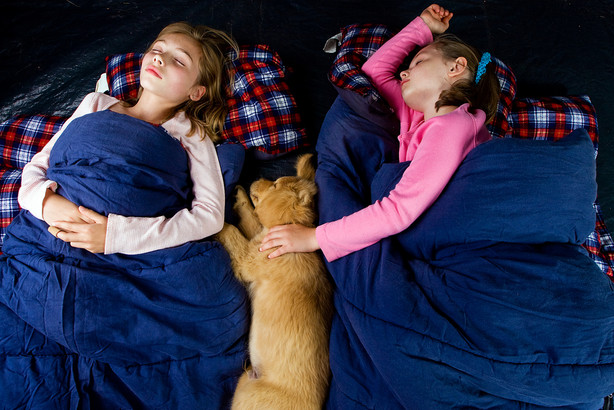 Pack some eye masks
Mother nature may have an earlier wakeup time than you're used to, especially since the sun rises earlier at higher altitudes. So, if you want a little extra shut-eye in the mornings, eye masks can be a real game-changer. Whether or not they want them, it's a good idea to bring some for everyone in the tent. They may change their tune a day or two into the trip once the yawning kicks in.
Don't forget the earplugs
Of course, eye masks won't do much good if noises are keeping you up at night. Bringing earplugs along can help drown out the snores of fellow campers or other nature sounds. (Birds can get pretty loud early in the morning, but this is also a good idea if you're a light sleeper who jumps every time you hear a tree branch snap.)
Set up a handwashing station
It's no secret that camping gets dirty, so having a place to wash your hands and clean up is a great way to feel refreshed. Use an extra water jug with a spout, or repurpose an empty laundry detergent jug to hold some water solely for washing. (Here's a genius hack: Use a vegetable peeler to cut off small strips from a bar of soap for single uses. No more dealing with a brown, goopy, communal bar!)
If you don't want to go through the trouble of setting up a handwashing station, wet wipes and hand sanitizer work great in a pinch.
Cook some delicious meals
Everyone knows that good food is the key to making any experience more enjoyable. There's nothing wrong with the old standbys of hamburgers and hot dogs, but bringing your A-game to your camping meals will make for a truly memorable, gourmet experience. Break out the Dutch oven, brush up on your tinfoil dinner recipes, and experiment with some new fireside treats! (Your kids will love these campfire cones from The Girl Who Ate Everything blog.)
Having a delicious meal to look forward to every few hours will prevent any potential hangry campers. And make sure to pack plenty of your favorite snacks!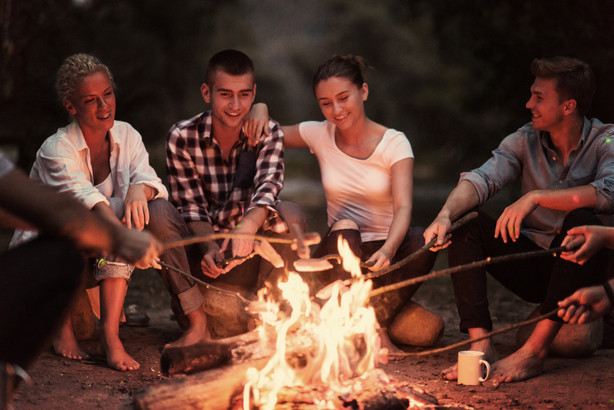 Camp with friends
While it's nice to have some quality family bonding time, camping is one of those activities that's best shared with friends — the more, the merrier! It's easier to connect with people and get to know them better away from the hustle and bustle of daily life. And if the weather's bad or things don't go according to plan, you've got friends around to keep you entertained. Plus, it means more stories (and more snacks) around the campfire.
Bring some comforts from home
Just because you're in the great outdoors, that doesn't mean you have to sacrifice every creature comfort you'd normally enjoy. You can make your campsite feel a little more homey by bringing along some extra lights, pillows, scented candles, and a good book or two in case you get bored.
And don't forget your favorite blanket! To keep camping spirits high, Minky Couture has soft, luxurious blankets for everyone in the family. Order a custom blanket online or find a location near you to pick one up for your next camping trip today!
×
More stories you may be interested in