BYU running back Lopini Katoa (4) breaks a long run in the first half, of an NCAA college football game against San Diego State Saturday, Dec. 12, 2020, in Provo, Utah. (George Frey, Associated Press, Pool)
PROVO — In Monday's predictive look at the BYU football team's 2021 season, we estimated the Cougars to be as good as 4-2 through the first half of a schedule that will be significantly improved from last year's 11-1 campaign.
The prediction is on pace to meet — and possible slightly exceed — predictions offered by ESPN, which predicts a 7-5 campaign, and sportsbetting.ag, which set the over/under win total at 6.5.
The Cougars will face three Power Five opponents in the first half of the schedule, already three more than featured on the revised 2020 schedule. That's in addition to Boise State and in-state rival Utah State, which are rarely easy games.
The second half of the season doesn't lighten up, either. And it starts with a reunion of the architect of BYU's offense the past three years.
Oct. 16 at Baylor
Last season: 2-7
Opponent's previous game: West Virginia
The Jeff Grimes/Eric Mateos return game, the Cougars will visit Waco the season after the Bears hired away their offensive coordinator and offensive line coach who helped pave the way to the remarkable 11-1 season.
But second-year Baylor coach Dave Aranda decided to tap Grimes, who he knew at LSU, for a reason; the Bears have a long way to go to be competitive in the Big 12, yet alone nationally. Much like his task at BYU in 2017, the Broyles Award nominee was brought in to reinvigorate an offense that has fallen on hard times.
Former Baylor QB Charlie Brewer burned his redshirt to help salvage a season with the Bears, but even the one-time Big 12 freshman offensive player of the year didn't stick around Waco and transferred to Utah. Instead, the Bears will likely be led by sophomore quarterback Gerry Bohanon, who threw for just 187 yards in nine games in 2019.
BYU and Baylor hold a 1-1 stalemate in the all-time series, with the home team winning both games — back in 1983 and 1984.
This one could go either way — ESPN projects BYU with a 44% chance to win — but the current roster should have just enough to get by the Bears.
Prediction: BYU win (5-2)
[embedded content]
Oct. 23 at Washington State
Last season: 1-3
Opponent's previous game: vs. Stanford
Nick Rolovich's first nonconference game as head coach of the Cougars comes against a team with a 3-1 all-time series record against Washington State.
The Cougars weren't great last year in Rolovich's first season since trading in his alma mater Hawaii for the Palouise; the imported run-and-shoot offense averaged just 255 yards on 61.8% passing, with 129 yards on 14.2 yards per carry. That's a very different team from the one former BYU rugby player Mike Leach left in Pullman en route for Starkville, Mississippi.
But Wazzu has talent, starting with senior quarterback Jarrett Guarantano, a Tennessee transfer who threw for 6,174 yards and 38 touchdowns in four years with the Vols. Breakout running back Max Borghi is also back after his 1,278 career rushing yards for the Cougars, and they return all but one offensive lineman from a year ago, anchored by NFL prospect Abe Lucas and his 68 career starts.
There will be points to be had against a defense that gave up nearly 40 points per game a year ago. But the last time BYU got into a shootout with a Rolovich-led offense, Cole McDonald was throwing for 493 yards and four touchdowns in a 38-34 win in the 2019 Hawaii Bowl.
That one could follow a similar theme.
Prediction: Washington State wins (5-3)
Oct. 30 vs. Virginia
Last season: 5-5 (4-5 ACC)
Opponent's previous game: vs. Georgia Tech
A game originally scheduled for 2019 but moved back after Virginia coach Bronco Mendenhall left BYU for Power Five pastures finally comes full circle.
By all accounts, Mendenhall's tenure in Charlottesville has been a success; the Hoos' offense has steadily improved each season, and the defense has taken on a similar look and tone of BYU's defenses under Mendenhall and now co-defensive coordinators Nick Howell and Brady Popppinga nearly a decade ago.
Cavs fans will also be quick to point out they are defending ACC Coastal division champions — from the 2019 season, since division play was scrapped in 2020 due to the pandemic after Virginia represented the ACC in the Orange Bowl.
But the Hoos took their lumps in 2020, including a 16th loss in 17 seasons to in-state rival Virginia Tech. Brennon Armstrong is back under center, and the sophomore signal caller should have some help on an offense that averaged 423.3 yards and 30.7 points per game in 2020, but the defense will need to improve on its 96th-best mark of 442.9 yards allowed.
There will be a lot of emotions for this game, though mostly from BYU's fan base and front-office personnel because most of the players from Mendenhall's regime have graduated or moved on.
ESPN projects BYU with a 57% chance to win, and that feels about right. For as much good as he did for the program, BYU finally has a chance to show it has moved on from Mendenhall.
Prediction: BYU wins (6-3)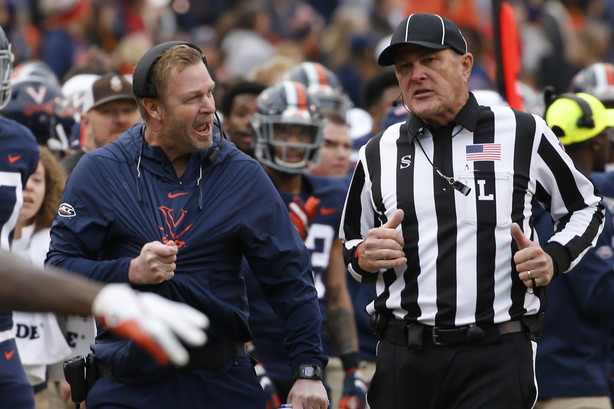 Nov. 6 vs. Idaho State
Last season: 2-4 (spring)
Opponent's previous game: vs. Weber State
Haters will want to see BYU lose its annual game against an FCS opponent. But the Bengals and former Wyoming quarterback Tyler Vander Waal will probably be more concerned with the previous week's home game against a top-10 team in the FCS, as well as cashing the check to play its lone FBS opponent of the season.
Don't overthink this one.
Prediction: BYU wins (7-3)
Nov. 13 BYE
One of the later bye weeks in the Cougars' independence history, it should come during a time when fans, players and team personnel can plan their travel to an end-of-season bowl destination. BYU is contracted to play in the Independence Bowl in Shreveport, Louisiana, in 2021, assuming they are bowl eligible and a larger bowl (read: New Year's Six bowl or playoff berth) isn't an option.
The Cougars could also replace this season with the Cheez-It Bowl if the Big Ten or Big 12 can't fill all of their bowl contracts.
Nov. 20 at Georgia Southern
Last season: 8-5 (4-4 Sun Belt)
Opponent's previous game: at Texas State
BYU comes off a bye week for its first-ever meeting with the Sun Belt squad that is deep in conference play. The Eagles are 16-3 at home since Chad Lunsford was named the full-time head coach in 2018.
But Justin Tomlin will succeed Shai Werts as starting quarterback, and Georgia Southern will (again) be breaking in a new offensive coordinator in Doug Ruse, who took over midway through last season.
This one won't be easy — ESPN gives BYU just a 68% chance to win, its lowest-probability expected win. But the easiest thing to do against a power-run team led by Oklahoma State transfer J.D. King is to run the ball, and BYU's Tyler Allgeier has shown himself plenty capable.
Prediction: BYU wins (8-3)
[embedded content]
Nov. 27 at USC
Last season: 5-1 (5-0 Pac-12)
Opponent's previous game: vs. UCLA
Is USC back?
That question will likely be decided by the time this game rolls around. But from the current vantage point of July, all signs seem to point toward the affirmative.
The Trojans return 16 starters from last year's team that went undefeated until the Pac-12 championship game, including eight on offense. Kedon Slovis returns for his third year as starting quarterback, including a wildly inconsistent 2020 season.
But Slovis' potential is real; he's the player who has 5,423 yards and 47 touchdowns in his career, and he's expected to be the Pac-12 preseason offensive player of the year. If Slovis can stay upright — the Trojans allowed 2.5 sacks per game a year ago, which ranked 10th in the conference and 84th nationally) — USC should be fine.
If not, former Corner Canyon star Jaxson Dart will be waiting in the wings as a more-than-capable backup.
The toughest of BYU's five Pac-12 opponents comes in the season finale.
Prediction: USC wins (8-4)
It's not an 11-1 season and top-15 national ranking. But a year after the departures of Grimes, quarterback Zach Wilson, and a bevy of talent and weapons like offensive tackle Brady Christensen and Dax Milne, anything above six wins would amount to a successful season.
BYU's biggest goal likely won't be winning double-digit games in 2021, but proving that the program is consistent enough to get back to a bowl game despite so many offseason losses. Seven wins seem plausible, and eight wins possible, for a team that will try to reload instead of rebuild.
×
Related Stories
More stories you may be interested in