OREM — Mark Madsen walked into Utah Valley's home locker room at the UCCU Center after the Wolverines' 81-77 win Saturday night over Cal Baptist as he would after any other game, win or lose, to congratulate his team and point out a few teaching moments.
This time, his team was ready for him.
The Wolverines doused their second-year head coach with water bottles, emptying their refreshment on the decade-long NBA center with the fervor of an NCAA Tournament win or conference title.
And why not? In many ways, the Wolverines felt as if they had won big.
After all, in their most important portion of the season, Utah Valley was undefeated.
Fardaws Aimaq poured in 23 points and 16 rebounds, and Evan Cole added 14 points, 11 rebounds and four assists to help the Wolverines (4-5) double the overall win total with a second consecutive win over Cal Baptist, opening Western Athletic Conference play with an unblemished 2-0 record.
After struggling to a 2-5 nonconference record — one that the NCAA recognized as 0-5 in the NET rankings because those two wins came over Division II Adams State and Westminster — Utah Valley found some swagger. Tough losses to BYU, Utah, Southern Utah and Weber State resulted in the kinds of lessons only defeat can teach.
Keep quiet 🤫

Wait for Mad Dog to arrive 🐕

Party like you're 2-0 🥳#UVU#GoUVU#WAChoopspic.twitter.com/HnFagSoVHe

— UVU Men's Basketball (@UVUmbb) January 10, 2021
And defeat is often the best teacher. Sometimes all you need to build up confidence is a reason to believe, and two wins over the same conference foe on back-to-back nights has UVU believing it can make a run at the Western Athletic Conference as it prepares for its first WAC road trip Friday and Saturday at Seattle (7 p.m. MST).
"You can tell a total difference from Weber to now, and even from Utah, Southern Utah, Wyoming. It's just a vibe; it's totally different," said J.J. Overton, the team's leading scorer who had 15 points and five assists in gutting through a second-half knee injury against the Lancers. "We have no choice but to be best friends … and it starts at practice."
One night after a 77-50 win over Cal Baptist was marred by a second-half altercation that saw Aimaq tossed, the Wolverines rallied twice to bury the Lancers (3-4, 0-2 WAC), who were led by Tre Armstrong's 24 points.
Whether their players are household names or not, UVU is performing like a team and beginning to turn the corner on a 2020-21 season that's seen four nonconference games canceled due to COVID-19.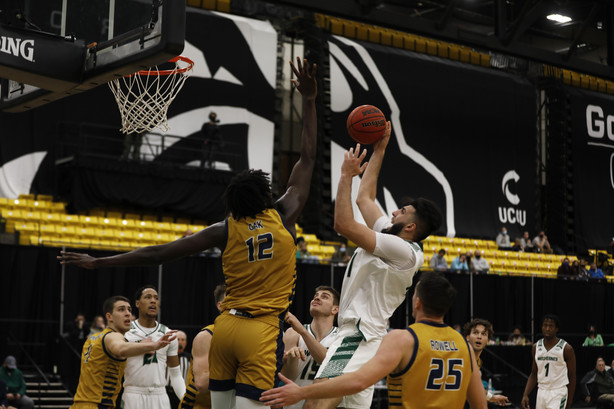 UVU center Fardaws Aimaq puts up a shot against Cal Baptist during the Wolverines' 2-0 start to WAC play, Saturday, Jan. 10, 2021 in Orem. (Photo: Erik Flores, UVU Athletics)
"I think the camaraderie is fantastic," Madsen said. " Let's not forget a few members of our team who are not here for medical situations. Every member of this team is a huge contributor.
"Whether you step on the floor or not, every single player on this team and in a UVU uniform has helped to contribute to a positive start for this UVU season so far."
Cole has been as big a reason for the turnaround as anyone. A Georgia native from the Atlanta area, Cole was scoreless in the first half, shooting just 0-for-4 from the field. And the senior graduate transfer from Georgia Tech stepped up when he was needed most.
After Cal Baptist used a 7-0 run out of halftime to take a 37-30 lead, Cole hit back-to-back 3-pointers to pull the Wolverines back within a possession. That sparked a 10-0 run to give UVU a 43-39 lead on Cole's jumper with 15:27 left, and the Wolverines never trailed again.
"There's no question it changed the game," Madsen said. "Evan has a work ethic; he has a desire to be great. And he's a gamer — the bigger the game, the more pressure, the better Evan Cole plays. He was huge for us."
Aimaq and Cole became the first UVU teammates with a double-double in the same game since Brandon Randolph and former BYU big man Isaac Neilson on Jan. 7, 2017. Neilson and Randolph's combined 32 points and 26 rebounds were dwarfed by the current Wolverine duo's total of 37 points and 27 rebounds.
Utah Valley improves to 2-0 in @WACsports play with an 81-77 win over Cal Baptist.

Georgia Tech transfer Evan Cole had 14 points (all in the second half), 11 rebounds, 4 assists — including this nasty jam.

Fardaws Aimaq with 23 points, 16 rebounds for @UVUmbb. pic.twitter.com/82Fw9oFQaH

— KSL.com Sports (@KSLcomSports) January 10, 2021
With production like that, the pairing is quickly becoming one of the best post tandems in the state. If improvement continues like the last three games, Aimaq and Cole could easily become the most feared down-low duo with national rebounding prowess in the WAC.
That's not the only way UVU has started to turn around. In his fourth start, BYU transfer Blaze Nield dished out a season-high seven assists and two steals, further emboldening his 5.83 assist-to-turnover ratio No. 4 nationally.
The Lehi product and former USU-Eastern standout has committed just three turnovers in his last four games.
UVU also shot 33% from 3-point range prior to Saturday night but poured in a blistering 61.5% from deep — including 5-of-6 made triples in the second half.
It wasn't just one player, either. Four UVU players knocked down two 3-pointers each, including Cole, Nield, Trey Woodbury and Le'Tre Darthard.
"Coach went and recruited a bunch of guys whose chemistry starts off the court," Overton said. "The chemistry we have and the friendship and bond with each other carries onto the court. Having that group back is huge.
"Once we figure out our roles, I feel like we can be the best team in the WAC."
×
Photos
Related Stories
More stories you may be interested in