WEST JORDAN — Jace Sandberg didn't wake up Saturday morning thinking he'd pitch in a state championship game.
But the Grantsville infielder who moonlights as his team's third pitcher as a sophomore expected to win a state championship.
He accomplished both after a marathon state final.
Sandberg helped pitch a four-hitter in the second game, when he also went 1-for-3 with a walk and two runs scored to help the Cowboys to their second Class 3A state title in four years with a 14-4 win over Carbon in six innings Saturday at Cate Field at Salt Lake Community College.
In many ways, the two-game championship series was the only way Grantsville could finish the season. The Cowboys haven't made it easy on themselves all year, head coach Aaron Perkins said.
"All year long, we haven't done it easy. We've come back to win, and won hard games," said Perkins, whose team overturned an 8-run deficit in Friday's 9-8 victory over Richfield. "I said it wouldn't do us any justice to win it in the first one. We've been doing it all year long, and I like the way it went."
Josh Staley went 2-for-4 with a double, a walk, three RBI and two runs scored for Grantsville (22-9), and Blake Thomas was 2-for-4 with two doubles and three RBI for the Cowboys. Grantsville's Kaden Kelly was 2-for-4 with two runs scored.
But when the going got tough, though, Grantsville turned to Sandberg.
After dropping a 5-4 decision with ace Broc Miller on the mound in the first game, the Cowboys had ground to make up — despite giving up just one extra-base hit in the opener.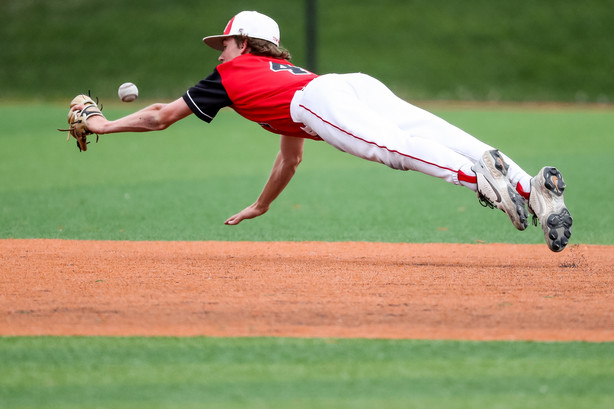 It didn't take them long for the bats to get going in Game 2. Sandberg and the defense took care of the rest, holding the Dinos (24-9) to two runs through 4 ½ innings and threatening a 10-run mercy rule as early as the fifth inning.
"I was just trying to throw strikes, because I knew out defense would back me up. They've been great all year, and I was just trying to throw strikes," Sandberg said. "We just couldn't get down; we had to have a lot of energy to start off, and we did that.
"We got a few big hits, and it got our energy going."
Grantsville jumped out early and never looked back, pounding out five runs on four hits in the first inning to take a 5-1 lead. The monster opener included a bases-clearing double by Blake Thomas, who drove in two before being caught in no man's land for the put-out.
But the Cowboys scored three more in the frame, including a two-run base hit to go up 5-0. They added six more in the fifth to jump out to a 12-2 advantage, but Carbon scratched across two runs in the bottom of the inning to extend the game before Grantsville slammed the door shut with a two-run sixth to clinch their seventh state title in program history.
"We've been working hard all season, and this is what we've been working for," Sandberg said. "We're here now."
The Dinos had to win three games Saturday to clinch a remarkable state title, but could only manage two wins, including a 7-4 win over Richfield in the first game of the day.
"This was our goal from day one. We started in the gym in January, and we set out to win a championship," Perkins said. "You can't say enough about our group. We've been battling all year, and this group has never quit all year. We've come from behind in a lot of games; I think all those close games paid off today."
Like most teams playing in the final weekend, the championship means even more after last year's season was canceled due to COVID-19.
"We lost 10 seniors last year, and this was a pretty young group," Perkins said. "A lot of these kids didn't get to play varsity baseball last year.
"We worked hard every day, and we accomplished our goals."
---
Game 1
Carbon 5, Grantsville 4
At Cate Field, Cooper Schade drove in Rylan Hart with the winning run in the bottom of the sixth inning as the Dinos took the first game of the championship series, handing the Cowboys their first loss of the tournament.
Hart finished 2-for-3 with a double for Carbon, and Derick Robison was 2-for-3 with an RBI for the Dinos, who scored four runs on two hits with four errors in the bottom of the second.
Zach Hale was 2-for-3 with a double for Grantsville, and Josh Staley was 2-for-4 with a pair of singles.
×
Photos
Related Links
Related Stories
More stories you may be interested in