Real Salt Lake midfielder Anderson Julio (29) celebrates the win asReal Salt Lake defeats the LA Galaxy at Rio Tinto Stadium in Sandy on Wednesday, Sept. 29, 2021. RSL won 2-1. (Scott G Winterton, Deseret News)
SANDY — Mexican standout Javier "Chicharito" Hernandez had the LA Galaxy on the verge of a smash-and-grab midweek match at Rio Tinto Stadium.
He did, in the end — but the smash-and-grab went the other way.
Anderson Julio struck a laser beam from outside the 18-yard box to give Real Salt Lake a 2-1 win Wednesday night over the Galaxy, vaulting them to fifth place in the Western Conference with a crucial three points at Rio Tinto Stadium.
"It's incredible. The timing couldn't be better," RSL interim manager Pablo Mastroeni said of Julio's late winner. "In sport, I think those are the moments that you hang on and believe that there's a chance.
"It speaks volumes to the mentality of the group. It's not just the guys that start, but the guys who come in who make a fantastic contribution to the group. Anderson has done that on several occasions."
Damir Kreilach added a goal for Real Salt Lake (11-10-6, 39 points), who moved from two points behind LA to one point ahead of the Galaxy (11-11-5, 38 points) with the win.
Real Salt Lake goalkeeper David Ochoa didn't earn the shutout, but his four saves were every bit as critical as both goals as the Galaxy threw the kitchen sink on the road looking to snap a seven-match winless skid. Probably as critical as Julio's own match-winner, a counter-attacking strike from distance scored off a volley while standing all alone against two defenders near the top of the box.
ANDERSON. JULIO. DAGGER. #RSL takes the lead in stoppage time! pic.twitter.com/e3mGrIhK1s

— Major League Soccer (@MLS) September 30, 2021
Saturday's game was a "must-win" — Ochoa's own words — and took every ounce of strength, every second of play, and every minute of focus to pick up a result. Check, check and check.
"It feels amazing, especially the way we got the result," Ochoa said. "Everyone was fighting until the end, and Julio with an amazing goal last minute. It's unbelievable. It's a good feeling."
Thanks to Ochoa, the Galaxy's skid continued — and RSL snapped its own after a dreadful 6-1 loss at Portland on the weekend.
"It's a big, big result," said Ochoa, whose team has won five straight at home. "We had a tough night in Portland, and we wanted to respond the right way. I feel like we did that tonight. To come out with three points is huge.
"Hopefully we can forget the night in Portland, and build momentum. Every point is crucial now."
The Galaxy outshot RSL 20-12, finished with 60% of possession and held the hosts to four shots on goal. Real Salt Lake completed just 348 passes — nearly 150 fewer than LA, at a 69.5% accuracy.
For huge sections of the match, LA looked like the better side. Combine it with RSL's humbling 6-1 loss at Portland just four days prior, and the visitors could've been excused for thinking they were about to walk away with at least a point.
"It felt a lot like a playoff match tonight," Mastroeni said. "I couldn't be happier for the group."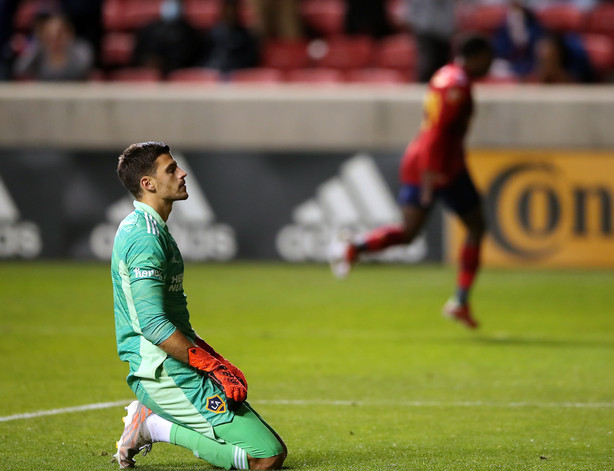 Perhaps like a two-legged playoff match where Salt Lake took a deficit after the first leg only to come back and punch their opponent in the mouth.
Julio scored his seventh goal of the year, and the Ecuadorian striker sent the crowd home happy, on an evening celebrating Hispanic Heritage Month, with a full three points and a stronger shot at the playoffs as RSL hits the home stretch of the regular season with seven matches to play.
"It was, for me, the best goal of the year," Mastroeni said in Spanish after the match.
Sometimes you can outplay an opponent, and still fall behind — and LA Galaxy will contend that's exactly what they did in Salt Lake City. The Galaxy outshot RSL 7-2 before the break, but only put two of those shots on target — two shots that Ochoa deftly saved to keep the scoreline level.
Just seconds before the break, Kreilach only needed one chance.
The 6-foot-1 Croatian international under contract with RSL through 2023 rose up like a salmon, snapped his head down on a cross from Albert Rusnak, and pushed his 12th goal of the season past LA goalkeeper Jonathan Bond in the 45th minute. Bond initially saved the shot, but the spinning ball dropped to his feet, and tipped over the line as Kreilach crashed the keeper.
Salt Lake had just 37.3% of possession, two shots and one shot on goal, and was connecting passes at a 68% clip. And none of it mattered when Kreilach cemented his legacy as arguably the best player in RSL's current system with a goal in front of his family, in the final match before his brother returns to Europe.
"It was a special moment for me, for them," Kreilach said. "But at the end of the day, I would point to our 12th player, to our fans. It was a great atmosphere again. It was crowded, we made them happy, and it made us happy. This is how we are moving forward."
#RSL sneak one just across the line and grab the opener right before the half! pic.twitter.com/HcehlgkmgQ

— Major League Soccer (@MLS) September 30, 2021
Pablo Ruiz nearly doubled the advantage in the 55th minute but was pushed aside by Bond. One minute later, Chicharito nearly equalized for the Galaxy, diving into the penalty area for a one-on-one opportunity with Ochoa.
That was exactly what the Galaxy needed.
Chicharito poured in six shots, including three on target, to go along with an 81.5% passing rate, 12 duels won and two more offside calls. And it would have taken every single one of them to beat Ochoa and secure a point on the road for the Galaxy, who remain winless in eight matches in MLS play.
But the young goalkeeper who recently committed to play internationally for Mexico denied the former Manchester United striker, turning aside his attempt with a kick-save and helping the hosts to the 1-0 advantage past the hour mark.
Ochoa saved perhaps his biggest moment of the night, diving to punch Chicharito's point-blank try off a through ball from Efrain Alvarez in the 68th minute. Sure, a goal there would've been offside, but Ochoa looked like "the ghost of Nick Rimando" with the effort.
"He was amazing tonight," Mastroeni said of Ochoa. 'I think he got back to his old form. He definitely saved us tonight; the kid's got a lot of potential. He's a great young man, and he's focused. When he's doing his job, he's one of the best in the league."
But Chicharito, the Mexican international — the same one Ochoa admits he watched growing up as a youth in Oxnard, California — finally broke through in the 77th minute, a left-footed rip inside the near post to equalize for the Galaxy, 1-1 before sliding in front of the RSL supporters' section for his 12th goal of the season.
Chicharito finally breaks through and levels it in the 77th minute! pic.twitter.com/NeZnFNsUco

— Major League Soccer (@MLS) September 30, 2021
RSL travels to face MLS newcomers Austin FC — the last-place team in the Western Conference — on Saturday. Kickoff is scheduled for 1:30 p.m. MT on UniMas and TUDN.
×
Photos
Related Links
Related Stories
More stories you may be interested in