Fans cheer after Real Salt Lake midfielder Damir Kreilach (8) scored an early goal as Real Salt Lake and Vancouver FC play at Rio Tinto Stadium in Sandy on Wednesday, July 7, 2021. (Scott G Winterton, Deseret News)
SANDY — Bobby Wood's first career start in Major League Soccer play went about as well as can be expected.
Playing with Damir Kreilach helps, too.
Kreilach scored his second brace of the season against Vancouver, and Real Salt Lake cruised to a 4-0 win over the Whitecaps in a midweek match Wednesday night at Rio Tinto Stadium.
Albert Rusnak and Anderson Julio each added a goal for Real Salt Lake (4-3-4, 16 points).
The match will be considered a "road" match in the MLS standings because Vancouver (2-6-3, 9 points) has temporarily relocated to Utah due to travel restrictions between the United States and Canadian border. That's also why attendance was limited to 12,009 fans, with smaller supporters' section than normal and ad boards and graphics to visualize a Vancouver home match.
"I want to first say, all credit to the team about tonight's performance," said Kreilach, who wore the captain's armband after Rusnak subbed off following his goal. "The most important thing is we found a way to get three points, and that's all it's about."
Kreilach opened the scoring just 42 seconds into the match, charging at goal from the right side of the box and chipping the goalkeeper to put the visiting team playing in its home stadium up 1-0.
DAMIR KREILACH SCORES 43 SECONDS IN!! #VANvRSLpic.twitter.com/bCuYDCQIll

— Major League Soccer (@MLS) July 8, 2021
The early goal surprised even the fourth-year RSL veteran, confirming it was the fastest goal he's ever scored in a competitive match.
"I was surprised as well, a little bit," said Kreilach, who has a team-high seven goals and three assists on the year. "But it was a perfect ball from Aaron, I ran behind the back line, and luckily I found the back of the net. It was a good start to the game."
The Croatian international scored the third-fastest goal in RSL history off a through ball from Aaron Herrera, continuing a pattern of early leads won by Salt Lake.
Kreilach doubled the advantage in the 57th minute, capping off a strong start to the second half and a cross from Justin Meram by placing a headed ball inside the bottom right corner to put Salt Lake up 2-0.
Rusnak made it 3-0 with a 74th-minute penalty kick earned from a foul on Meram in the box, and goalkeeper David Ochoa made two saves to preserve the shutout for RSL's first win since June 18 — the last time it faced Vancouver.
The embattled RSL captain scored his second goal of the season, and first since a 2-1 loss at Seattle on June 13. But the roaming midfielder paced a furious second half when the "visitors" accounted for 11 shots and finished a clinical five shots on target into three goals after halftime.
And yet, Rusnak — like head coach Freddy Juarez — wasn't even sure if RSL played as well as they did in Saturday's 1-0 home loss to LAFC.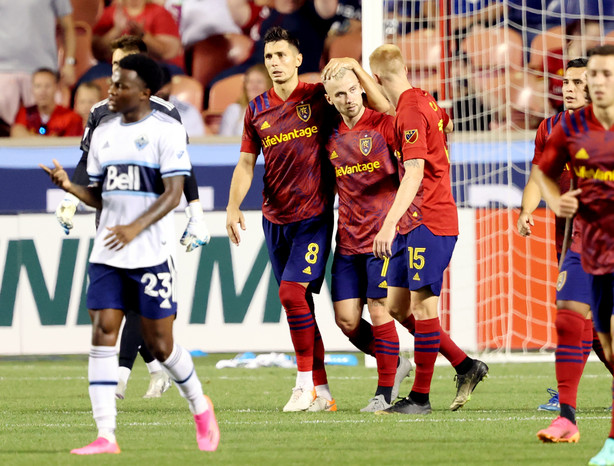 "I said after last game we were frustrated, and we probably played better against LAFC than we did tonight," said Rusnak, who celeberated his 27th birthday Wednesday. "But the result is the most important thing, and the two results are completely different.
"We have a reason to be happy after tonight's game. We spoke about getting the second goal, which was the killer goal tonight. Once we got the second goal, everybody felt more confident and more comfortable. We're really happy with the performance, but mainly the result today."
Kreilach nearly had a hat trick in stoppage time, but his shot that was saved by the goalkeeper fell to Julio to put RSL up 4-0.
Real Salt Lake won for just the second time in nine matches to snap a three-match winless skid.
But soccer's a funny game, and even though Salt Lake lost the possession battle, 55% to 44%, they had more shots, better shots, more clinical passing and more dangerous crosses from the wing from players like Meram, Rusnak, Herrera and Donny Toia.
Another game. Another brace.

Damir Kreilach notches his second brace in as many games for the 2-0 lead! #VANvRSLpic.twitter.com/gq93NEbAAr

— Major League Soccer (@MLS) July 8, 2021
"I think against LAFC, we actually had more control of the game," Juarez said. "But Vancouver put in a good shift today, and soccer is so weird like that. Today we struggled to get possession in the first half … and the solution was just to be more direct.
"If you want to create space to play, you've got to create it. You can earn the right to play."
Ochoa made his first save of the match off a free kick in the 36th minute, and Real Salt Lake brushed aside three shots to hold the Whitecaps scoreless en route to the 1-0 halftime edge.
In Wood's first career start in an RSL uniform — and the second of three matches in eight days for RSL — the home side playing the role of visitors opened the match on fire. Salt Lake had just 44% of possession in the first half, but outshot "host" Vancouver 7-5, including a 3-1 in shots on goal.
"We were kind of sleepy in the first half, and sat too deep," Kreilach said. "Vancouver had more possession … but then it was an outstanding performance in the second half. At the end of the day, we deserved three points tonight."
Real Salt Lake hits the road Saturday to face LAFC. Kickoff from Los Angeles is scheduled for 8:30 p.m. MT.
×
Photos
Related Stories
More stories you may be interested in