LOGAN — Nevada knew it could eventually score on Utah State as it entered the penultimate week of the regular season with a trip to Cache Valley.
What the Wolf Pack couldn't do was rebound.
Thanks to Neemias Queta and Justin Bean, the Aggies made sure of that.
Queta had 26 points, 13 rebounds and six assists; and Justin Bean added 17 points, 13 rebounds and four assists to help Utah State complete the two-game sweep of the Wolf Pack, 87-66, Sunday evening at the Dee Glenn Smith Spectrum in Logan.
The Aggies collected 30 rebounds on Nevada's 33 missed shots, and added 17 offensive boards, as well — led by six each from Queta and Bean. Even the 7-foot Portuguese center admitted that Bean was the key to that offensive dominance.
"Bean is just a player that works a lot, and it's so hard to stop him," Queta said. "Sometimes when I have to box him out int he middle of practice, even I struggle to do that.
"He's really important for us, and he just makes those tough guy plays so that it's a really good experience to play with him."
Bean's double-double was his sixth of the season at Utah State, and 23rd of his career after also going for 19 points and 10 rebounds in a 75-72 win over the Wolf Pack on Friday. His season-high 13 rebounds broke a tie for fifth-most games with double-digit boards in Aggie basketball history with Bob Lauriski (1971-73) and Wayne Estes (1963-65).
💪 @justinbean34 leaving it all on the court for @USUBasketballpic.twitter.com/DP9ERMI05A

— FOX College Hoops (@CBBonFOX) March 1, 2021
Bean is now tied with Mike Santos (1975-78) for the fourth-most double-digit rebound games in school history.
"He had some huge offensive rebounds today, and when he's knocking down shots like that, it's fun to be on the court," Utah State senior Alphonso Anderson said of Bean. "We're trying to get a little mojo going heading into the court."
Queta, of course, wasn't bad himself. The junior NBA draft prospect who tied his career high with six assists had his 11th double-double of the season, 25th of his career, and moved into Bean's spot on the all-time double-digit rebounds list — now the sixth-most overall — and tallied his fifth career game with a double-double in the same game as Bean.
Marco Anthony chipped in 11 points and three assists for Utah State (16-7, 13-4 MW), and Anderson added 12 points for the Aggies, scoring in double figures for just the sixth time this season as the Tacoma, Washington, native celebrated Senior Day with a rare start.
Utah State has one home game remaining, a makeup date with Wyoming on Thursday that was added late due to a series cancellation by COVID-19, but opted to celebrate its senior class Sunday.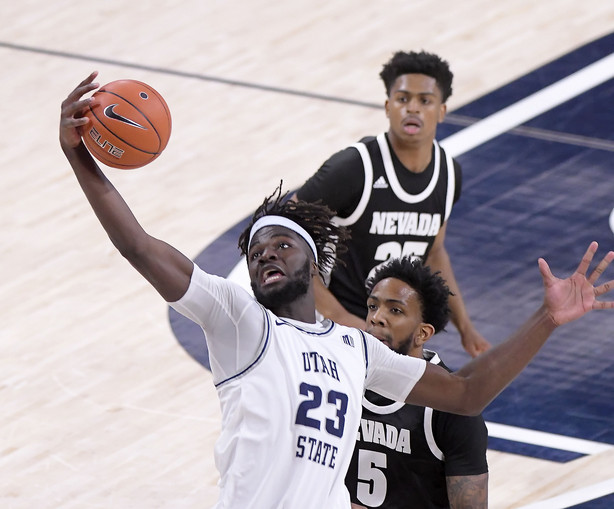 Neemias Queta pulls down a rebound against Nevada, Sunday, Feb. 28, 2021 in Logan. (Photo: Eli Lucero, The Herald Journal via AP, Pool)
"I put in a lot of work, I work hard at practice, and it was exciting," Anderson said. "When he told me, I was super excited. But that doesn't mean the work's over.
"I've just got to keep working hard, so we can keep winning games."
Desmond Cambridge had 13 points and four rebounds for Nevada (14-9), which fell three games behind the third-place Aggies in Mountain West play with a 9-7 record and one week to go until the Mountain West Tournament in Las Vegas.
After a slow start, Utah State capped a 15-2 run to take a 23-10 lead on Anderson's layup with 10:08 left in the half.
The Aggies' offense was clicking, despite shooting just 1-of-7 from 3-point range. But more importantly, nothing was working for Nevada, which opened the game shooting just 4-of-13 from the field and did not collect an offensive rebound in the first half.
Queta had 8 points, six rebounds and a block in just nine minutes as the Aggies pushed the lead as high as 15, 25-10, and Utah State went on to outrebound the Pack 23-15 while assisting on 11-of-13 first-half buckets en route to a 39-23 lead at the break. The Wolf Pack made a short run out of the halftime break, but shot a 47-24 rebounding deficit kept the visitors at bay for most of the half.
rumor has it the rim is still shaking👀

⚡️ @nemi1599#AggiesAllTheWaypic.twitter.com/LN83KMXmMU

— USU Men's Hoops (@USUBasketball) March 1, 2021
"We've really just got to lock in on defense," Anderson said. "When a team is down, that first give minutes is crucial; you either give them life, or you take it away.
"We knew we had to be better defensively (than Friday) … and after that timeout, I think we really got together offensively and defensively."
Making a return from a lower leg injured that kept him out three weeks, Rollie Worster returned to the lineup for the Aggies. The freshman did not start, but he did knock down a 3-pointer with just under three minutes left in the first half for his first bucket since Feb. 4 at Fresno State.
Worster finished with 3 points, three rebounds, two assists and a steal in 14 minutes.
"From day one, Rollie was a talent kid with moxie, toughness and tremendous composure as a player — for any age, let alone a true freshman," Utah State coach Craig Smith said. "I thought you could feel that tonight. All of our guys believe in him; he's an excellent defensive player, and we really missed him on the defensive end of the floor, especially with Brock (Miller's) back issue.
"Brock's ailing, and I think you could see that tonight. So it just felt good to have (Worster) back."
Welcome back @rworster24‼️#AggiesAllTheWaypic.twitter.com/y8F4IzQjZU

— USU Men's Hoops (@USUBasketball) March 1, 2021
Utah State kept its foot on the gas out of the halftime break, in large part because of rebounding. Nevada had just one offensive board in the first eight minutes of the half, shooting just 6-of-13 from the field to keep the Aggies head despite shooting just 31.3% from the field early in the half.
Utah State led by as much as 26 points in a game it led for all but 51 seconds, and moved the ball with 22 assists on 29 made field goals.
The Aggies shot just 4-of-22 from 3-point range, but forced 19 turnovers with 11 steals, outscored the Wolf Pack 42-24 in the paint, and added 24 second-chance points off 17 offensive rebounds.
"I never thought we really got going," Nevada coach Steve Alford said. "We got absolutely destroyed on the glass, and in transition. Those were the two biggest keys in this game, and we just got beat really bad there."
The Aggies made a lot of "tough guy" plays, Smith said. And few were tougher than Bean.
"We eliminated losing," the third-year Aggie coach added. "I thought we did a really good job of taking care of the ball and playing with great rhythm that way.
"We didn't shoot it great; the other night we were 11 for 21, but tonight we probably forced some threes … and took some out-of-rhythm ones. But we made a lot of hustles plays, got our hands on a lot of balls, forced 19 turnovers, and were just really active on the ball."
×
Related Stories
More stories you may be interested in