SALT LAKE CITY — "Mom, can you help me with my U.S. history homework?" my high school-aged daughter asked in a demanding tone.
While I understood her need for assistance (seeing as her high school had just entered its second stint in schoolwide, last-minute shift to distance learning), I was less than enthused to be "helping" her with her school work. I say this because helping with high school-level work requires that I relearn what I already learned over 20 years ago; one does not simply retain this type of information.
As I read through the information in the module, I quickly realized that I didn't remember learning any of this in the first place. Whether I zoned out a lot in class, my brain lost the information as quickly as it learned it, or I simply wasn't taught the information, doesn't matter. What was in my daughter's school work that day was as important for me to learn about as it was for her.
The particular unit was on post-Civil War happenings in the South when slavery was made illegal under the Constitution. I learned about Black Codes that made it nearly impossible for freed slaves to be completely free. These codes were put in place by individuals in positions of authority so they could continue to gain the upper hand at the cost of Black Americans who were already oppressed. I learned about the amendments (albeit vaguely) that were also created by people in a position of power in an effort to combat what was happening to Black Americans in the South.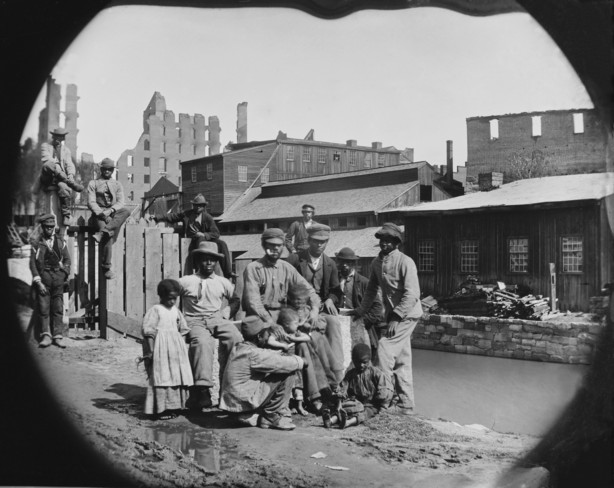 A newly freed African American group of men and a few children posing by a canal against the ruins of Richmond, Virginia. Photo made after Richmond was taken by Union troops on April 3, 1865. (Photo: Everett Collection, Shutterstock)
It was during this time when President Abraham Lincoln, who was in favor of abolishing slavery, was assassinated. Political unrest was the name of the day, and the country was divided as it has ever been.
The following lessons went right into what is called "Custer's Last Stand," where a treaty with Native American tribes was broken by early American settlers in order to gain unlimited access to gold that was in the hills, as well as the land the native people lived on. A battle that never should have occurred, did. Hundreds of men died, including General Custer, igniting a fiery rage toward the native people that eventually led thousands more lives lost, leaving a way of life dwindling and hanging on by a thread even today.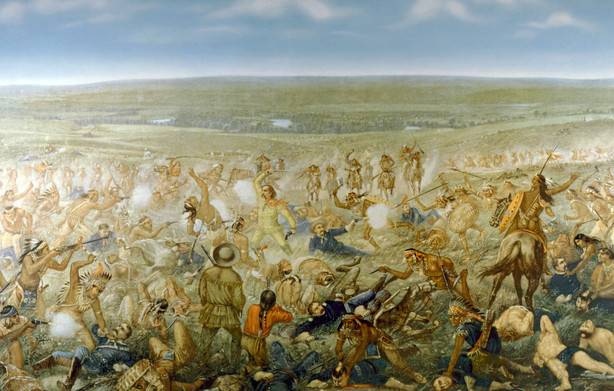 General George Armstrong Custer's Last Stand at the Battle of Little Bighorn, 1876 (Photo: Everett Collection, Shutterstock)
Relearning these portions of our American history saddened me, but it also helped me to make a better resolve to do better and be better — to stand up for those in need and resist the natural human urge to get gain at the risk of hurting or oppressing another.
There were so many takeaways from the opportunity I had to relearn what I learned years and years ago. The biggest takeaway, however, was that I need to keep learning even after I have "already learned it." There are so many great things that we as humans need to relearn and learn again; and if there's one thing spur-of-the-moment, at-home learning has taught me, it is exactly that.
On a side note: Had my daughter needed help with her algebra homework, this would be a different story entirely. Ain't nobody gotta relearn how to graph a slope.
What are some things you have been glad to have relearned as you've helped your kids with school work? Let us know in the comments.
---
×
Photos
More stories you may be interested in