Corner Canyon's Devin Brown runs to the end zone for a touchdown during a high school football game against Bingham at Corner Canyon High School in Sandy on Friday, Aug. 27, 2021. (Kristin Murphy, Deseret News)
DRAPER — For the first time this season, Corner Canyon was forced to punt — at least Bingham has that to hold onto from Friday's game.
But in the end, the Miners faced the same fate as the last 42 teams to line up against the Chargers: they lost.
Most of those games have been blowouts; Friday was no exception as No. 1 Corner Canyon beat No. 6 Bingham 35-7 to improve to 3-0 on the season and to claim their 43rd straight game. The Miners dropped to 2-1.
Corner Canyon quarterback Devin Brown accounted for all five Corner Canyon touchdowns (four passing and one rushing), including a screen pass that went 80 yards on the first drive of the game and a 97-yard catch and run on the second possession.
Those early touchdowns set the tone; it was one that was quite familiar for the Chargers. A few minutes into the contest they were already up a couple scores. It was business as usual for the Utah juggernaut.
The scary thing — at least for the rest of the state — is that Bingham actually played Corner Canyon well. The Miners got consistent pressure on Brown and forced the Chargers into multiple third-and-long situations.
After the two quick scores, Bingham seemed to find a game plan that worked: send a lot of pressure and try to keep Corner Canyon's talented receiving group in front of them. It worked to an extent, which forced the Chargers to trot out Cody Christensen for his first punt of the season.
"We wanted to go for it," receiver Cody Hagen said, laughing (Corner Canyon was deep in its own territory.)
While the players may have wanted to play with fire a bit — they did successfully convert a third-and-26 from about the same spot later in the game — the coaches wanted to see some practice time not go to waste.
"We had joked about it because we have worked on it a ton," Corner Canyon coach Eric Kjar said. "And we were like, 'Are we wasting our practice time?' But, no, it's a good thing you have to work at it when you're playing good teams like when we get into our region."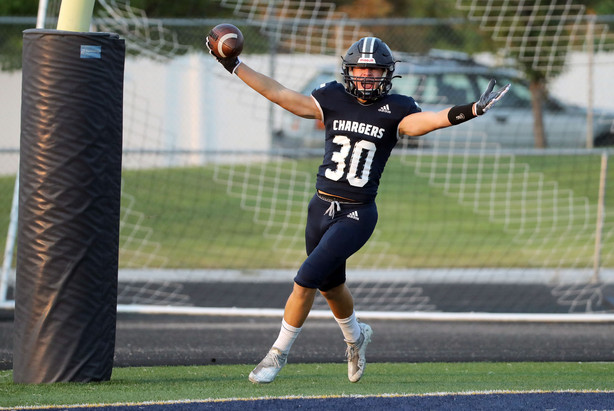 Or teams like Bingham.
The Miners might have forced Corner Canyon to adjust a bit, but the Chargers' embarrassment of riches on offense won out. Bingham took away the big plays for a time, but the Chargers countered with a dominant screen game that gave their plethora of receivers plenty of space to make plays. Brown, a USC commit, found soft spots in coverage and soon Corner Canyon raced out to a big lead.
It's a sign of how good Corner Canyon is that Friday's game was never really in doubt. Even with Bingham's defense putting up a stalwart fight, the Chargers were up 28-0 at halftime. Corner Canyon's offense can hang a ton of points, but its defense is dominant in its own right.
The Chargers shut out Bingham, which averaged 50 points in its first two games of the season, until allowing a meaningless touchdown with 3:39 left in the game when both teams' key players stood on the sideline.
The Chargers defense made it possible for Corner Canyon to pull away from Bingham. Any hope the Miners had to make it a game ended with a second quarter interception in its own territory. Brown took the ball and soon found Jett Meine on a 16-yard touchdown pass to make it 21-0. The two combined for another score in the third quarter to put the game out of reach.
"They're always impressive to us," Kjar said of his team's defense. "We go against them every day in practice in compete periods and they always do a great job, and they fly around, they're just a good unit. … They played great tonight but we kind of expected that."
And after three games, the Chargers looks to be where everyone expected: head and shoulders above the rest of the state.
×
Photos
Related Stories
More stories you may be interested in