PROVO — For the first time this season, the No. 8 BYU football team won't be preparing for an opponent at the end of the week while also not worrying about containing an outbreak of COVID-19, which canceled its Week 2 game at Army.
After seven-straight weeks of nonstop football, it's time to breathe.
"I feel like I've taken a breath for the first time in months," BYU offensive coordinator Jeff Grimes remarked candidly during his Coordinators' Corner show Monday on BYUtv. "We'll enjoy taking a break, although I'm having so much fun coaching, I wish there were a game this Saturday."
A time to take a break, a time to focus on rehab, injuries and academics — and of course, a time to focus on containing the Cougars' "bubble" of close contacts at a time when coronavirus cases are spiking both locally and nationally.
But will it also be a time for Grimes and the other coordinators to look at the future?
With one of only a handful of head coaching jobs open at nearby Utah State in Logan, it wouldn't be a surprise if the Aggies took a look at Grimes, defensive coordinator Ilaisa Tuiaki and assistant head coach and special teams coordinator Ed Lamb over the next week.
Head coach Kalani Sitake certainly wouldn't begrudge any of his assistants for looking at opportunities to move up the coaching ladder. And he won't stand in the way of them, either.
"I think we have great coaches on our staff who are future head coaches, coordinators and leaders," Sitake said Monday when asked such a question by a local reporter during his media briefing. "I'll always be supportive of them climbing the ladder and getting other opportunities, just like I have."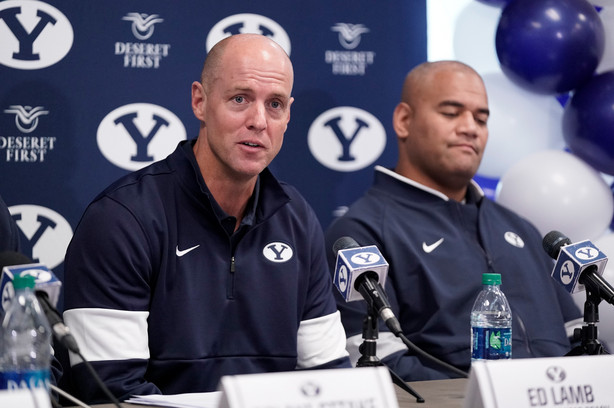 BYU linebackers coach Ed Lamb addresses the media on national signing day, Wednesday, Feb. 5, 2020 in Provo. (Courtesy: BYU Photo)
But supportive enough to let them walk just 125 miles away, to a regional rival who competes annually for the Old Wagon Wheel?
It wouldn't be without reason; Sitake has already competed against a coach he admired for most of his career leading the Aggies in Gary Andersen, whom Utah State fired Saturday after an 0-3 start in the second season of his second stint in Logan.
Andersen gave Sitake his start in college coaching, as a rookie full-time running backs and tight ends coach at Southern Utah in 2003, just two years before jumpstarting his career at the University of Utah that eventually led him back to his alma mater.
"I have a personal connection with Gary Andersen, and I would not be here if it were not for mentors like him, LaVell Edwards, Kyle Whittingham and others," Sitake said. "Gary gave me a chance to be a coach for him at Southern Utah; I have a lot of appreciation and love for him. I know what he's about, that he loves helping young men achieve their dreams and be the best versions of themselves."
So perhaps the first Tongan-born head coach in Football Bowl Subdivision history could help one of his assistants get their head coaching start at Andersen's old job, or sort of serendipitous circumstance just two years after the Aggies came into Provo and rolled the Wheel back to Logan with 45-20 rout in LaVell Edwards Stadium.
Utah State athletic director John Hartwell remembers well that night, and he marveled a bit at the state of both programs just two years removed as he explained his decision to cut ties with Andersen on Monday.
Back then, the Aggies were on their way to having a top-five offense and top-20 team led by an eventual first-round draft back quarterback in Jordan Love. They also had a coach who would bolt at the end of the season for Texas Tech in Matt Wells, so a lot has changed since that October night in Provo.
Which is why finding the right coaching candidate to engineer a similar turnaround in Logan is vital for his university's success.
"I look at people around our conference and at their improvement, but I would also be lying to you if I said I didn't look down at Provo and the job that they've done," said Hartwell, who added it would be "narrow-sighted" not to look at local candidates to lead USU football. "Two years ago, we go into Provo and beat BYU pretty soundly. And you look at today, and Kalani's done a tremendous job and got that program going. I want to make sure the Aggies are headed in the same direction."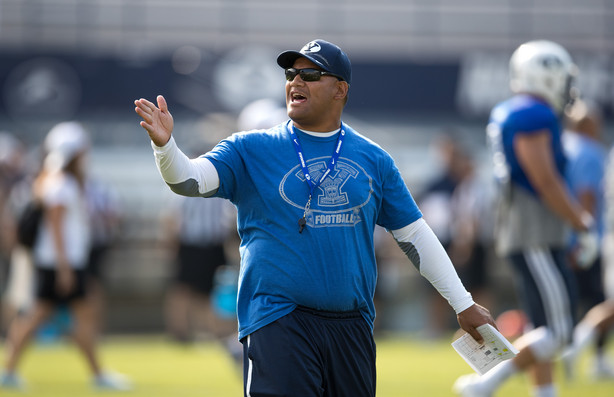 BYU defensive coordinator Ilaisa Tuiaki (Photo: Jaren Wilkey, BYU Photo)
Weber State coach Jay Hill stands out among those local candidates, perhaps most of all — but Grimes may not be far behind on the shortlist. Indeed, Hartwell mentioned a candidate who could rejuvenate the Aggies' offense as being among his preferred qualifications. Utah State ranks 122nd nationally in total offense — only UMass ranks worse — while the Cougars' offense averages 533.4 yards per game for No. 7 nationally, led by Heisman Trophy darkhorse (and NFL first-round project) Zach Wilson.
Even if his coach of choice has a defensive background, Hartwell would make sure to have a plan for the offensive renovation, he said. That would presumably apply to defensive-oriented coaches like Lamb and Tuiaki, who worked at Utah State from 2009-11 as running backs coach and special teams assistant. It may also apply to the staff the new coach elects to assemble around him.
"The head coach runs the show," Hartwell said. "But you've got to make sure you've got a really good staff assembled around you. You need a staff that has synergy, that knows how to recruit, know to game plan, how to make in-game changes, can related to today's young men. All of those things are key."
That may even open the door for a move for another assistant on Sitake's staff: Fesi Sitake, the head coach's close cousin who has been been working as the wide receivers coach most recently.
Fesi Sitake was previously offensive coordinator at Weber State prior to moving to Provo, and the former SUU offensive standout from Hillcrest High is another of those assistants that his cousin believes has a bright future in the coaching ranks.
"Fesi's been there the whole time, coaching us up," said BYU receiver Gunner Romney, who ranks 10th nationally with 648 yards and two touchdowns. "Even during quarantine, I would text him and figure out what I could work on. He's always been there, feeding me information to help me grow."
×
Related Links
More stories you may be interested in