Timpview competes against Orem in a high school football game at Timpview High in Orem on Thursday, Sept. 30, 2021. (Laura Seitz, Deseret News)
PROVO — For 2 1/2 years, Micah Beckstead and Timpview's football team — along with the rest of the 5A classification — have been chasing Orem.
That's a common feeling for most teams, yet alone the junior running back and his squad, as they faced the four-time defending state champion Tigers.
But in 2 1/2 quarters, the Thunderbirds turned the tables.
Beckstead scored four touchdowns, and Timpview converted two turnovers into two scores in less than 20 seconds to turn a 14-6 halftime game into a 43-13 home win over the Tigers that put the Thunderbirds in the drivers' seat for a Region 8 championship Thursday night.
"Obviously, we feel like this is a significant win for our team, because we feel like Orem is one of the top 5A teams. We have a lot of respect for them," Timpview coach Andy Stokes said. "It was a tough game in the first half, a hard-fought battle for a while, and our kids persevered. But Orem's a tough team, and we think they're one of the top teams in 5A. It's always significant."
The fifth-ranked Thunderbirds (5-2, 2-0) have scored more than 40 points in each of their last three games. When combined with a 62-21 win over Alta and a 62-22 nonregion victory over Highland, that's 55.6 points per contest.
But Thursday's game felt like anything but a pinball machine early on.
After a scoreless first quarter, Orem (4-4, 1-2 Region 8) struck first when Lance Reynolds found Mack Hixson for a 3-yard touchdown with 8:58 left in the half to go up 6-0.
But that was the last time the Tigers would lead.
Beckstead opened the scoring for the Thunderbirds with an 8-yard sprint that capped off a 16-play, 89-yard drive — with two fourth-down conversions — to give Timpview its first lead of the game.
Beckstead doubled the advantage with 4-yard dive to end the half up 14-6.
"I love running the ball, and I don't like getting hit. It all worked out," Beckstead said. "It's all thanks to my O-line; they opened the holes for me, and they're always working for me. I'm just grateful for them."
Then things got weird for the Thunderbirds.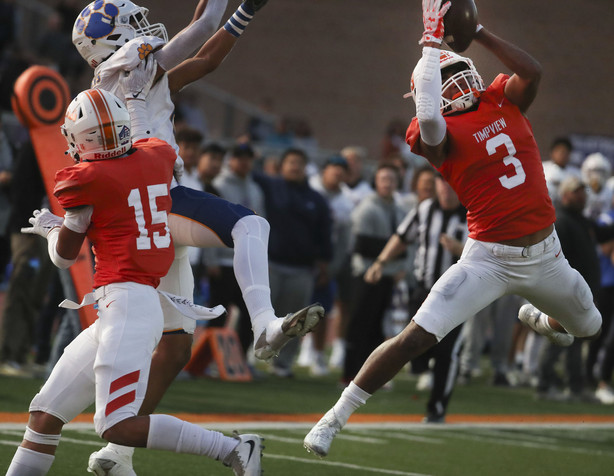 After Beckstead completed his hat trick on an 8-yard screen from Liu Aumvae to open the second half and added another with an explosive 57-yard run down the far sideline, the Tigers started slinging the ball in a desperate attempt to come back from their 29-6 deficit.
The momentum was changing for Timpview, which beat the Tigers for the first time since a 35-20 win Sept. 25, 2015, at Orem.
"I feel like all the things that we worked on this offseason were starting to work out for us," Beckstead said. "All of the hard work was coming in. That's the team that we are supposed to be."
Will Lohner pulled down one errant pass from Reynolds and returned it 25 yards for a pick-six score with 5:32 to go. One play and 13 seconds later, Puna Alatini scooped up a loose ball after a sack and returned it 18 yards to give the Thunderbirds a 43-6 advantage.
"They play like that in flashes," Stokes said. "As we go throughout the season, we get more and more of those flashes. It's usually a good indication when that's happening for us.
"This group didn't just appear out of nowhere. They've been working their tails off for four years to turn into the monsters they are. All of their work over the last four years is showing off to turn into what they are on the field."
Reynolds connected with Hixson on an 18-yard touchdown pass with 1:02 left in the third to cap the scoring for the Tigers, who will cap the regular season Oct. 13 against Lehi.
Timpview can earn at least a share of the Region 9 title next Friday, Oct. 9 against Lehi. The Thunderbirds end the regular season Oct. 13 at Jordan.
×
Photos
Related Links
Related Stories
More stories you may be interested in