ST. GEORGE — Bodee Blackett drifted to his left, cut inside and saw a gaping hole in front of him.
The 5-foot-11 senior then ran to the sideline — and didn't stop. He bounced off one tackler, sidestepped another, and scampered into the end zone — 83 yards and paydirt.
In the history of Juab High School and the city of Nephi, no touchdown may have been sweeter.
Blackett ran for 119 yards and a touchdown, and Trey Lund added 100 yards and a touchdown as Juab won its first state title in school history, 17-14, in the Class 3A state championship Saturday night at Greater Zion Stadium at Dixie State.
Better yet, the Wasps (12-1) overturned last year's 8-0 loss to Morgan on the same stage.
"We're really excited to be here, given the circumstances and the way it's been," Juab coach Mike Bowring told Mid-Utah Radio via KSL.com. "We're glad we're here, and glad we have an opportunity to play.
For Blackett, none were bigger than his 83-yard score in the third quarter that turned a 14-10 deficit into a 17-14 lead.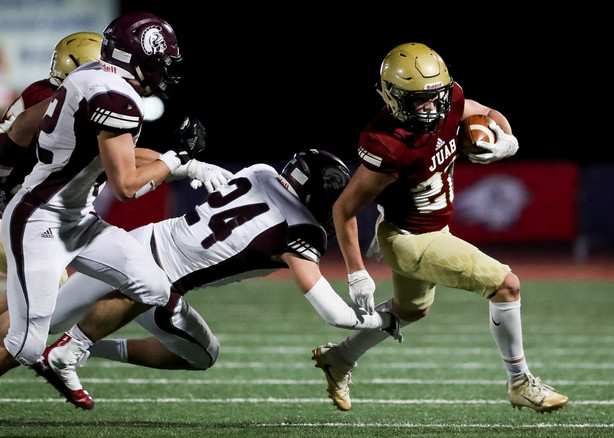 Juab's Dawson Olsen avoids the tackle from Morgan's Isaac Rees in the 3A football championship game at Dixie State University in St. George on Saturday, Nov. 14, 2020. (Photo: Spenser Heaps, Deseret News)
The Wasp defense did the rest, holding the Trojans to 212 yards, and just 17 yards through the air as the defending champions tried to overturn a pair of deficits.
"We've had a sour taste in our mouth (since last year)," Bowring said, "and these kids wanted an opportunity to get back here."
Lund, who also had an interception on defense, gave Juab its first lead over the Trojans in two years, sprinting 33 yards into the red zone before finishing off the drive with a 1-yard touchdown plunge with 5:59 left in the first quarter.
After Ryker Richards' 37-yard field goal extended Juab's lead to 10-0, Morgan took over, though.
Brayden Lawton pulled down an interception, Ryder Lish scored on a 16-yard QB option, and Will Lance's gamble paid off with a 2-yard plunge on fourth-and-goal that gave the Trojans the lead with 14-unanswered points in the second quarter.
Blackett gave the lead back to the Wasps with one move — or a series of jukes, jives and hold-ups as he scampered down the sideline 83 yards for the go-ahead touchdown with 4:44 left in the third quarter.
Bodee Blackett for @Juab_Football 👀 👀 👀

Watch the @UHSAAinfo 3A title game » https://t.co/iBnRgyryE6pic.twitter.com/8EJB0H5Tnn

— KSL.com Sports (@KSLcomSports) November 15, 2020
All that was left was a pivotal fourth-down stop by Shan Jackson, a sack by Daylen Christensen with 1:57 to go, and backup quarterback Alex Jackson setting up the final victory formation to help the Wasps lift the trophy — the biggest prize — for the program's first time.
Lish rushed for 55 yards, including the 16-yard touchdown run, for Morgan (8-3).
Scoring summary
First quarter
5:59 — JUAB: Trey Lund, 1-yard run (Richards kick)
Second quarter
10:37 — JUAB: Ryker Richards, 37-yard field goal
3:59 — MOR: Ryder Lish, 16-yard run
0:48 — MOR: Will Lance, 2-yard run
Third quarter
4:44 — JUAB: Bodee Blackett, 83-yard run (Richards kick)
Final — Juab 17, Morgan 14
×
Photos
More stories you may be interested in