Real Salt Lake forward Bobby Wood (7) celebrates his goal in a game against the Colorado Rapids at Rio Tinto Stadium in Sandy on Saturday, July 24, 2021. (Jeffrey D. Allred, Deseret News)
SANDY — The accidental fireworks in the 48th minute weren't the only explosive combinations at Rio Tinto Stadium.
The other detonation was Real Salt Lake with a two-match winless skid as it buried Rocky Mountain rivals Colorado.
Bobby Wood and Rubio Rubin each scored a goal, and Real Salt Lake went on to down the Colorado Rapids 3-0, walking away with a win for just the second time in the past seven matches Saturday night at Rio Tinto Stadium.
Colorado goalkeeper William Yarbrough let a soft backward pass trickle over the line for a first-half own goal, giving RSL a lead just 14 minutes in. Real Salt Lake counterpart David Ochoa made one save to earn the shutout.
This sport, man.

Never a dull moment. 😅 pic.twitter.com/wfXBpTANKQ

— Major League Soccer (@MLS) July 25, 2021
Colorado, which dropped to 7-4-3 with 24 points on the year, was shut out for the first time since April 17. RSL has likewise had just one shutout since May 22 and was coming off a disappointing 2-2 home draw with the Los Angeles Galaxy in a midweek match Wednesday night.
"It's not easy to shut out Colorado this year. They're hard to control," RSL coach Freddy Juarez said. "We always want to try to go and get a clean sheet. But I thought what we needed as a collective was sustain the energy we had against the Galaxy for longer than 30-40 minutes.
"At times, it's not pretty. But the players gave their commitment to it. We definitely have been struggling in those moments of the game, and the players were all on the same page to keep Colorado off the mark. It's not easy."
Colorado opened the scoring in the most comical way possible — out of the back, and not in the way the Rapids intended.
It started in the 14th minute, when Yarbrough mishandled the ball on a backward pass. The 32-year-old former U.S. international from Aguascalientes, Mexico, tried to take a touch with his feet, but the ball skipped on a blade of grass and crossed the goal line to give RSL a 1-0 lead.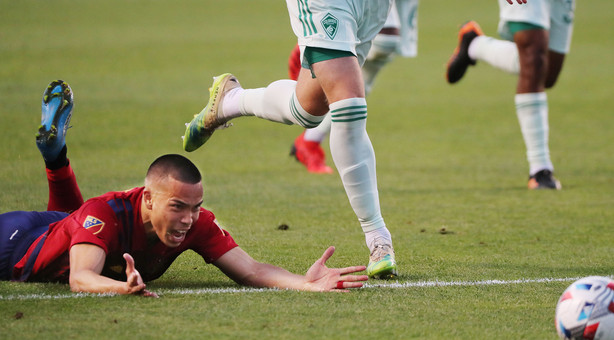 Yarbrough tried to recover the miscue, but it was too late, and the sideline official raised his flag while the packed stands behind a "For Sale" tifo in the south stands mercilessly crowd in his ear.
Wood doubled the advantage in the 30th minute, finishing off the spark that he gave RSL in his second career start. The former U.S. international took a pass from Albert Rusnak and rushed the entire Colorado defense on a downhill run that flitted off his left foot and inside the near post for a 2-0 lead.
"I just think as a team we started off very hungry, and that's why I got those runs," Wood said. "We were so aggressive pressing them, and had a good opportunity going forward. I tried to take advantage of that."
TAKE IT YOURSELF, BOBBY WOOD.

His first MLS goal makes it 2-0! #RSLvCOLpic.twitter.com/j3P4Gnauh9

— Major League Soccer (@MLS) July 25, 2021
Ashtone Morgan made the most his first start of the season for RSL, heading an attempt off the line in the 64th minute to keep the Rapids scoreless.
The 11th-year fullback from Toronto completed 63% of his passes, won two of his four duels, and conceded just one foul before coming off as a substitute in the 70th minute with a yellow card and a minor ankle injury.
"It's just a big thing for the entire team, not only the back four and Ochoa," Morgan said. "If we keep a zero, we allow ourselves to be in this game and put our best foot forward.
"Keeping a clean sheet and scoring three goals is a complete performance by us. We'll build on it, we'll enjoy it now, and then we'll start preparing for our next match in the coming days."
Morgan's exit from the match also corresponded with the RSL debut of Argentine winger Joni Menendez. And that freed up Rubin, who notched his fifth goal of the year in the 76th minute that came off Damir Kreilach's fifth assist.
A complete effort capped off by a post-match fireworks display celebrating Pioneer Day — even if a small portion of the display was accidentally discharged early.
"We needed to respond after a very disappointing draw against the Galaxy," Juarez said. "That's what we ask for. The result can go one way or the other, but today we got it and the result went our way, as well."
Real Salt Lake hits the road Saturday, July 31 to face the Houston Dynamo, the first of three consecutive matches on the road. Kickoff is scheduled for 6:30 p.m. MT on KMYU.
The club returns home Aug. 14 against MLS newcomers Austin FC.
×
Photos
Related Stories
More stories you may be interested in