SALT LAKE CITY — There weren't many shots falling for BYU basketball in the second half of a heated rivalry series in Logan.
But one finally did.
Connor Harding hit the go-ahead 3-pointer from the left wing with 57 seconds left, and Alex Barcello had 23 points, five rebounds, two assists and two steals to help BYU survive in-state rival Utah State, 67-64, Saturday night in the Dee Glen Smith Spectrum.
Caleb Lohner had 11 points and six rebounds for BYU (5-1), Matt Haarms added 8 points and four blocks, and Harding and Spencer Johnson supplied 7 points apiece for the Cougars. Brandon Averette added six points and five rebounds for BYU.
Neemias Queta led Utah State with 18 points, eight rebounds, four assists and four steals, Marco Anthony scored 17 points with seven rebounds, and Rollie Worster added 15 points, five rebounds and five assists for the Aggies.
Utah State (1-3) played its first game without head coach Craig Smith, who has been isolating in his Cache Valley home after testing positive for COVID-19.
"Every time you come to Logan, it is an adventure beyond adventures," BYU coach Mark Pope told BYU Radio. "The outcome is always 100% uncertain — unless they end up running you out of the gym.
"It's a credit to Craig in the way his team can play so well with him out of the building."
The Cougars shot just 30.8% from the field in the second half, down 18% from their first-half advantage, with a set of Utah State defensive adjustments. But BYU also held the Aggies to 35.6% from the field in the game, including 2-of-13 from three and 20-of-29 from the free-throw line.
"I'm really proud of our second-half effort, I thought our guys really fought," said Utah State assistant coach Eric Peterson, who filled in for Smith on the bench. "We held them to 30% from the floor in the second half, and 33% from three. At the end of the day, our first half just wasn't good enough. In the locker room afterward, we talked about how there's such a small margin for error when you play really good teams. We just didn't get off to a great start. Obviously there's a lot of adversity going on, and I just didn't do a good enough job putting our guys in position to score. When we score, our defense is much better.
"We have to give BYU a lot of credit for what they did defensively as well. Really proud of our second-half effort, really proud of our guys for fighting in the second half."
BYU won its ninth-straight game in the in-state rivalry series, which the Cougars lead 144-92, which represents the Aggies' longest in-state rivalry series dating back to the 1905-06 season. But three of the last-four games have been won by single digits, including a 68-64 win in the final year of the Beehive Classic at Vivint Arena a year ago — a grind of a series if there ever was one.
"These in-state games, they're tough," Barcello said. "We really stressed transition defense, rebounding with the players they have — and also Queta. We tried to not foul him, and get rebounds off him."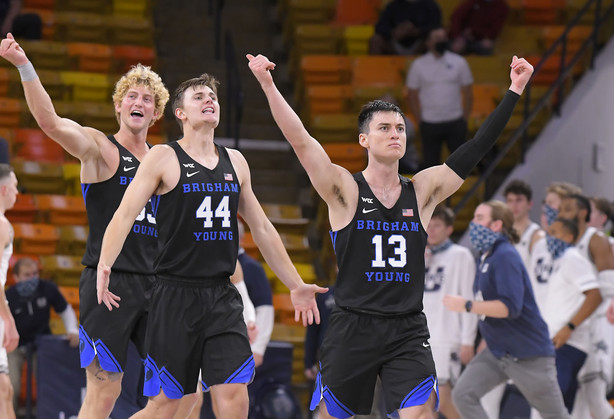 The game was also the first game the Cougars played in front of fans. BYU's first three home games were played in front of a small crowd of family members, former players and BYU and team administrators in the Marriott Center, before the Cougars played two games in "Bubbleville" at the Roman Legends Classic in Uncasville, Connecticut.
Even in a hostile environment, that fact was not lost on Pope.
"To have some fans in this building is like heaven. It was fantastic," the second-year BYU head coach said. "And these fans don't even like us; but it was so much fun to have people in the gym. Hopefully everyone is safe and gets home safe."
Lohner drilled one of his career-high three 3-pointers with 12 minutes remaining to push the lead to seven. The Cougars used a 9-2 run to push the lead back to double digits, 57-46 with just 10 minutes remaining.
The 3-of-4 effort from the 3-point line was a career-best in Lohner's young career after the Wasatch Academy product and former Utah signee missed his first 13 shots from distance to start his career.
"He hasn't hit a three in a while. But every single shot that he shoots, he sits there and owns the shot," Barcello said. "It paid off tonight … they were crucial threes for us."
BYU took a 10-point lead into halftime, a lead that the Aggies cut as low as four but couldn't pull within a possession until Queta capped a 12-2 run with a pair of free throws with 5:53 left.
MONEY
A
R
C
O#AggiesAllTheWaypic.twitter.com/Sdwy0UCDNL

— USU Men's Hoops (@USUBasketball) December 6, 2020
Worster tied the game on a jumper with 5:15 to go, and the two sides couldn't separate from one another into the final three minutes.
BYU shot just 28% from the field in the second half, a product of fatigue as well as the Aggies' stifling defense that forced 14 turnovers, including eight steals.
While Harding's lob proved pivotal, it was the Pocatello, Idaho native's full-court heave that impressed Barcello, who made like a wide receiver to track down an inbounds pass after Worster hit a pair of free throws with 33 seconds left to pull within one. The two-time Gatorade Montana player of the year also made 1-of-2 free throws with 12 seconds left, but missed the second foul shot — which Lohner collected off the glass, as Barcello made a pair of free throws to clinch the win before holding off a buzzer-beating 3-point attempt.
"It's what was drawn up in the timeout," Barcello said. "Obviously, if I didn't have an open catch, we'd get it to BA and have two guys rush up. I give all the credit to Connor; what an unbelievable pass, and what an unbelievable shot by him from the corner. I just had to seal the win."
Next up
BYU returns home to host Boise State on Wednesday. Tipoff from the Marriott Center is scheduled for 7 p.m. MT on BYUtv in the first of two home games leading into next Saturday's rivalry matchup with Utah.
"This Boise State team is haunting me," Pope said. "They're so athletic, and they missed a bunch of games because of COVID, but I think they're going to be a real problem in the Mountain West.
"But let's keep going. We get to have a season. We've played six unbelievable games, and we get two more next week. This is awesome."
×
Photos
Related Links
More stories you may be interested in