PROVO — No. 2 BYU is headed to Columbus for the 2021 NCAA men's volleyball tournament.
To send them off, the city of Provo threw them a block party Saturday night.
Zach Eschenberg had a match-high 13 kills, and the top-seeded BYU men's volleyball team posted 13 blocks to book its spot in the NCAA Tournament with a 25-23, 25-15, 25-19 win over Pepperdine in the Mountain Pacific Sports Federation championship match at the Smith Fieldhouse in Provo.
Wil Stanley dished out 38 assists, six digs and five block touches for the Cougars (19-3), and Felipe de Brito Ferreira supplied six kills and seven blocks on a night when the Waves were shut out at the net.
For the first time since 2018, the Cougars are heading to the national championships with the MPSF trophy in tow. The tournament runs May 6-8 in Columbus, Ohio — but first, they'll enjoy this one.
After a season like they've had — not knowing if they'd play as late as September before finalizing a conference-only schedule nearly a year after the season was shut down due to the COVID-19 pandemic — they'll enjoy the win.
It might even be BYU head coach Shawn Olmstead's favorite title of the four he's won since taking over the men's program in 2016.
"This is, for me personally, the biggest one," Olmstead said. "There are a lot of things behind the scenes that people don't know. We shed a few tears in the team room.
NCAA Tournament automatic bid ☑️ pic.twitter.com/7MX8CXjt7D

— BYU Volleyball (@BYUvolleyball) April 25, 2021
"Each championship is unique, and it's hard to compare. But I think this one is big because it's a culmination of things that we'll hold on to — and what these guys have gone through. We kept harping on these guys that we are going to play since September, but did we really know? The guys just stayed the course — and we got to play. It means a lot."
If Stanley was the MVP of Friday's semifinals with his passing and vision, it was Ferreira — along with the big block of Miki Jauhiainen and a supporting cast that included block touches from six different players — who claimed a similar honor on the weekend.
The 6-foot-9 senior from Maringa, Brazil, was everywhere in only three sets, hitting at a .857 clip on only seven swings over the middle in addition to his match-high seven stuffs.
"Felipe brought really, really good energy," Olmstead said. "He was just really good all over the place, and he was dialed in on the scouting report. He was flying.
"I think he started to cramp up — and they took him in the back in set 3 — from all the emotion and energy. He started to feel it. But he did a great job."
You don't need to tell Eschenberg how challenging the BYU block can be to face; he does it nearly every day in practice. When Ferreira and Jauhiainen are on, they can feel nearly impossible to beat.
On Saturday night, they were on.
"Felipe and Miki are huge blockers and they know my favorite shots," Eschenberg said, laughing. "It forces me to be a better player.
"Even when you think you have a shot, you learn pretty quickly that you have to make a smarter swing."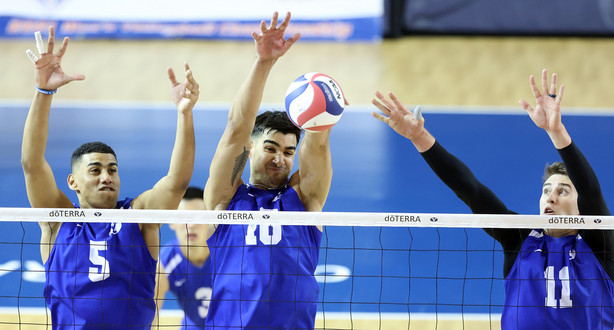 Two-time MPSF player of the year Gabi Garcia Fernandez had 10 kills, three aces and four blocks for BYU, including a critical ace that helped the tournament hosts pull away for good in the opening set.
Pepperdine was led by Spencer Wickens' 10 kills, and Bryce Dvorak dished out 26 assists for a team that had just 15 digs.
Eschenberg put down six kills on his first nine swings, and BYU posted 5.5 blocks while holding the Waves to .308 hitting en route to a 25-23 win in the opening set.
Fresh off a standout performance in the MPSF semifinals, Garcia Fernandez struggled at the pin early, claiming just one kill on his first four swings. But the senior six-rotation player from San Juan, Puerto Rico, added three digs and two aces to open up the early advantage.
BYU used the first-set momentum to open the second up 12-4, connecting on four-straight kill attempts while holding Pepperdine to .000 hitting through the first 18 total points.
And the Cougars never looked back from there, punctuating the final set of the match with a triple-block to secure their trip to Columbus, Ohio, for the NCAA Tournament.
Block parties never get old 🥲 pic.twitter.com/Yv4lk9MGTb

— BYU Volleyball (@BYUvolleyball) April 25, 2021
Pepperdine's journey, however, isn't over. The Waves are largely favored to receive one of two at-large berths to the seven-team tournament from Sunday's selection show at 11 a.m. MDT.
Still, they'll be sweating out the show. BYU? Not so much.
The biggest question with the Cougars is if they can pull one of two byes into the national semifinals from No. 1 Hawaii, which lost in Friday's Big West semifinals; or Lewis, which clinched the MIVA championship with a sweep of Loyola Chicago.
Do the Cougars deserve one of those byes — even the No. 1 overall seed?
You won't hear Eschenberg politicking for it. Like his team, he's just happy to be here, celebrating an MPSF title on the Cougars' home court.
"I just let the guys at the table make the decision, I guess. If anything, I feel like we've just worked really hard," he said. "We've definitely had moments where we haven't played our volleyball; I know we can keep getting better. But honestly, I feel like we've worked really hard, and tried to do well.
"I feel like we've done our part. The other things are things that we can't control. Those other teams have had very successful seasons. I'm just glad we get to go to the tournament."
×
Photos
Related Stories
More stories you may be interested in