American Fork tight end Noah Moeak (30) celebrates a touchdown with teammate Peyton Rees (21) during the Cavemen's 45-14 win over Weber, Friday, Aug. 20, 2021. (Sean Walker, KSL.com)
AMERICAN FORK — Noah Moeaki is a Division I linebacker, bound for BYU, with one more left in high school and a two-year church mission ahead of him before that.
But he's still got one more season left to prove he can score touchdowns.
Nights like Friday will help.
Moeaki caught two of Maddux Madsen's five touchdown passes as No. 2-rated American Fork rolled to a 2-0 start with a 45-14 win over No. 13 Weber in the KSL.com Game of the Week.
"This offense is so much fun to play in," Moeaki said. "Throwing the ball, getting catches, scoring touchdowns. It's just a fun offense to play in.
"I'll play wherever they want at the next level. But that's a question for after my mission."
A week after being shut out of the end zone in a 60-0 win over Granger, Trey Roberts caught three touchdowns for the Cavemen, who improved to 2-0 by outscoring their opponents 105-14 in the last two games.
The Cavemen posted 330 of their 409 yards through the air a week ago in a rout of Granger, with touchdowns from eight different receivers. Madsen directed a similar air show Friday night against Weber, finding Moeaki, Roberts, Fisher Ingersoll and a host of other threats. Even a rough injury last week to UCLA-bound tight end Carsen Ryan could barely dampen the Cavemen offense.
For an offense that's largely been together for three years, the chemistry is clear not only by the connection between Madsen and his receivers, but the way they celebrate each score together.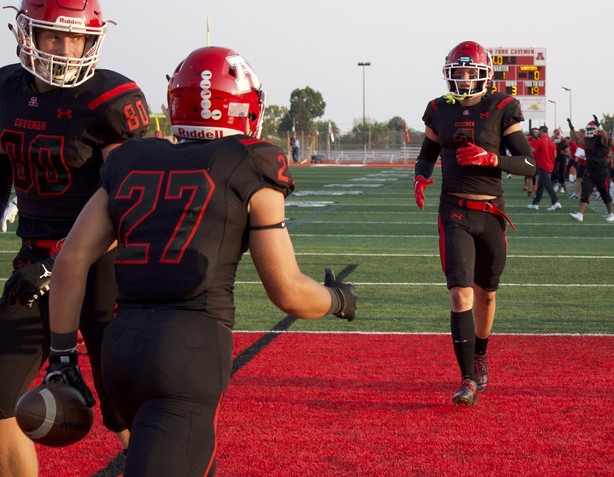 "They're all just super comfortable," American Fork coach Aaron Behm said. "The system's been the same for the past three years and they've played football together for a long time. I think they trust each other to do their jobs.
"It's not just one guy … and everybody is OK with that."
That's the nature of American Fork's offense, though: multiple. As in multiple schemes, multiple threats and multiple weapons for Madsen to find.
The Boise State commit could make a lot of less talent, but being surrounded by weapons like Moeaki, Roberts and all-state baseball standout and likely MLB draft pick Ingersoll doesn't hurt, either.
Ingersoll didn't get into the end zone a week after catching six passes for 72 yards and a score, but he had well over 100 yards as he made big play after big play — even without finding the end zone.
"And he won't care. He'll be happy Trey got in three times," Behm said of Ingersoll. "It makes my job easy to have kids like that. There's no ego in it; we just want to have fun playing great football, move the ball down the field, and we'll celebrate whoever gets in when we get there."
The Cavemen jumped out early on Madsen's first touchdown strike to Moeaki, a 24-yarder with 4:48 left in the first quarter that gave American Fork the lead.
Roberts made it 21-0 on a 49-yard swing pass from Madsen to end the quarter, and the hosts opened the second with Madsen sneaking into the end zone to go up 28-0.
Weber's Cannon Devries pulled one back with 8:03 to go in the half when the BYU commit pulled down an 83-yard strike from Jake Lindsay to pull the Warriors within 28-7.
But the Cavemen responded with back-to-back scores from Roberts and Moeaki over the final 6:33 to take a 42-7 lead into halftime and start draining a running clock.
"He adds a lot to our offense," Madsen said of Moeaki. "Being able to use the tight end like that is a huge deal. And then he has some of the best hands on the team."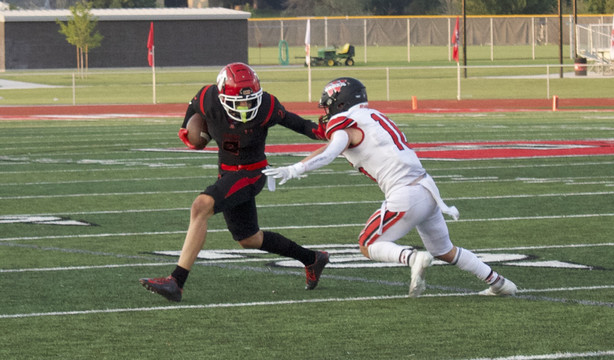 Noah Anderson booted a 25-yard field goal in the third quarter to cap the scoring for American Fork, and Weber's Logan Payne added a 1-yard TD plunge in the fourth to finish off the final score.
"This offense is a blast. We're able to do whatever we want, really, and score so many points," Madsen said. "Trey didn't have a touchdown last week, and he scores three this week. Fisher didn't score like he did last week, but I'd put money on him having 200 yards.
"It's just an explosive offense, and add Noah who is also a great blocker. Guys are stepping up."
American Fork hits the road next Friday to face West.
After opening with back-to-back games on the road against No. 6 Bingham and the Cavemen, Weber will host Bonneville in the Warriors' home opener Friday at 7 p.m.
×
Photos
Related Links
Related Stories
More stories you may be interested in