PROVO — On a rare night when Alex Barcello missed his first six shots and went scoreless from the field, BYU couldn't rely on its leading scorer to snatch a win over Pepperdine.
Instead, the Cougars relied on defense.
And the death Knell was a guy named Trevin.
Brandon Averette had 15 points and four assists, and Trevin Knell added 12 points on a season-high four 3-pointers as BYU grinded past Pepperdine, 65-54, to clinch a fourth-straight win Saturday night in the Marriott Center.
Barcello finished with 4 points and six assists — and a chipped tooth, and Richard Harward had 7 points and nine rebounds off the bench. Connor Harding supplied 10 rebounds for the Cougars (13-3, 4-1 WCC), and Kolby Lee added 10 points and three rebounds.
But on a night when both teams shot no better than 38% from the field, BYU's defense — holding the Waves to 29% shooting and outrebounding Pepperdine 48-39 — was the difference.
"I think that's becoming the face of this team: we're a tough, gritty team on both ends of the floor," Averette said. "When it comes to winning time, we always seem to pick it up on the defensive end.
"I definitely think this is becoming one of our biggest keys to winning, is our defense — and I love it."
Colbey Ross poured in 21 points with four assists for Pepperdine (6-7, 2-2 WCC).
Two nights after putting in a career-high 37 points, Kessler Edwards finished with 11 points and 10 rebounds after missing his first seven shots from the field.
If the face of BYU is defense, then that face probably looks like Barcello with gauze hanging out of his mouth, a toothy grin and a blackened eye of some kind.
"That toughness is unmatched," Averette said of Barcello, who was off to the dentist Saturday night to fix his tooth. "A lot of people wouldn't want to be on the court with a chipped tooth. But he's all about the team; he didn't second-guess it.
"I loved it. I told him after the game, he looked beautiful to me. We call them 'battle wounds.'"
Afer struggling with Pepperdine's size and length in the opening minutes, BYU found the answer to unlock the Waves.
The answer came primarily on defense, with Gideon George and Harward, and Harding and Caleb Lohner cleaning up the rebounds. It also featured Averette, the graduate senior from Utah Valley who scored 9 points on 4-of-6 shooting in the first nine minutes, including a stepback 3-pointer with 11:00 left that gave the Cougars an 18-11 lead.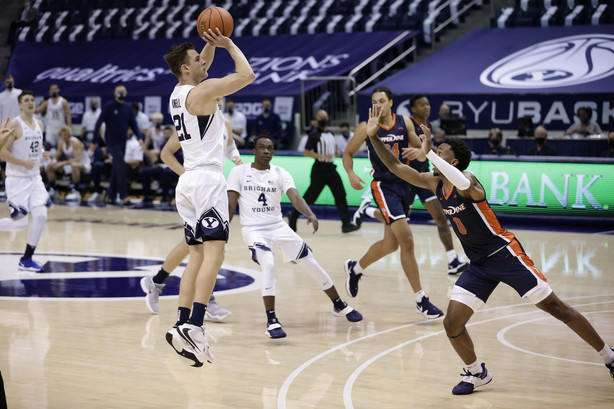 BYU guard Trevin Knell shoots a 3-pointer during a West Coast Conference game against Pepperdine, Saturday, Jan. 23, 2021 in Provo. (Photo: Jaren Wilkey, BYU Photo)
But mostly, it was the defense. And assistant coach Chris Burgess smiled at it all from the sideline. The former Utah forward knows a thing or two about grimey defensive games — in his college career, he played for both Duke's Mike Krzyzewski and the late Rick Majerus — so he knows a thing or two about defense.
BYU is playing it with the best in the country right now. Ugly. Rugged. Dirty enough that Barcello chipped a tooth while tussling for a loose ball on the floor.
"We've got some rugged dudes," Burgess said. "Richard Harward is rugged and physical. Caleb Lohner, Alex Barcello, Gideon George; those guys are mixing in with the other guys and buying into it, and now they're all buying into it.
"These guys are buying into it, because the results are these physical, tough, grind-it-out wins — and we're coming out with wins. We missed some good shots tonight … but they never let that affect them on the defensive end. I believe that they're buying in to winning on the defensive end, and enjoying winning by holding a team to 54 points like tonight. To be able to do that to a team like Pepperdine — my head coach, coach Majerus, is probably smiling down on this right now."
BYU held Pepperdine to 22% shooting in the first half, allowing just two field goals in the final nine minutes, to take a 37-26 lead at the break. Averette led all scorers with 13 first-half points, but both he and Barcello had three fouls at that point.
Two nights after tying a career high with 37 points, Pepperdine leading scorer Edwards scored 1 point in the first half on 0-for-5 shooting to go along with two rebounds in 12 minutes of the first half.
If BYU's offensive execution left plenty to be desired, its defensive performance was far from lacking.
But as they are prone to do, Ross and Edwards caught fire in the second half. This is only the fifth time in 13 games the Waves have had their complete lineup available, and that made the final stretch anything but easy for BYU.
Ross scored 10 points on 5-of-9 shooting in the second half, including a fast-break bucket to spark a 12-0 run that pulled the Waves within four, 55-51, with 6:41 remaining. Edwards capped the run at 15-2 to pull within a possession, sinking a 3-pointer with 4:50 left in a 57-54 game.
But the Waves could get no closer.
Just like they did against Saint Mary's, San Francisco and Portland, the biggest strength turned out to be the Cougars' defense.
"We love this," Knell said. "We love the frustration. And then he made sure our whole focus was getting stops. I felt like those last six minutes, we took that to heart and played as a team."
Matt Haarms, who finished with 6 points, three rebounds and four blocks two nights after a monster game, drained a fadeaway jumper — and moments later blocked a shot on the other end — as BYU bent but never broke in its defensive scheme that frustrated one of the hottest shooting teams in the conference.
As the 7-foot-3 Purdue transfer faded away from his shot, he yelled "Dirk!" then turned to the bench, winked — and immediately got back on defense to collect his fourth block.
Because while the making that jumper made Haarms feel like fellow European standout Nowitzki, it was his defense that won this game — and many others like it.
The Cougars will face Pepperdine again next Wednesday in Malibu. Tipoff is scheduled for 1 p.m. MT, before BYU returns home for Saturday's matinee with San Francisco (4 p.m. MT, CBS Sports Network).
×
Photos
Related Stories
More stories you may be interested in