PROVO — There's no question that Houston presents the biggest challenge to date of No. 14 BYU's 2020 football schedule.
With respect to Navy, Troy, Louisiana Tech and UT San Antonio, the red Cougars have been on a different level as regular American Athletic Conference contenders featuring a high-octane Air Raid offense engineered by Dana Holgersen.
Of course, none of that matters to BYU coach Kalani Sitake.
"I don't care about hype," the fifth-year head coach of his alma mater said. "I just want to play our best. It doesn't matter about the rankings. Either the criticism or the praise, it doesn't really matter. Those are distractions."
Distractions to the team, yes. But they matter.
Houston (1-0) kicked off its season last week with a 49-31 win over Tulane, one made more emotional and exciting after the Cougars were forced to cancel or postpone their first three games of the season against Rice, Baylor and North Texas due to the coronavirus pandemic.
Indeed, the red Cougars' matchup with BYU has already been touched by that same pandemic: the two Cougars were meant to play this game in Provo, but travel restrictions in eastern Texas forced Houston to ask to flip the two-game, home-and-home series, and BYU athletic director Tom Holmoe was happy to oblige if it meant not canceling the game outright.
Again, a distraction. But it all matters.
Houston will be BYU's toughest test of the season, according to ESPN's FPI, which gives BYU a 52.3% chance of winning. That's the lowest for the remainder of the season, just behind a 56% chance Nov. 6 at Boise State. Friday will also be the first time Houston has hosted a ranked nonconference opponent since a 36-10 win over then-No. 3 Louisville in 2016.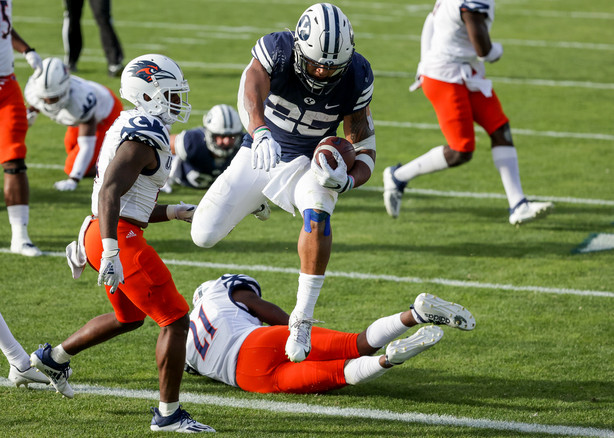 Brigham Young Cougars running back Tyler Allgeier (25) runs into the end zone over UTSA Roadrunners cornerback Ken Robinson (21), giving the Cougars a 27-13 lead after the PAT missed, at LaVell Edwards Stadium in Provo on Saturday, Oct. 10, 2020. (Photo: Spenser Heaps, Deseret News)
And these Cougars are good, too. Explosive. Big. Fast. Those were all words BYU offensive coordinator Jeff Grimes used to describe Houston this week.
"They've got a very aggressive style in the defensive line — the ball is snapped, and they are in your face on every, single play," said Grimes, noting their "big safeties and fast linebackers," in particular. "I really don't see a weakness at any position. They've got guys who are big and explosive at every spot."
Houston will be without several players — as many as 17 players could be out for a variety of reasons, including COVID-19 and contact tracing. None of them are long-term, but there are also the typical "bumps and bruises" that Holgorsen said come after playing the first game of the season — even if it's mid-October.
"I think we'll be fine," Holgorsen said. "I think we'll finish the week fine and be ready to go on Friday night. But there's no more feeling 100% after a game, and being excited for a Tuesday morning practice after a game and then going eight days later.
"Our team still needs to understand that game week is game week, and you're not going to feel 100%. You've got to get out there and get ready for the next one."
[embedded content]
What the red Cougars will have, though, is skill. Houston currently ranks No. 1 in the Football Bowl Subdivision in total defense, allowing just 211 yards per game (and only 70 rushing yards). The Cougars also rank second in passing offense, third in scoring offense and third in rush yardage allowed.
And while Houston lost quarterback D'Eriq King to the transfer portal, the player filling the current Miami starter's shoes has proven more than adequate. In four games, quarterback Clayton Tune has completed 66.2% of his passes for 508 yards and three touchdowns with just one interception.
The junior from Carrollton, Texas, threw for 319 yards and two touchdowns in the Cougars' win over the Green Wave. So he'll fit in well with BYU's Zach Wilson and the early-season, high-flying offense he's been directing for the visiting Cougars.
"These guys are spectacular. The Wilson kid at quarterback is playing as good as I've seen," Holgorsen said. "It all starts up front; they've got some big kids at offensive line."
How to watch, listen, stream
No. 14 BYU (4-0) at Houston (1-0)
Friday, Oct. 16, 2020
Kickoff: 7:30 p.m. MT
TV: ESPN (Jason Benetti, Andre Ware, Kris Budden)
Streaming: WatchESPN
Radio: BYU Radio, KSL Radio (Greg Wrubell, Riley Nelson, Mitchell Juergens)
Live stats: KSL.com Game Center
Series history: BYU leads, 2-0
×
Related Links
More stories you may be interested in