PROVO — For 36 minutes and 50 seconds, BYU basketball was right there with the best team in the country.
The Cougars outscored No. 1 Gonzaga 69-67 over that span of time late Monday night in the Marriott Center during a game that was moved up nearly three weeks due to rising COVID-19 infection rates across the West Coast Conference.
Maybe that will give BYU coach Mark Pope some solace after his team's 82-71 loss to the Zags. More likely, it will pierce him like a dagger through his heart, because Pope is a competitor and he likes to win — even against the nearly unanimous best team in the country.
That's because Pope knows that men's college basketball games aren't played in groups of 36 minutes and 50 seconds. They're played across 40 minutes, divided into two 20-minute halves, with only a brief halftime and a handful of timeouts to split up the action.
So you can't really take that 36:50 apart from the other 3:10, when Gonzaga jumped out to a 15-2 lead on the Cougars and cruised to a season sweep of BYU behind a star-studded lineup of Drew Timme, Corey Kispert and sensational freshman Jalen Suggs.
The season series will go down as Gonzaga 2, BYU 0.
Yoeli Childs was not walking through the door of the Marriott Center, and Mark Few was walking out of it with another win, his 19th of the season with the Zags and 23rd consecutive victory overall, dating back to senior night for Childs, Jake Toolson, T.J. Haws and the rest of BYU's class of 2020 that got one final punch in on the then-No. 2 Zags.
Don't think that didn't play a role in the game, either — especially in Gonzaga's first start.
"We just remembered last year," Timme told the Associated Press afterward. "It's still a bitter taste in my mouth."
[embedded content]
Still, as much as it pains Pope or his team captain Alex Barcello, an equally competitive and motivated senior who had 20 points and five assists for the Cougars, there were plenty of positives for BYU to learn.
For 36 minutes, the Cougars were — at least in many regards — the better team. For significant stretches, BYU stood on the same court as Gonzaga and gave them everything they got.
But again, games aren't played over 36 minutes; they're played over 40.
There will be no moral victories for Pope and the Cougars. But Monday night's loss will be a learning experience, and a vital one at that as BYU tries to make it back to the NCAA Tournament for the first time since 2015.
"It was light years ahead of when we played at the Zags, for sure," said Pope, whose team lost to Gonzaga 86-69 on Jan. 7 in Spokane, the first game of WCC play for the Cougars. "I felt a lot better at that. I thought we saw some flashes of positivity at times, and then at times, it felt like we weren't even close. That's what good teams do to you."
Over the previous 32 days, BYU showed that it narrowed the gap against Gonzaga (19-0, 10-0 WCC), who if the NCAA Tournament started today would be a No. 1 seed in the bracket and who also would be considered among the top favorites to win a national title — with only fellow undefeated Baylor pitching a significant argument against.
Yes, BYU narrowed the gap and proved that — despite a haunting road loss to Pepperdine — the Cougars (15-5, 6-3) are the second-best team in the West Coast Conference, while the Zags are the best team in the nation.
But they're also not good enough. Not yet, at least.
"Some days, especially after losses, we've got to be able to bounce back, to flip the page and focus on what we need to do to get better," Barcello said. "We've got to get better tomorrow, be locked in practice, and learn from today."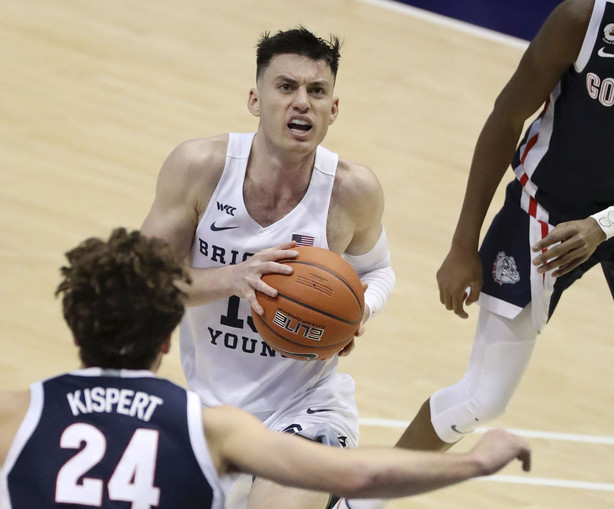 BYU guard Alex Barcello (13) looks to shoot in front of Gonzaga forward Corey Kispert (24) during a basketball game at the Marriott Center in Provo on Monday, Feb. 8, 2021. BYU lost 71-82. (Photo: Kristin Murphy, Deseret News)
On Monday night, BYU didn't look like Gonzaga's equal. The Zags are on another level, and the Cougars aren't there. Neither is most of college basketball, and it's OK to admit that.
But in the aftermath of the Cougars' fifth loss of the season, their KenPom resume actually jumped four spots, to No. 33 nationally. Their NET rating — used as a key metric by the NCAA selection committee — dropped three spots, from No. 27 to No. 30. That still puts them within the realm of traditional at-large consideration, hovering around teams like No. 27 Florida, No. 29 Penn State and No. 31 Drake, which was undefeated until last week's 74-57 loss to Valparaiso.
If the NCAA Tournament started today, the Cougars would be in the field of 68. That much wasn't just evident to Pope or the most blue-goggled BYU fan. It was also clear to Few, who has taken Gonzaga to 19 WCC regular-season titles and 16 tournament titles guaranteeing an NCAA berth.
"They're definitely an NCAA Tournament team," Few told the Associated Press moments before floating the idea on SportsCenter that the WCC Tournament may look different in 2021 than ever before. "There's no question.
"I think they're going to be a really tough out for anyone who plays them in the tournament. They're a really tough (team to) scout."
Mark Few floats on SportsCenter the possibility of the WCC limiting the number of teams in the conference tournament, says maybe it makes sense to have the top three teams come to Spokane to play it out and that's it. pic.twitter.com/Tmkt4FEE7r

— Brenna Greene (@BrennaGreene_) February 9, 2021
Gonzaga improved to 20-7 all-time against BYU, and the Cougars will return to the Marriott Center Annex to digest the film, to try to get better, and to figure out a way to get to the Zags' level.
It didn't happen Monday. It won't happen today. Maybe someday, it will.
Maybe, even, in March.
"I'm not going to lie: we're a really talented team," Barcello said. "But we also need to get better and we also need to improve in order to be an NCAA tournament team.
"At points in the game, I thought we really brought the fight. We were getting stops and making plays on the offensive end. We just had to continue our fight throughout the entire game. That's one thing we're going to get locked in on film tomorrow. When we go up against an NCAA Tournament team like them, we've got to stay locked in, for all 40 minutes, and bring our fight."
×
Related Stories
More stories you may be interested in