PROVO — Alex Barcello was broken.
He didn't use the word, but he hinted at it. His mother said it. His coach at BYU, Mark Pope, said it. And even if he didn't use the word, he never corrected it, either.
In a moving and emotional "Deep Blue" on BYUtv, Barcello described the depths of his struggles as the Chandler, Arizona, native left the University of Arizona to start a new basketball career and academic journey. His mother Shelli described the emotional talk the two had as he felt his confidence slip — in himself, in his game, in his life outlook.
"It was a rough summer for me," Barcello said, "kind of like a roller coaster, with ups and downs."
Barcello needed a fresh start.
"He was super broken," Pope recalled. "His experience at his former school was really, really difficult. He kind of lost some of his love of the game, spent a lot of time questioning his own ability and his own skill and his own future. It left him on really uncertain waters."
When Barcello finally set his mind on transferring, two schools eventually stood out: BYU and Butler. There was plenty of time to make a decision on both, so he, his family and his girlfriend Zoe all sat down together and started making a list of pros and cons of each university.
Barcello enumerated the pros of the Cougars: the coaching staff, led by Pope, who believed in him like few coaches had before; the facilities, highlighted by the newly completed Marriott Center Annex; the chance to feature on a guard line next to TJ Haws and Jake Toolson, who were both graduating and would leave the "keys" to BYU's offense in his hands a year later.
The cons? There were none. So Barcello called Pope and committed on the spot. He had found a new home, away from the desert but just a short drive north.
[embedded content]
Once broken. Now, found.
In a coincidental convergence of mystical events — perhaps, even, a sign from above, if you believe in such things — the beginning of Barcello's end journey with the Cougars will begin where it started: alongside Butler, in historic Hinkle Fieldhouse, one of several sites of the NCAA Tournament in Indiana.
The Cougars (20-6) are scheduled to open the tournament Saturday against Thursday night's First Four winner between UCLA and Michigan State. That it comes at Hinkle — which finished as a close second to BYU in Barcello's transfer decision — is an odd alignment of fortunes and fate.
But that this journey came to a head in the NCAA Tournament? Well, that was never in doubt. Because really, after all the Cougars had done for Barcello — taken him in, repaired him, made him better both at basketball and beyond — securing BYU's first NCAA Tournament berth since 2015 was the least he could do.
"When I committed here, I told myself and the coaching staff I was going to pour my heart out to this university and try to repay that trust they had in me," the 6-foot-2, 180-pound guard told KSL.com. "I'm so excited to wear Brigham Young on the front of our jerseys and carry that name throughout the tournament."
Earlier this week, Barcello was named an Associated Press All-America honorable mention. For a player who once averaged just 3.5 points as a sophomore at Arizona — a true role player, with no starts in 51 appearances and scoring in double figures just four times in two seasons in Tucson — the transformation to a full-time starter averaging 15.9 points, 4.7 rebounds and 4.5 assists per game is remarkable. He's already set a BYU record, with his 7-for-7 3-point shooting performance in a 79-73 win over San Francisco.
Barcello is the undisputed leader of the BYU men's basketball team in 2020-21 — not even fellow seniors Matt Haarms and Brandon Averette contend against that. A bow of energy with the heart of a champion and a new smile courtesy of the team dentist, Barcello carries the load of a BYU fan base on his shoulders — one that hasn't been to the NCAA Tournament in six years and had its collective heart broken by the cancellation of college sports' seminal One Shining Moment a year ago by the coronavirus pandemic.
The Cougars are motivated to make up for lost time this weekend. But so, too, are its first two potential opponents. UCLA has taken plenty of lumps this year, including the loss of their leading scorer leading up to the tournament, and the Bruins haven't faced a team in the field of 68 since Jan. 2 against Colorado. Michigan State is the home of Tom Izzo, whose name is synonymous with "March" in college basketball circles, and have won three of the top six teams on the tournament's seed line since Feb. 23 to roar into the First Four (8 p.m. MT, TBS).
Of course, the three losses in that same span have all come by double figures, showing both the highs and lows of the 2020-21 Spartan squad that will soon feature a "presenting sponsor" to be known as the "MSU Spartans Presented by Rocket Mortgage," though the university backtracked on the nomenclature when it was roundly criticized.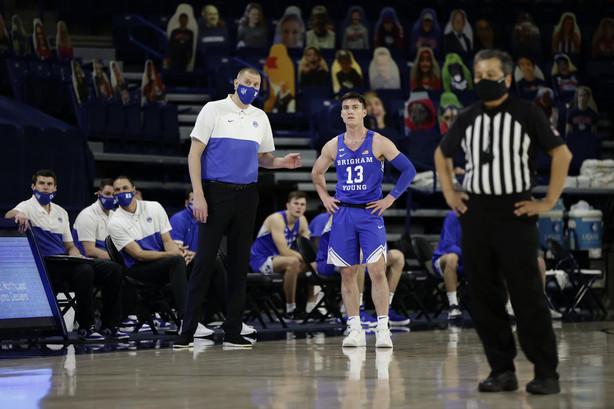 The Cougars will definitely be watching from inside their Indianapolis hotel room bubble.
Still, in one word, they'll both be "motivated," Barcello said.
"They're both really good teams and are really good, well coached," Barcello said. "They're a fast-paced team. We've been guessing the matchups we would have today, and one of the team was Michigan State. So we're playing as physical as we can, guarding in transition, and trying to crash the boards."
This is March, and Barcello is happy to be a part of it. So, too, are the Cougars.
"I just think there's something different about college," said Pope, a former nine-year veteran of the NBA who helped Kentucky to a national championship in 1996. "There's no free agency. There's a team unity that wins in college that is so special. It's been really rewarding to see Patrick Ewing and Juwan Howard and the emotion they showed over the last 24 hours.
"Those are two greatest players of all time, and now college coaches, but the emotion that they've demonstrated probably says better than any words I can give what this college postseason is. A lot of times, it's your one shot, and it's all built around a college environment and kids who are trying to make it and figure themselves out. The change we have is just beautiful."
First Four — Thursday, March 18
Texas Southern vs. Mount St. Mary's, 3:10 p.m. MT (truTV)
Drake vs. Wichita State, 4:30 p.m. MT (TBS)
Appalachian State vs. Norfolk State, 6:40 p.m. MT (truTV)
UCLA vs. Michigan State, 8 p.m. MT (TBS)*
*Winner plays BYU at Hinkle Fieldouse, Saturday at 7:40 p.m. MT (CBS)
×
Related Stories
More stories you may be interested in