LAS VEGAS — All season, Alex Barcello has been one of the most important figures on the BYU basketball roster.
The senior who transferred from Arizona has led the team in scoring with 15.7 points and 4.6 assists per game, and he's delivered clutch shots, game-winners and back-breaking daggers to live up to the numbers.
In the Cougars' first run in the postseason played 10 days after their last regular-season game, the undisputed leader came up clutch again. But he wasn't the most important playmaker — by his own admission.
Barcello had 21 points, nine rebounds and two assists, including the go-ahead layup in regulation and overtime, as BYU rallied to survive Pepperdine 82-77 in Monday night's West Coast Conference Tournament semifinal at Orleans Arena.
Matt Haarms had 18 points, seven rebounds, three blocks and two assists for BYU, and Brandon Averette added 16 points and five assists for the Cougars, including coming off the bench with four fouls to pace a furious 7-2 rally down the stretch.
Kessler Edwards had 20 points, nine rebounds and five assists to lead the Waves, and Jade Smith added 15 points and eight rebounds. Colbey Ross supplied 16 points, six rebounds and two assists for Pepperdine (12-12), which forced 21 turnovers and looked at times like it was moving closer to a 2-1 record against the Cougars in 2020-21.
Defense wins games! @BYUbasketball coming up big in OT.@UCU_LA#WCChoops Tournament pic.twitter.com/Ow4unjEvn0

— WCC Basketball (@WCChoops) March 9, 2021
But the turnover that mattered most was the one Spencer Johnson forced with 16 seconds left in overtime, recovered by Connor Harding, and then flipped to Barcello for the game-sealing free throws.
"I just saw Spencer was worried about the right things," Barcello said. "He had one thought in his mind, and that was winning. That play won us the game, I think.
"We stressed the entire game to make Edwards get tough catches, and that's exactly what he did toward the end."
Johnson finished with 6 points, two rebounds, and the all-important steal to finish the night as the WCC avoided the upset that would've likely shifted the Cougars by at least a seed line — if not to the bubble entirely — in the NCAA Tournament.
Instead, BYU's tourney dreams are likely assured. The top-ranked Zags will be a heavy favorite after they clinched a 14th consecutive 25-win season with a win over rival Saint Mary's in the earlier semifinal.
But BYU's path to the tournament is all-but guaranteed — thanks to one final takeaway by Johnson.
So much had to go right on that final play — from Johnson's deflection to Harding's reception to Barcello being in the spot where a short stone's throw away from Harding he could pick up the loose ball and help ride out the game-clinching foul shots.
But that's the thing about BYU, head coach Mark Pope said. That game-changing or game-winning or game-clinching play can be had by as many as 15 guys on the roster. That's the belief of what he likes to call the "best locker room in America" — a belief that extends right down to walk-on Cameron Pearson, who improved to 3-0 when delivering the pregame speech in the locker room, this time by teaching the meaning of "Vini Vidi Vici" to the group.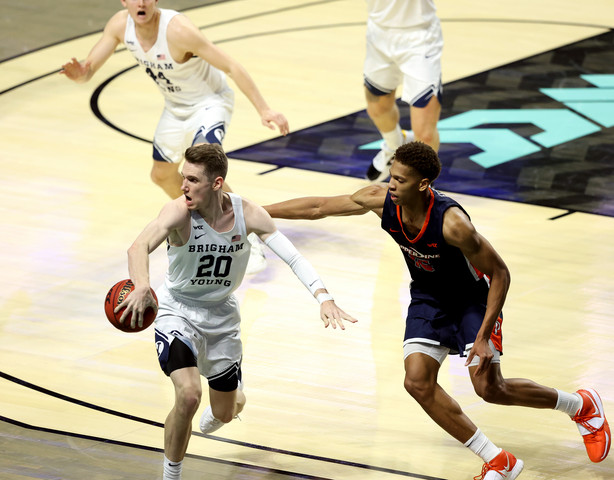 Brigham Young Cougars guard Spencer Johnson (20) flips the ball to teammate Brigham Young Cougars guard Connor Harding (44) after stealing the pass to Pepperdine Waves forward Kessler Edwards (15) as BYU and Pepperdine play in semifinal West Coast Conference tournament basketball action at the Orleans Arena in Las Vegas on Monday, March 8, 2021. BYU won 82-77 in overtime. (Photo: Scott G Winterton, Deseret News)
"It's something that's really special about our roster," Pope said. "We believe that every guy on this team is making game-winning contributions. Cam Pearson might have given the greatest pre-game speech ever.
"I don't know if any of our guy knows Latin, but they do now," Pope continued in a lengthy monologue. "Every single guy down the line … You go down the list, and everybody is contributing. I do think our guys believe more every day that every single member of our team is making vital contributions to our team, every single game … Spencer's play was one of 100 plays that are vital to the team winning."
BYU had 21 turnovers on the night. But the biggest takeaway was the 14th forced by Johnson in a game that featured 49 fouls.
"It was a collective effort. I'm so proud of that. Pepperdine has two generational players; you don't walk into this tournament with the leading scorer in the history of the tournament very often, and they do.
"It is 100% a team effort. We won 20 times beautiful ugly, and we dig it."
The Cougars shot just 43% from the field, including a lowly 7 of 21 from 3-point range, but outrebounded the Waves 45-34 and limited the No. 3 seed to just 5 second-chance points on eight offensive boards.
In a game with little to no rhythm — be it because of whistles, turnovers or poor shooting — BYU found a way to lean into one of its many mantras: to turn frustration into fight.
"We kept looking each other in the eye in our media timeouts, and telling each other the game's not over," Barcello said. "We had a lot of game left, and that's exactly what we do.
"There was every single thing that could've gone wrong for us, but these guys just battled back. We've been in these positions before, came out with wins, and even came out with losses."
THE GO AHEAD BUCKET. pic.twitter.com/42gQVR46PT

— BYU Basketball (@BYUbasketball) March 9, 2021
BYU led for just 4:07 — mostly in overtime — and led for the first time on Haarms' dunk in the first two minutes of the second half. Ross answered back 12 seconds lead to erase that lead, and the Cougars didn't gain another advantage on the scoreboard until the final miinutes.
Pepperdine was shooting in the bonus with 12 minutes left in regulation, and Sedrick Altman gave the Waves a 57-49 lead on back-to-back corner fadeaways with 10:34 left. Altman's and-one play with 8:45 on the clock didn't just gave Pepperdine a 61-51 lead; it also put four fouls on Averette.
It was that kind of night for the Cougars — filled with fouls, turnovers, and the type of shooting performance becoming of a team that hadn't played in 10 days.
And yet, BYU closed to as close as two on a 7-0 run paced by Trevin Knell moments later.
Averette came off the bench with four fouls to cut the deficit to two, 68-66 with two minutes to play.
Barcello drove across the lane and spun through traffic for a layup with 16 seconds left that put the Cougars up 71-70 — just their second lead of the game — before WCC defensive player of the year Haarms had his third block on the ensuing possession. After Johnson hit 1 of 2 free throws, Ross dribbled down court in the final 10 seconds and drained a jumper at the buzzer to lift the Waves to overtime, tied at 72.
"What an epic semifinal, right? You just love it," Pope said. "The postseason is a beautiful thing, and to play against a great time like Pepperdine with two big-time players and an unbelievable coaching staff.
"We're really grateful for the toughness of our guys to get the win in the end."
BYU (20-5) advances to face No. 1 Gonzaga in Tuesday's tournament championship. Tipoff from Orleans Arena is scheduled for 7 p.m. MT on ESPN.
×
Photos
Related Stories
More stories you may be interested in