When "Christmas Jars" premiered last year in theaters nationwide, no one at BYUtv could have foreseen how well it would be received. "We knew we had something special," said Michael Dunn, Managing Director of BYUtv. "We just didn't know how special."
Playing as a one-night-only event last November via Fathom Events, "Christmas Jars" screened in over 800 locations, with at least one screen in all 50 states. From just one night of nationwide screenings, "Christmas Jars" grossed over $450,000, ranking 6th in the nation, with higher per-screen averages than many of the Hollywood blockbusters playing in neighboring auditoriums.
"To say it over-performed for us would be an understatement," said Dunn.
The film premiered on BYUtv last December and now returns to solidify itself as an annual Christmas viewing tradition.
[embedded content]
The film, based on the New York Times bestselling novel by Jason Wright, tells the story of Hope Jensen (Jeni Ross), a budding reporter for a news website based in Columbus, Ohio. After a series of personal setbacks (including the loss of her adopted mother), Hope finds a jar sitting outside her apartment door, filled with dollar bills and loose change. After an online search, she discovers other locals who have also been shown the same kindness.
Hope convinces her editor to let her write an article about who's behind the Christmas jars. While she sees the potential for a great feel-good Christmas story, she also sees it as her opportunity to jumpstart her journalism career.
When Hope finally tracks down the family behind the jars, she endears herself to them, and they to her. But the closer she gets to revealing the truth about the Christmas jars, the harder it will be for her to stay out of the story.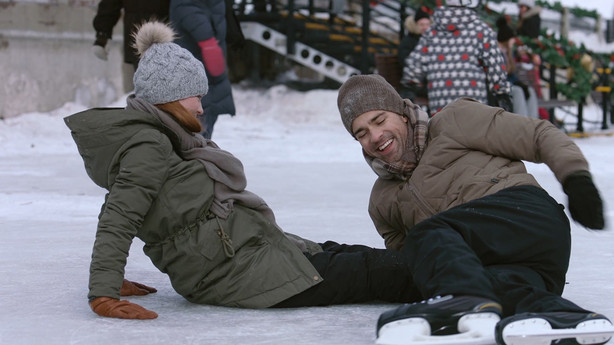 Photo: BYUtv
The themes of "Christmas Jars"—kindness, selflessness, and compassion—are powerful reminders that our willingness to give and serve during the holidays should not be motivated by our own desires to feel good. Rather, we should give of ourselves simply because it's the right thing to do, even though we may never see the full reach of our acts of kindness.
"It seems that holiday movies nowadays tend to focus on finding a soulmate or making sure Santa's sleigh arrives on time. A lot of them gloss over the real meaning of the season," said Andra Duke, Director of Content for BYUtv.
"'Christmas Jars' stands apart because it doesn't shy away from the loss and heartache that many feel around the holidays. But it also shows how we can rise to the occasion and embody the true spirit of Christmas. We can help alleviate the sufferings of others, both big and small."
"Christmas Jars" returns to BYUtv as a new family Christmas classic on Sunday, December 6 at 8:00 pm MT, and is available to stream now for free on the BYUtv app and on the BYUtv website.
×
More stories you may be interested in