Long before the COVID-19 pandemic began sweeping the world, another epidemic, more silent but just as sinister, had been sweeping through Utah and the U.S.: the opioid epidemic.
In the late 1990s, the first wave came as doctors prescribed opioid treatment as a typical pain management regimen following surgeries and for chronic pain. The second wave arrived in 2010, according to the CDC, with a rapid increase in heroin-related overdose deaths. And the third and ongoing wave began in 2013 as synthetic opioids like fentanyl began making their way into drug users' hands.
As with COVID-19, the opioid crisis has hit Utah especially hard. Consider these facts:
Utah ranked in the top 10 in the nation for overdose deaths over the past 10 years, according to the Utah Department of Health.
Utah opioid deaths outpace deaths due to firearms, falls, and motor vehicle crashes.
Utah averages 20.3 opioid deaths per 100,000 population. The Utah Department of Health reports the highest levels are in Carbon, Emery, Duchesne, Juab, Weber, Salt Lake, and Tooele counties.
In Utah in 2018, there were 437 drug overdose deaths involved opioids, according to the National Institute on Drug Abuse.
In Utah, 80% of heroin users started with prescription opioids, reports opidemic.org.
Between 2000 and 2015, the state experienced a 400% increase in deaths due to prescription drugs, reports the Utah Department of Health.
In 2017, the Drug Enforcement Agency selected Utah for its DEA 360 strategy to help combat the growing opioid epidemic.
Prior to COVID-19, Utah appeared to be making headway in the battle against opioid abuse. Data from the Utah Department of Health show deaths from opioid overdoses leveling off or declining in the past five years, but experts worry the trend is rising again because of the pandemic.
National Preliminary numbers show a 10% increase in overdose fatalities in the first three months of 2020, putting the U.S. on pace to suffer more than 75,000 drug-related deaths this year, reports the CDC.
In Utah, a Deseret News article explains that in recent months, a greater percentage of opioid overdoses are attributed to a fentanyl-laced heroin known as Hulk for its green tint.
Utah Naloxone reported 175 overdose reversals in August, a marked rise from 125 cases in July and 99 in June, reports the Deseret News. The Utah Department of Health reported similar increases in overdose emergency calls starting in mid-May. Emergency responders attended 278 suspected overdoses in a single week in mid-August, a three-year high for the state.
Alarmingly, these numbers likely only account for a small percentage of the actual overdoses occurring in the state. With greater ease of access to the opioid reversal drug naloxone (Narcan), family members and friends are able to administer the drug when an overdose occurs without a call to emergency services or a trip to the hospital.
Alcohol poisonings are also up for the year in Utah. According to a KSL News Radio report, Suzannah Burt, a prevention program administrator with Utah's Division of Substance Abuse and Mental Health, says people looking for stress relief are turning to alcohol because it's accessible (no prescription or drug dealer needed) and is sold at essential businesses which have remained continuously open.
Experts say these dramatic increases are almost certainly a direct result of measures aimed to combat COVID-19 infections. For one, many addiction treatment programs have had to close or change their treatment methods in order to accommodate social distancing and sanitization requirements.
"Every indication we have in terms of stress, in terms of surveys about increasing [drug] use during the pandemic, basically everything is pointed in the wrong direction," Adm. Brett Giroir, assistant secretary for the U.S. Department of Health and Human Services told NPR during an August webcast.
State and federal agencies have worked to reduce the impact of the pandemic on addiction recovery programs by making it easier to access medical treatments and by offering telemedicine drug counseling. However, an economy ravaged by COVID-19 has less funding to spend on public health, meaning there are fewer resources to devote to every level of the addiction recovery sector.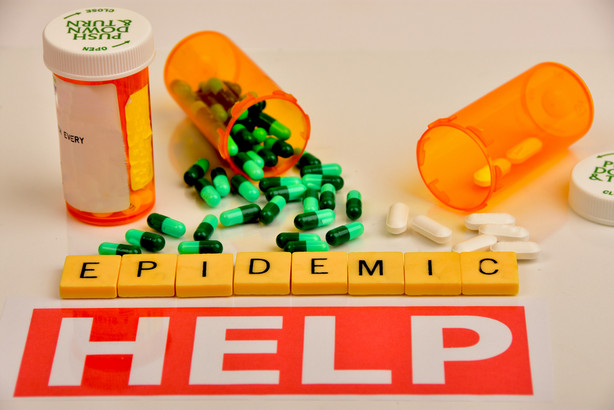 Photo: Shutterstock
But the damages of the COVID-19 pandemic on Substance Use Disorder sufferers don't end there.
In addition to an increased risk for overdose and other negative health effects, opioid users also face an increased risk of developing COVID-19, according to data analysis reported by the National Institutes of Health (NIH).
The team of investigators looked at non-identifiable electronic health records of over 73 million U.S. patients, 7.5 million of whom had had a present or past SUD diagnosis, and found that "while individuals with an SUD constituted 10.3% of the total study population, they represented 15.6% of the COVID-19 cases." The study also found that hospitalization rates for those with a substance abuse disorder and COVID-19 was 41.0%, versus those with COVID-19 only who had a hospitalization rate of 30.1%.
Pre-existing lung and cardiovascular system problems associated with drug-use help explain the higher rate of COVID-19 infections and attendant complications, but that's likely not the only reason for the elevated rate, Dr. Nora Volkow, director of the National Institute on Drug Abuse told the NIH.
"Another contributing factor is the marginalization of people with addiction, which makes it harder for them to access healthcare services," explained Volkow. "It is incumbent upon clinicians to meet the unique challenges of caring for this vulnerable population, just as they would any other high-risk group."
The ongoing drug crisis in Utah is echoed across the nation. According to the American Medical Association, "More than 40 states have reported increases in opioid-related mortality as well as ongoing concerns for those with a mental illness or substance use disorder."
In response to these concerning numbers, the AMA is urging state legislatures and governors to improve access to telemedicine-based evaluation and prescribing options and to institute new procedures for prescribing pain medications. These steps are meant to provide people with substance abuse disorders with proper medical treatment without exposing them to the risk of COVID-19 and to prevent people from resorting to other methods for pain relief.
×
More stories you may be interested in