Daniel Summerhays celebrates a putt during the final round of the Utah Open in Provo on Sunday, Aug. 22, 2021. Summeryhays finished tied for third. (Jeffrey D. Allred, Deseret News)
PROVO — Daniel Summerhays didn't think he had a chance to catch Utah Open leader Derek Fribbs ahead of Sunday's final round at the Siegfried and Jensen Utah Open.
That didn't stop him from trying in his maiden voyage at the event as a professional golfer.
Summerhays shot 7-under-par 65 for one of the lowest rounds of the day, finishing tied for third in his debut at the 95-year-old tournament currently held at an extremely familiar Riverside Country Club for the former BYU golfer who tried to make consecutive years with a former Cougar on top.
Fribbs shot 8-under 65 to top the leaderboard at 23-under 193, three strokes up on TK Kim and five up on the recently unretired golf pro from the Farmington area.
Summerhays was five shots back, tied for third at 17-under 199 — and in likely the best place he could've expected, he admitted candidly with a wholistic view of his three-day weekend.
"I loved it. It was fun to compete," Summerhays said moments after tapping in for par on No. 18 with the second-lowest round of the day. "These guys are really, really good, and I mean look at the scores — crazy. It does help that the greens are absolutely perfect so guys are filling up the cup.
"The second round killed me, and I knew it. Then a guy makes a double eagle on 15, and that killed me. But I was in a mindset to keep the pedal to the medal, and I just had to make more birdies. I was really happy with how I played."
Daniel Summerhays is into the clubhouse on the final day of the #UtahOpen at 17-under. 6 birdies, 1 eagle in his final round Sunday. pic.twitter.com/a5ximbQP3o

— KSL.com Sports (@KSLcomSports) August 22, 2021
Summerhays shot 71 in Saturday's second round, including an eagle on No. 15, to trail the leaders by several strokes before his rally that proved to come with too much ground to make up.
Even so, the weekend reinvigorated his desire to return to professional golf after stepping away from the game to teach and coach at Davis High School, and having surgery to repair a broken foot just weeks after finishing tied for second in a playoff following the 2020 Utah Championship at Oakridge Country Club.
"We like to ride the golfing roller coaster; after the first round, I was ready for the PGA Tour again. Yesterday, how can I go on. Then today, I'm back," Summerhays said while joking with his son Jack, who caddied this weekend. "But I've been through it enough to where you try to even out the lows and take confidence from the highs. I was definitely frustrated yesterday … because I wanted to win. But it didn't give me any lack of confidence in my game, and it was just a typical round of golf."
Even with his big final round, Fribbs made it more difficult with an 8-under 64 Sunday. The Colorado pro playing in his third consecutive Utah Open carded seven birdies with two bogeys in Sunday's final round, in addition to an albatross on No. 15, to brush aside any other contenders and claim the $20,000 purse.
Then he put it away on the par-5, 584-yard 15th hole, driving the fairway to within 215 yards of the hole and laying up with a 7-iron that took two hops and trickled into the hole for his first double eagle in a competitive round.
"I just hit my driver really well today," said Fribbs, who has been working with his swing coach to find more distance as he seeks a tour card. "I've been working with my coaches on getting some more distance, and it paid off today. I had a lot of good looks for birdie. It was a big advantage."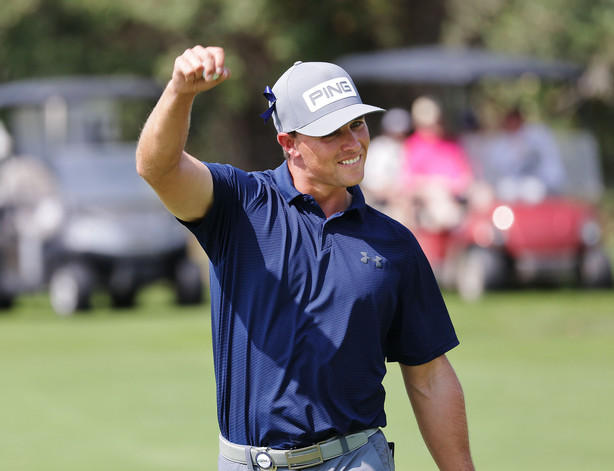 Kim was three shots back in second, followed by Summerhays and first-round leader Matt Marshall, who tied a course record at Riverside with Friday's 62. Isaac Merry and Utah Open regular Zahkai Brown — a close friend and traveling partner of Fribbs — rounded out the top-five at 15-under 201.
Most of the competitors of the three-round Utah Open were local golf pros and mini-tour travelers like Fribbs and Brown, who were driving back to Denver on Sunday night before heading for qualifying school.
Same for Summerhays, who earned an exemption into the final round of Korn Ferry Tour qualifying to earn full status on the tour next season. Even if he falls, he still has a medical exemption to take advantage of several Korn Ferry tournaments next year, and he can use a veterans' exemption after making a combined 122 cuts on the PGA Tour and Korn Ferry Tour in his career.
"The next few weeks, I'll be having some thinking time and will see what I want to do," Summerhays said. "I'll at least go and take a crack at Q school in the first week of November. I still like to play tournament golf.
"But if I could come back and play in the Utah Open every year, though, I'd be here in a heartbeat."
BYU golfer Cole Ponich, a Davis High alum, took low amateur honors at 13-under 203 and tied for ninth. Dean Wilson was the low senior with a two-day total of 135, while Tommy Sharp and Chris Moody split top honors from the Utah Section PGA sidebar.
Other notable finishes include BYU women's golfer Kerstin Fotu, the Alpine native who became the first-ever female golfer to make the cut at the Utah Open.
Matching her male competitors from the black tees alongside BYU men's golfer Elijah Turner, Fotu — who is also the reigning Utah Women's Open champion — shot 4-over 76 to finish with a three-day total of 3-over 219.
Utah golfer Martin Leon, the reigning Utah State amateur champion, shot 1-over 73 Sunday to finish tied for 53rd at even-par 1-under 215.
Former Dallas Cowboys quarterback Tony Romo carded 1-over 73 Sunday to finish with a three-day total of 4-under 212, tied for 42nd with a group that includes former Utah Open champion and PGA pro B.J. Staten, who helped bring Romo to Utah. Utah standout Blake Tomlinson, who owns back-to-back runner-up finishes at the state amateur, shot 5-under 211 to finish tied for 37th.
Last year's state amateur champion Mitchell Schow, who has since graduated from Utah and turned pro, shot 4-under 68 to finish tied for 24th at 8-under 208. Kelton Hirsch, the former BYU standout who recently turned pro, shot 7-under 209 for a T28 finish.
94th Siegfried and Jensen Utah Open
Riverside Country Club, Provo
Top 15 individuals
193 — Derek Fribbs
196 — TK Kim
199 — Daniel Summerhays, Matt Marshall
201 — Isaac Merry, Zahkai Brown
202 — Erik Matthewson, John Greco
203 — Nick Mason, Cole Ponich (a)
204 — Dean Wilson
205 — Kavan Eubank, Phillip Reedy, Carson Roberts, Tristan Rohrbaugh, Tommy Sharp, Chris Moody
Full results are available at utahpga.com
×
Photos
Related Links
Related Stories
More stories you may be interested in