TAYLORSVILLE — Farmington and Springville combined for 70 shot attempts in the Class 5A state championship game late Saturday night at Salt Lake Community College.
Lauryn Deede only needed one.
Deede took the ball the length of the court on the final play of the game, dished it to Ellie Espin around the 3-point line, then took it back for a layup around the right side of the rim with 10 seconds left.
And she did it all on a bum ankle.
"I can still feel it," Deede said. "It's kind of on fire. Adrenaline helps with that."
So, too, does a championship.
Deede had 14 points and five rebounds, including the game-winner as time expired, as Springville edged Farmington 39-38 for the Red Devils' first title since 2014 in the Class 5A state championship at Salt Lake Community College.
In a game where both teams shot above 55% from the field in an efficient, slow-paced contest, Addisyn Johnson added 8 points and seven rebounds, and Kayla Jackson supplied 7 points and two assists for Springville (22-2).
But when the Red Devils needed a bucket in the final seconds, there was no one coach Holli Averett trusted more than Deede.
"I was hoping in transition, not calling a timeout, that our momentum would carry us," Averett said. "I knew if we called the timeout, they were playing good defense, and we couldn't get a good look — and it paid off.
"Lauryn's so athletic; you could see it going in from the beginning — before it left her hand. She has so much composure."
Delaney Baker had a game-high 16 points and eight rebounds for the Phoenix (20-2), who were making their first title game appearance in the school's three-year history. Abi Ferrell added 7 points, seven rebounds and four assists for Farmington, and Haley McFarland added 4 points and five rebounds.
A less pacey game that only lasted an hour and 14 minutes — one becoming of the Red Devils — Springville took just 36 shots to Farmington's 34.
None were bigger than the last one, for either team.
First, Ferrell took an in-bounds play into the sweet spot on the court, scoring her seventh point of the game on floater with just 10 seconds left as the Phoenix took a 38-37 lead.
Ferrell didn't celebrate right away, nor did the rest of Farmington. The third-year program knew it had to play defense for just 10 more seconds.
Because 10 seconds was plenty of time for Deede.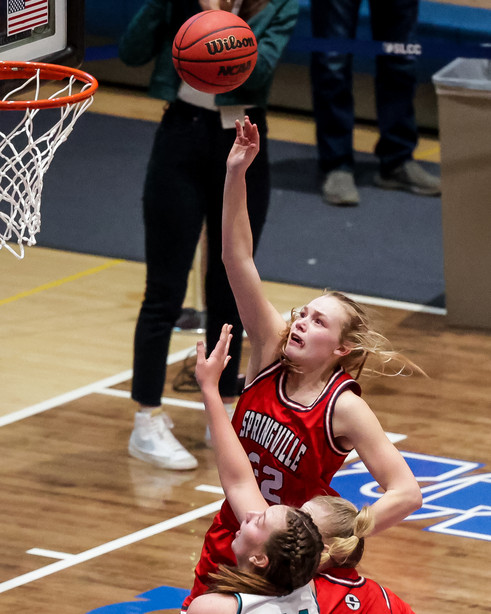 Springville's Lauryn Deede puts in a buzzer-beater layup to beat Farmington by one point in the 5A girls basketball championship at Salt Lake Community College in Taylorsville on Saturday, March 6, 2021. (Photo: Spenser Heaps, Deseret News)
Jackson rushed the ball up the sideline before finding Esplin in the corner. The sophomore knew she didn't have long, so when she saw a wide-open Deede in the corner, she made one beautiful pass over the huddled Farmington defense and Deede did the rest.
"Ellie's been great. She didn't get a lot of time last year, so for her to step up this year, to be our point guard, play great defense and be a great passer is huge," Averett said. "She improved so much throughout the season, and because of that, she made that (pass)."
A year after watching Highland celebrate in front of a packed house at the Huntsman Center, Deede didn't miss as she dumped a layup out of her hand at the buzzer that swished through the net as the horn sounded.
Ball game.
"It's redemption," Deede said. "We just redeemed ourselves. We worked hard all year for this, came here, and we finally got it."
Neither team attempted a 3-pointer in the first half, but Springville fed Johnson and Deede in the post tot take an 18-13 halftime lead.
Baker scored 5 of the Phoenix's 9 points in the first quarter, then was held silent as the Red Devils opened the second on a 6-0 run to wrest control. Farmington responded, but Deede's jumper in the final minute of the half gave Springville the 5-point advantage at the break.
"I just had to stay low, and get to spots before her and play really good defense without fouling," Johnson said. "I had to play safe."
Jackson drained the first 3-pointer of the game in the first minute of the half. But Farmington responded with an 8-0 run — mostly through Baker — to regain the lead.
Baker gave Farmington the 23-22 lead with two minutes left in the third. But the Red Devils end the period on a 4-0 spurt, including Jackson's buzzer-beating jumper — Springville's third field goal of the quarter — that gave the reigning state runners-up a 26-25 edge.
Still, no team lead by more than eight, and Farmington's lead never swelled above the 4 points it posted in the final minute of the third quarter.
Which left the door open for Deede's heroics.
"Nothing happier. I couldn't be happier. They've worked so hard," Averett said.
And with that, the first-time champion head coach and Springville alumna dived into a mosh pit with her players.
KSL 5A Girls All-Tournament Team
MVP — Lauryn Deede, Springville
Addisyn Johnson, Springville
Delaney Baker, Farmington
Amber Beddes, Farmington
Alyssa Blanck, Olympus
Macie Warren, Lehi
×
Photos
More stories you may be interested in