LAS VEGAS — Craig Smith shrugged at the question, saying he hadn't even thought of it all week, and could anyone blame him?
But for the first time in the Utah State coach's career in Logan, Smith sat at the podium for the losing team's press conference after a 68-57 loss in the Mountain West Tournament championship game with a handful of reporters and broadcasters staring back at him over a Zoom camera while San Diego State players, coaches and staff hollered, screamed and celebrated the Aztecs' first simultaneous regular-season and conference tournament titles since 2011.
A year ago, it was Smith going crazy, waving a pair of scissors over his head and spinning the remnants of the net from atop a ladder inside the Thomas & Mack Center after Aggie fans had rushed the court, delirious at another piece of Sam Merrill theatrics that sent Utah State back to the NCAA Tournament for the second straight year.
Of course, it was only a week later there would be no tournament; Rudy Gobert's positive diagnosis and the COVID-19 pandemic had shut down most sports, including March Madness, and Merrill's career ended on his game-winner against the Aztecs.
Now Smith sat in front of the camera, trying to explain 16 turnovers, 23% shooting from 3-point range, and a plus-three margin on the glass — one of the smallest margins the usually dominant Aggies have had all year — to a handful of reporters, some of them sitting in the media room of the same building he was and others nestled in their lounge chairs back home in Utah.
So when one of those reporters asked him about the future, about the next 24 hours, about sweating out Selection Sunday for the first time in his Aggie career or accepting a bid to the NIT or another sub-NCAA tournament, he was honest.
He hadn't thought about it. In the most wide-open tournament in his Aggie career, the Mountain West ended up all-chalk, with the regular-season champion claiming the tournament title.
"I haven't thought that far ahead, honestly," Smith said. "We want to play basketball. We've been steadfast on that all year. Our guys want to play."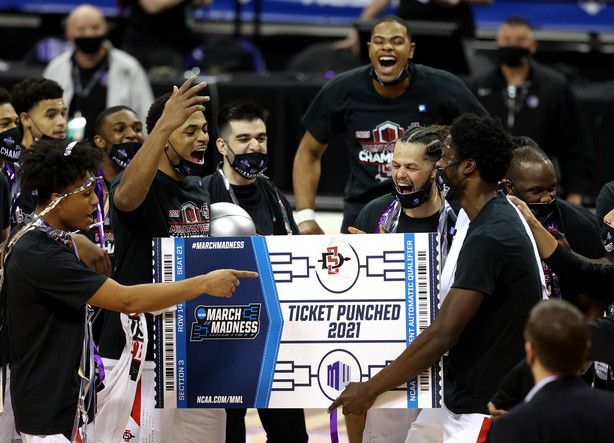 San Diego State celebrate after defeating Utah State 68-57 to claim the Mountain West Tournament Championship at the Thomas & Mack Center in Las Vegas on Saturday, March 13, 2021. (Photo: Scott G Winterton, Deseret News)
As far as when and where that next basketball game will be played, that's unknown.
The loss to San Diego State dropped Utah State to No. 40 in KenPom, three spots behind where they started the day in the NET rankings.
The Aggies started the day just inside the bubble, ranked among the Last Four In in Joe Lunardi's mock bracket at ESPN.com, flipping with Colorado State after Friday night's Mountain West semifinals that likely eliminated the Rams from contention. Boise State has similar fallen below the proverbial bubble in all the mock projections, as has fellow Mountain West bubble team Nevada.
Similarly, CBS Sports' Jerry Palm projected the Aggies playing UCLA for the No. 12 seed via a First Four game, which is also where the Washington Post projected Utah's Mountain West team.
But USA Today listed the Aggies among the First Four Out, and with non-traditional powers claiming conference tournament titles — like Georgetown in the Big East, Georgia Tech in the ACC, and Oregon State in the Pac-12 — Utah State's room for error has dramatically declined.
It's an unfamiliar situation for the Aggies, but one in which they find themselves.
"Like we told the guys in the locker room, now everything is out of our control," Smith said. "We did everything we possibly could in one of the hardest seasons you can possibly imagine. But I'm incredibly proud of this team."
Utah State (20-8) clinched the No. 2 seed in the Mountain West Tournament with a 15-4 record in league play, beating out fellow bubble teams Boise State, Colorado State and Nevada. While some of those teams struggled down the final stretch of the regular season, the Aggies were playing some of their best basketball in the final weeks.
Utah State took a six-game winning streak into Saturday's championship, which also snapped a run of eight straight double-doubles by star center Neemias Queta.
But the Aggies struggled to start the season, getting off to a 1-3 start with nonconference losses to VCU, South Dakota State and BYU. They also struggled as most teams did during the season, being shut down through part of December due to a rise in COVID-19 cases — including a positive diagnosis from Smith, who did not coach in the Aggies' 67-64 home loss to the Cougars.
[embedded content]
The Aggies canceled games against in-state foes Weber State and Dixie State, and when additional cancellations canceled half a series against Fresno State and another against Wyoming, Smith said they tried to reschedule.
Nobody wanted to play them.
The program went 42 games without a home game in January and February, in part because of the coronavirus, as well as a conference slate where four of their first six games came on the road.
Every game matters at the mid-major level, and Utah State didn't have enough of them to form a resume. The Aggies are just 2-5 in Quad 1 opportunities, but 2-1 in Quad 2. A good time, but a questionable great team.
"Now we're in the waiting game. But we've been on the bubble for three straight years," Smith said. "That's where we're at. It's hard for us to get teams to play in Logan, Utah; it's difficult. You do what you can, but every game matters at our level.
"I came from South Dakota, where it didn't matter what we did in the regular season. For us, every game makes a difference — and we've experienced that for three straight years. If we're good enough, we'll make it. But I'm excited that this team can compete with anybody."
Through injuries and ailments — Brock Miller's back, Rollie Worster's leg, and the stable reliability of 7-foot center Queta — the Aggies finished a 28-game season, and now await the future.
It'll be a long wait of less than 24 hours, traveling back to Logan and maintaining the controlled environment in Las Vegas, of being tested every morning and maintaining mask and social distancing standards.
"I'm not sure everybody understands everything that went into this year behind the scenes," Smith said. "It's been a heck of a ride, and hopefully we can keep on going."
×
Related Stories
More stories you may be interested in