Multiple counties across Utah reported significant flooding as the weather service issued several weather advisories on Thursday, July 22, 2021. (Ruby's Inn)
SALT LAKE CITY — Some Mapleton residents were evacuated Thursday after rain hit the Ether Hollow burn scar, causing flooding, amid flood and thunderstorm warnings for areas across Utah.
The affected residents were evacuated to a predetermined evacuation site, according to Mapleton police. As of 9:15 p.m., around 6 inches of mud had accumulated on a city roadway near Bartholomew Park and no injuries or damage has been reported.
Evacuations were lifted at midnight after Mapleton Public Works cleared the mud from the roadway.
"Residents in this area have been preparing for this event for months," the department said on Facebook.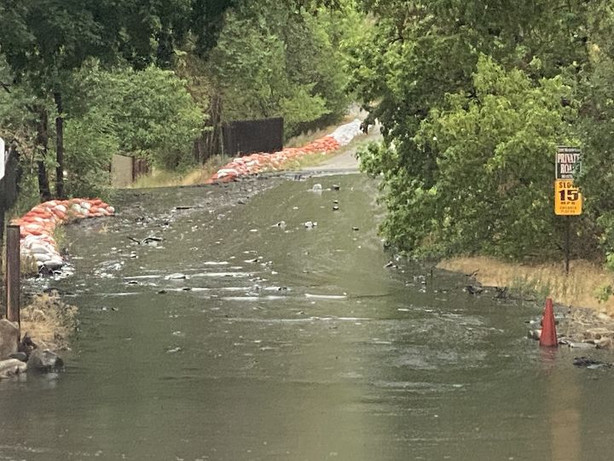 The National Weather Service issued multiple flood and thunderstorm warnings for areas across Utah as storms progressed throughout the state Thursday.
Warnings were issued Thursday for the following areas:
A flash flood warning for portions of Garfield and Kane counties until 8:15 p.m. that said residents in the area should expect flooding along the Escalante River.
A flash flood warning for Thistle, in Utah County, until 9 p.m., with an advisory to drivers traveling along U.S. Highway 6 not to drive through floodwaters and to seek an alternate route
A flash flood warning for Utah County until 8:45 p.m.
An urban and small stream flood advisory had been issued for Milford in Beaver County, which experienced "significant flooding downtown and along state Route 21."
Significant flooding in downtown Milford and along SR21, photos by our Milford COOP observer, thanks!#utwxpic.twitter.com/DlQ3kkGMDZ

— NWS Salt Lake City (@NWSSaltLakeCity) July 22, 2021
Just after 6:30 p.m., the weather service tweeted that a thunderstorm "bringing rainfall and ample lightning" would be moving through the Salt Lake Valley from west to east. Additionally, an urban and small stream flood advisory was issued for west-central Salt Lake County.
A severe thunderstorm warning for Salt Lake City, northern Salt Lake and Woods Cross was issued until 7:45 p.m. by the weather service at 7:22 p.m.
The weather service added that gusts to 50 mph and up to half-inch hail were possible as storms across Utah Lake moved into northern Utah County through 7:30 p.m. Strong wind gusts and dust would also affect north-central Salt Lake and central Davis Counties until 7:45 p.m., the weather service said
Finally some action for those of us in the Salt Lake Valley! A thunderstorm bringing rainfall and ample lightning is moving through the western end of the valley tracking towards downtown. More activity is possible in the next few hours. #utwxpic.twitter.com/0iLoS46LMT

— NWS Salt Lake City (@NWSSaltLakeCity) July 23, 2021
×
Photos
More stories you may be interested in