Timpview junior JJ Tuha, a BYU recruit, was recently made the latest college football meme when he was mistaken on the ESPN broadcast for starting quarterback Jaren Hall, Saturday, Sept. 26, 2021 against South Florida. (Screen grab via ESPN2/WatchESPN)
PROVO — JJ Tuha has seen his fair share of television cameras.
Whether it's the local cameras when his games with Timpview football are broadcast over-the-air in Utah, or ESPN cameras when he goes to a BYU home game with friends and family, he knows TV crews are always watching.
So when one ESPN photographer started filming him with a group of recruits before the Cougars' 35-28 win over South Florida, he moved to the side, thinking he was trying to film something behind him.
But the camera moved with him.
Moments later, Tuha's face was being shown across the ESPN2 telecast, introduced as starting quarterback Jaren Hall when the broadcast was opening the game with news that backup quarterback Baylor Romney would start his first game of the season during the Cougars' 4-0 start that vaulted them to No. 13 in the latest Associated Press Top 25.
And then his phone started blowing up with text messages from family and friends.
"Everyone was calling me Jaren," Tuha told KSL.com on Sunday morning. "It felt like nothing I ever felt before. It was really random. I wasn't expecting it at all."
Within moments of the start of the ESPN broadcast, "Jaren Hall" was trending on Twitter — but the name referred more to Tuha, and the lower-third gaffe by the Worldwide Leader in Sports.
Saturday wasn't the first time Tuha has been around Hall, at least tangentially. Jaren Hall's father Kalin, a former BYU running back, coached him in his younger days at Timpview, and his sister Chastina is married to BYU defensive lineman Lorenzo Fauatea.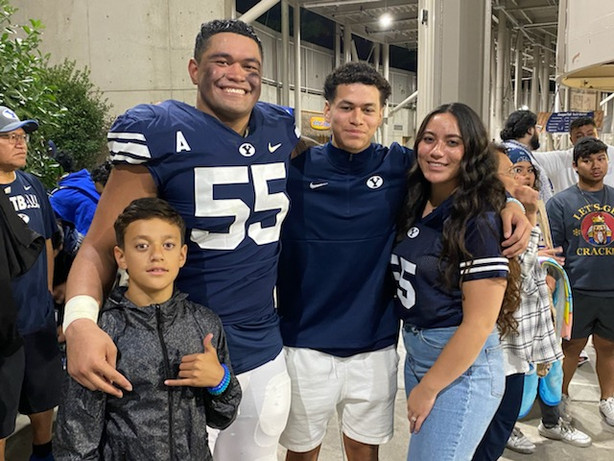 That makes him part of the BYU football family, by marriage, if nothing else. And now, apparently, he's also the Cougars' starting quarterback.
"I've never gotten it until that day," Tuha said with a laugh when asked if he's ever been mistaken for Hall.
Elsewhere at LaVell Edwards Stadium, JJ's father Jeff Tuha (yes, he's named after dad) was getting ready to watch the game when he received a text message from a friend. He saw a preview of a photo that included his son's face, and he didn't think much of it; JJ Tuha was with a couple of other recruits on the sideline and he figured this friend was texting him a photo of his son on the school's new state-of-the-art video board.
Then his phone buzzed incessantly, going from 12 messages to 20 in an instant.
"They were all showing the live coverage of someone's television," Jeff Tuha recalled. "It had Romney and Jaren Hall's name with my son there.
"It was pretty funny."
Within a few minutes, and while many online were still trying to find out the identity of this mysterious Hall impersonator, the internet did what the internet does. While Jeff Tuha used his own Twitter account to go on the offensive, telling local media and a handful of others about his son, the Photoshop depictions of ESPN's misplaced lower third were multiplying at a rate he couldn't control.
"The memes came, too," JJ Tuha said. "It was all really funny to me."
A group of BYU fans even approached JJ Tuha after the game, asking if they could take a selfie with "Jaren Hall" after the snafu. Of course, he kindly obliged and even laughed about it.
JJ Tuha isn't very active on social media. He has a Twitter account but has never posted on it himself, and doesn't even have a profile photo as of Sunday afternoon. He's slightly more active on Instagram but doesn't post much there, either, and keeps the logo of the Dallas Cowboys — his family's favorite NFL team — for his profile.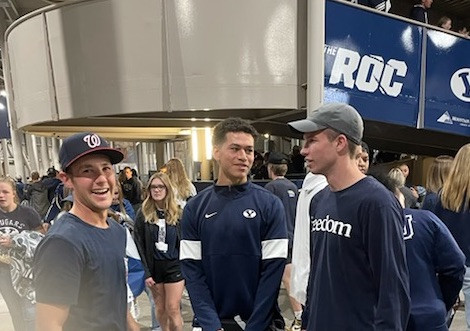 Maybe his biggest presence is on Hudl, the popular social video site for high school athletes where they can upload game film to send to college coaches and recruiters. He updates highlights after most games since he joined the service on Sept. 13, 2019, and is becoming more active since taking over at defensive back for Timpview's varsity team following the graduation of three seniors — including close friend Raider Damuni, who signed with BYU before departing on a two-year mission for The Church of Jesus Christ of Latter-day Saints in California.
Jeff Tuha and Damuni's father Jack, one of the Cougars' recruiting directors, were roommates at Dixie State. He's also related by blood to former BYU fullback Fui Vakapuna, who lived with the family during part of his college career, eagerly watches nephew Lopini Katoa each Saturday, and another Kavika Fonua who recently graduated after playing running back and linebacker at BYU.
JJ Tuha's mother is also related to former BYU fullback Manase Tonga, having grown up together in San Mateo, California.
"We've been around a lot of BYU football," Jeff Tuha said after going through the family's exhaustive tree.
The Tuha family never asked for tickets from their house guests, but grew up around campus enough since moving to Provo from Texas about 20 years ago that they received a few passes here and there in the years since JJ was born, in addition to their own tickets.
But Saturday night was the first time anything even remotely similar to the ESPN graphic gaffe had happened. And it couldn't have happened at a better place.
"That's probably my dream school," JJ Tuha said of BYU.
Tuha describes himself as an active, flighty defensive back who loves to fly to the ball, both in the air and on the ground. He has totaled 13 tackles, two interceptions and two pass breakups in five games for the Thunderbirds this fall, including four stops in the recent 62-21 win over Alta and picks against 6A powers Skyridge and Lone Peak.
"I'm a guy who can run all around the field," said Tuha, adding that he plays similar to his cousin Fonua, the former Syracuse High standout. "I just like to get to the ball."
He is our son JJ Tuha. It's kind of funny because Jaren's dad Kalin actually is a coach for our sons team at Timpview High School. I know Kalin personally and his son Jaren is a great person to be mistaken for. Jaren is great young man from a great family. pic.twitter.com/29Xzs3OAV4

— jeff 2ha (@JeffTuha) September 26, 2021
The 6-foot-2, 175-pound athlete plays mostly strong safety, but has spent time at linebacker, cornerback and receiver, as well.
"He's pretty athletic," his father said. "He was dunking when he was 15 years old. He's probably the most athletic of any of our kids, so far."
The Thunderbirds (5-2) are considered by many to be the top team in 5A, with their only losses coming to the aforementioned Falcons and Knights — both teams ranked in the top-four of the latest KSL.com Top 20+1 — and with the third-best RPI rating in 5A.
They can prove themselves Thursday night in a critical Region 8 showdown with defending state champion Orem (4-3) at 7 p.m. MT on KJZZ.
JJ Tuha will be there, wearing his usual No. 16 jersey and hoping to lead his team to a win and make plays to promote his recruiting and his team's fortunes — perhaps even enough to earn a scholarship from the Cougars.
But maybe he doesn't need an offer; after all, he is already BYU's starting quarterback — at least, according to the undefeated internet, which never forgets.
"I went up to my sister after the game, and she joked with me: 'would you like to meet Jaren and his wife and kids, or something?'" JJ Tuha said with a laugh. "That was funny."
×
Photos
Related Stories
More stories you may be interested in