PROVO — Any chance of a slow start from No. 2 BYU men's volleyball, the only team that sat idle on the first day of the Mountain Pacific Sports Federation tournament, were obliterated in the first set.
And the second.
And after a brief lull in the third set, that one, as well.
Gabi Garcia Fernandez had 12 kills, four aces and four blocks as the second-ranked and top-seeded BYU men's volleyball swept No. 4 Grand Canyon, 25-14, 25-19, 29-27, in Friday's semifinals of the Mountain Pacific Sports Federation Tournament at the Smith Fieldhouse in Provo.
Zach Eschenberg had 10 kills, five digs and four blocks for the Cougars (18-3), who advanced to face No. 3 Pepperdine in Saturday's championship match for the third time in conference history and first since 2008.
The Cougars simply dominated from the start, from a run of four consecutive aces from Garcia Fernandez in the first set to Eschenberg's diving dig and set up for another blast in the second.
"We did that for our own team. We didn't do it for GCU or anything," Garcia Fernandez said of the opener. "If we play the way we know every time, we're going to do great. We start fast, we end fast."
Wil Stanley facilitated it all, dishing out 35 assists, five digs and three blocks for the Cougars (18-3), who hit at or above 60% for sideout in each of the three sets.
"I told Wil that he was the MVP tonight," BYU coach Shawn Olmstead said. "I just felt like he did a really nice job moving the ball around, and getting the ball pin-to-pin."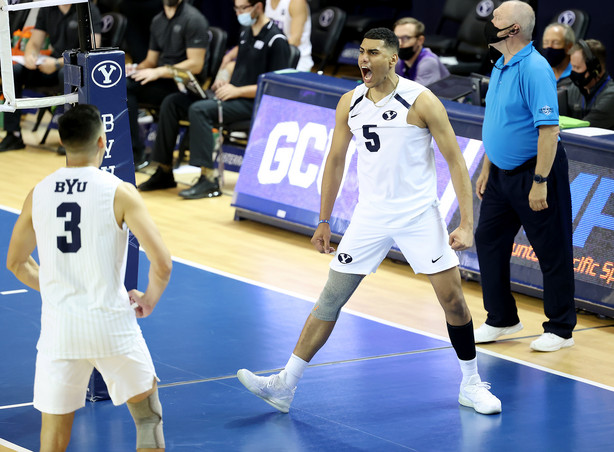 Camden Gianni had a match-high 15 kills to lead the Lopes (9-11), and Heath Hughes added 28 assists, five digs and three blocks.
BYU held the 'Lopes to negative hitting early en route to a 15-8 lead midway through the opening set. GCU had just four kills on its first 12 swings, with five errors, while the Cougars' offense had just one hitting error on its first 12 attempts.
In a season where nothing has been guaranteed, the Cougars picked up their 18th win of the year — and are just one away from a guaranteed berth in the NCAA Tournament.
If that exhibits confidence, there's a reason for it. That confidence started in the opening set.
Garcia Fernandez rocketed four-straight aces to help the Cougars pull away for good, 20-9, en route to a 25-14 first-set victory on a stuff by Gardini. BYU held the Lopes to .000 hitting in the set, with eight kills and eight errors on 20 swings, including four kills from two-time MPSF freshman of the year Camden Gianni.
In jumping out to a 2-0 lead, BYU hit as high as .643 and posted a .513 hitting percentage. The Cougars had an unconscious 80% sideout percentage in the second set.
And then Gabi had 4 aces…. in a row. 🤯#BYUMVB#GoCougs

📺 – https://t.co/KZZKuPuUKEpic.twitter.com/6KK2OqCiaQ

— BYU Volleyball (@BYUvolleyball) April 24, 2021
But the Lopes came back in the third. Grand Canyon took a 22-19 lead behind six kills from Gianni in the third set.
"We can be proud of the way we left the building," said GCU coach Matt Werle, whose team is in its fourth year in the MPSF. "We went down fighting, and that's something to be proud about.
"Every year, we made a step forward, and we should walk out of here with our chins held high."
Still, the Cougars never doubted — neither Garcia Fernandez, who stepped in to serve, nor the team.
"We called timeout, and we were super calm," the two-time MPSF Player of the Year from San Juan, Puerto Rico, said. "Just rip it, and do our job. Pass the ball, and get a sideout.
"The game of volleyball is super funny; you can win by eight, or then get blown out. We were losing, and that's OK. The best thing to work for was to keep calm, and do our job."
BYU trimmed the deficit as low as 22-21, then tied the match at 24-24, 25-25 and 27-27 before Garcia Fernandez's 12th kill of the night gave BYU the 29-27 win and the sweep.
The Cougars rallied in the final set, despite hitting just .286 to GCU's .300 with three aces in the extra-point victory, and when Garcia Fernandez's final blow hit the floor, it sent the reduced-capacity sellout of more than 700 fans into a frenzy — the loudest ovation the Smith Fieldhouse has received in the coronavirus-impacted spring season, and one of the few venues with fans in the MPSF all year due to evolving COVID-19 restrictions across California, Arizona and Utah.
"I don't care much about the point or anything. But the fans, that was crazy," Garcia Fernandez said. "It was fun to have them back. It gives us chills, every time."
BYU and Pepperdine will face off Saturday night in the MPSF championship match, with the winner earning an automatic berth in the NCAA Tournament. First serve is scheduled for 7 p.m. MT.
"We've all played each other so many times, I felt like every match would be good. It's just exciting volleyball for everybody," Olmstead said. "I anticipate we're going to see another matchup like that.
"I think the world of that program … and I think the world of (Pepperdine head coach David) Hunt. They're going to play great volleyball, chip away, be disciplined, and play really good as a group."
[embedded content]
No. 3 Pepperdine 3, No. 2 UCLA 0
Jacob Steele had 13 kills and two blocks, and Pepperdine rolled to a 25-20, 25-23, 26-24 sweep of the Bruins in the first semifinal at the Smith Fieldhouse.
Spencer Wickens added 11 kills, three assists and three digs, and Bryce Dvorak dished out 33 assists for the Waves (13-5).
Cole Ketrzynski led UCLA (15-6) with a match-high 17 kills, four digs and two blocks, and teammate Kobrine Kevin added 15 kills and four digs.
Sam Kobrine dished out 40 assists and seven digs for the Bruins, who are ranked No. 6 nationally in the latest AVCA coaches' poll — one spot behind Pepperdine.
Pepperdine posted back-to-back points — including a block from Steele and Austin Wilmot — on a UCLA set point in the third to crawl back before UCLA sent a kill long to clinch the sweep.
×
Photos
Related Stories
More stories you may be interested in