SALT LAKE CITY — With the school year coming to an end and summer activities and outings on the horizon, it's going to help to be prepared with easy snacks to grab as you're heading out the door.
Being able to grab quick snacks may be overwhelming, though, if you have a child with food allergies.
I found this out firsthand when my youngest daughter was diagnosed with a milk, egg and tree nut allergy. My go-to snacks of granola bars and goldfish no longer worked so I had to come up with new ideas for simple snacks that would keep my kids happy and energized on our summer adventures. To help you this summer and beyond, I'm sharing a list of a few allergy-friendly snacks.
Fruits and vegetables
Fresh fruits and vegetables are great snack options for kids with allergies.
Some examples include:
Cut apples with lemon or lime juice to prevent browning
Bananas
Raisins/craisins. Buy in individual packages and they are super easy to grab on the go
Veggies with hummus. Hummus is a great dip replacement for ranch if your child can't have dairy (check the label as some brands may contain soy)
Apple sauce
Fruit cups
Pineapple spears
Freeze-dried fruits such as grapes or mangoes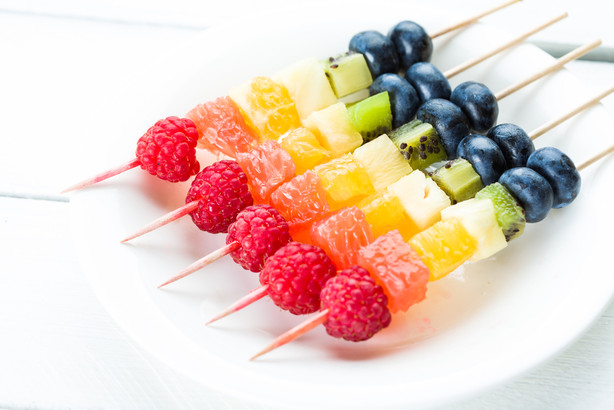 Pantry items
Having easy shelf-stable options is essential as you're running out the door. They're also great to keep in the car.
Here a few ideas:
Veggie fries
Harvest snap peas
Cliff Z-Bars
Ritz crackers
Fig bars
Wheat Thins
Olives
Popcorn (Homemade or Skinny Pop brand as an allergy-friendly option)
Oreos
Pumpkin seeds
Quaker rice cakes (not all flavors are allergy-friendly so check label)
Pretzels
Frozen treats
These are a must during that summertime heat. I really struggled with this category since ice cream sandwiches and a scoop of ice cream were off the table for my daughter.
Here's what I went with instead:
Snow cones
Otter Pops
Fruit popsicles
Sorbet
Smoothies with milk alternative such as soy, almond, or coconut milk
Note: This list is not a replacement for reading nutrition labels and ingredient lists. You should always check for yourself before giving your child a new food to make sure they aren't allergic to any of the ingredients.
---
---
Editor's Note: Anything in this article is for informational purposes only. The content is not intended, nor should it be interpreted, to be a substitute for professional medical advice, diagnosis, or treatment. Always seek the advice of your physician or other qualified health provider with any questions you may have regarding a medical condition; Any opinions, statements, services, offers, or other information or content expressed or made available are those of the respective author(s) or distributor(s) and not of KSL. KSL does not endorse nor is it responsible for the accuracy or reliability of any opinion, information, or statement made in this article. KSL expressly disclaims all liability in respect to actions taken or not taken based on the content of this article.
×
Related Stories
More stories you may be interested in