My first experience with Ford Ranger pickups was with the earliest models introduced in the 1980s. Back then, small pickups were cheap, stripped-down bare-bones vehicles designed primarily for light hauling. And they were very popular.
For this test drive, Utah Ford dealers provided a 2021 Ford Supercrew 4X4 Ranger Lariat Series with an off-road package and a dizzying list of standard features, some of which I'll describe in more detail later. The sticker price on the loaded model I drove was $44,765. Prices start at $24,820 for the XL version and range up to a base price of $32,910 for the Lariat.
From my home base in Highland, I did a full-day drive taking the Ranger to the West Desert, across Five Mile Pass, up a couple side canyons, past Stockton, through Tooele, to the Great Salt Lake, looped south on Bangerter and across Traverse Mountain. I also added some commuter miles on the freeway and around town doing typical things like store runs and school shuttling.
Driving those old Rangers, you felt like you were in a compact vehicle that happened to have a truck bed. There is none of that smallness with the new Ranger. It's roomy, comfortable, handles great and has lots of power. Compared to my prior experiences, I'd even describe the model I test drove as luxurious with its heated leather seats, great visibility and large touchscreen display.
In the U.S., Ford discontinued the Ranger model in 2012, although they continued to be sold overseas. The new version of the Ford Ranger, reintroduced in 2019, bears little resemblance to the gutsy, but underpowered mini-pickups of my younger days.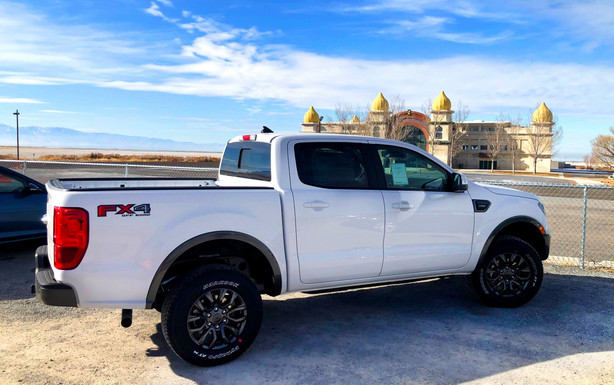 Photo: Flint Stephens
"The Ranger is simply more similar to the F-150 in size than it is to its Ranger ancestors," reports an article about the history of Ranger trucks from cjponyparts.com. "The Ranger has earned the distinction of being the most fuel-efficient in its class, and thanks to its turbocharged EcoBoost engine, it's able to handily beat competitors in terms of towing capacity."
"Many of these middle-ground trucks are as big as full-sizers from a decade or so ago but still represent a more efficient, maneuverable and affordable alternative," Edmunds.com explains.
The beefiness of the Ranger might have some potential buyers wondering whether it's much different from the F-150. It really comes down to what you need from a truck. Towing capacity on the Ranger is 7,500 pounds and the payload capacity is 1,650 pounds, according to Ford. For the F-150, towing and payload capacity are just about double the max for the Ranger.
"Mid-size pickups, including the Ford Ranger, are asked to do a lot. They're workaday pickups, commuter cars, and adventure machines," reports thecarconnection.com. "The Ranger fits all the bills and more."
If you don't need heavy-duty towing or hauling, the Ford Ranger has lots of appeal. Here are some of the things I liked:
The Ranger comes with a turbocharged 2.3-liter four-cylinder engine and a 10-speed automatic transmission. I'm used to the power of a full-sized V-8 pickup, so I was a little apprehensive about how the smaller engine would perform on the road. I was pleasantly surprised. The handling was comparable to a mid-size SUV, but with a lot more power.
The 270-horsepower engine felt sporty and responsive. When I stepped on the gas, the truck responded immediately. Merging into freeway traffic was a breeze, because the truck easily reached the speed limit even on a short on-ramp.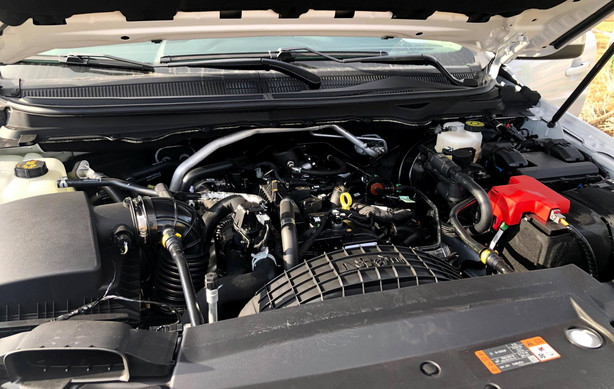 Photo: Flint Stephens
Although I love to explore Utah's backcountry, I spend a lot more time on freeways than I do on roads where I need high clearance and torque. As a result, over the past few years I've come to appreciate the enhanced safety features many of today's new vehicles offer.
All versions of Ford Ranger come with a blind spot system that includes cross-traffic alert and coverage for both the truck and trailer, a lane-keeping system, pre-collision assist with automatic emergency braking, a rear-view camera and automatic high-beam headlights.
If you haven't experienced systems like adaptive cruise control or blind-spot monitoring, you really owe it to yourself to check them out. I feel much better about my driving and my family's safety knowing they are there.
I admit I don't feel comfortable test driving a new vehicle on roads I might take to go rock-hounding or hunting. So I can't give a full review of the off-road capabilities of this Ranger. But from what I was able to see and test, I'm confident it would handle my typical off-road needs.
I did have the chance to drive it in typical Utah winter conditions and it is always comforting to know you are in a vehicle that is safe on snowy Utah roads.
For off-road use, Ford offers the Ranger with a Tremor package that includes all-terrain tires, skid plates, long-travel Fox shocks, a mild suspension lift and four modes to choose depending on the terrain. Clearance with the package is almost 10 inches.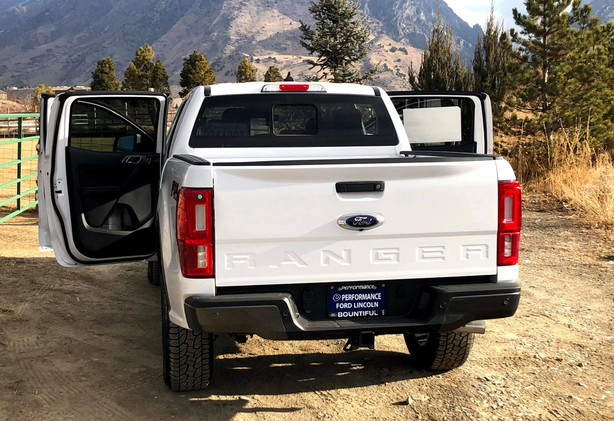 Photo: Flint Stephens
It seems somewhat ironic to be writing about fuel economy for a truck. But the Ford Ranger has the best-in-class mpg rating of 21/26. Anytime a pickup gets better than 20 mpg whether it's driving around town or on the highway, it's worth noting. With an 18-gallon tank, that gives a driving range of about 400 miles.
If you are one of the many drivers who love the feel of riding in a truck but you really don't need heavy-duty truck features nor the accompanying higher driving cost, the 2021Ford Ranger might be just what you are looking for.
×
Photos
More stories you may be interested in