PROVO — Jake Toolson looked up at the Jumbotron inside the Marriott Center in the middle of BYU's home game against Utah Valley, and waved to the crowd as he was introduced.
But the public address announcement didn't refer to Toolson as a former BYU star or UVU alum — both of which are true.
The words "newest member of the Utah Jazz" rang out across the arena filled with about a hundred family members of players and coaches, a few former players, and athletic department officials in Provo.
Such a descriptor is accurate, too.
Toolson formally signed a contract with the Utah Jazz on Wednesday, guaranteeing him a spot when the hometown NBA franchise opens training camp this week.
So with a few days left before preparations for the 2020-21 season begins, he spent the evening watching his two alma maters play each other in a crosstown rivalry shootout, which BYU won 82-60 to improve to 3-0 on the year.
At halftime, he described the past few weeks, from the COVID-19-impacted predraft cycle to the all-virtual NBA draft, to signing his first professional contract with a club that holds a spot in his family.
"The last month has been pretty hectic, but I'm in a great situation with the Jazz. I'm excited about the opportunity," Toolson told BYUtv. "Leading up to the draft, we had interviewed with a bunch of teams and were getting a bunch of good, positive feedback. It was just kind of a waiting game, to see where the dominoes fell.
"There's only so much you can control, but at the end of the draft, we had a lot of conversations with teams. We tried to pin them through, used our leverage, and we ended up with the Jazz. I couldn't be more excited."
[embedded content]
In many ways, the Jazz seemed like a natural landing spot for Toolson. The nephew of former BYU star Danny Ainge, Toolson's father Troy is the cousin of former Jazz wing Andy Toolson. A native of Gilbert, Arizona, Jake Toolson didn't grow up in Utah, but it has become a second home for him — even moreso since college, where he married his wife and started a family.
"He's able to score at all three levels," Pope said earlier this year of Toolson. "He's one of the most efficient offensive players in all of college basketball. And defensively, he rarely shows up on our radar for defensive issues.
"He's an All-American, and it's not easy to get there. To do it, you have to be a big-time player."
Toolson will report to Jazz training camp on Tuesday as a member of the Jazz, and though terms of his deal weren't disclosed by the organization, he will reportedly enroll as an Exhibit 10 player.
A new type of contract in the NBA, the Exhibit 10 has been primarily used as a way for teams to sign players and retain their rights while housing them with their G League affiliates. The contract is a one-year deal at the league's minimum salary, with no compensation protection but a potential bonus of up to $50,000.
If a player under the contract is waived any time prior to the season, but remains with the club's affiliate for at least 60 days, they are entitled to the full bonus. Exhibit 10 deals can also be easily converted into two-way contracts prior to the start of the season, and several teams have exercised that option since the last collective bargaining agreement.
Essentially, the contract is a way for teams to incentive college players to stay with their affiliated teams rather than depart for potential offers overseas. So even if Toolson is waived by the Jazz (which remains a strong possibility, due to the roster's current makeup), he has plenty of reasons to play for the affiliated SLC Stars in Taylorsville.
"There are a ton of unknowns still, but you just take this thing day-by-day," Toolson said. "I'm really positive that things are going to work out."
The training camp better be ready for Toolson, though, according to Cody Fueger, who coached Toolson at both UVU and BYU.
"Jake is one of those guys who's not just a talker. He puts the work in," Fueger said. "When he gets the look in his eye, you know he's going to make every play."
After struggling through most of two seasons at BYU and eventually withdrawing from school, Toolson followed then-Cougar assistant coach Mark Pope to Utah Valley — where his career was reborn. After sitting out the 2016-17 season due to NCAA transfer rules, Toolson posted double-figure scoring averages in both seasons he played in the Western Athletic Conference. His career culminated with 15.7 points, 4.5 rebounds and 2.3 assists per game in 2018-19 en route to WAC Player of the Year honors and an Associated Press All-America honorable mention designation.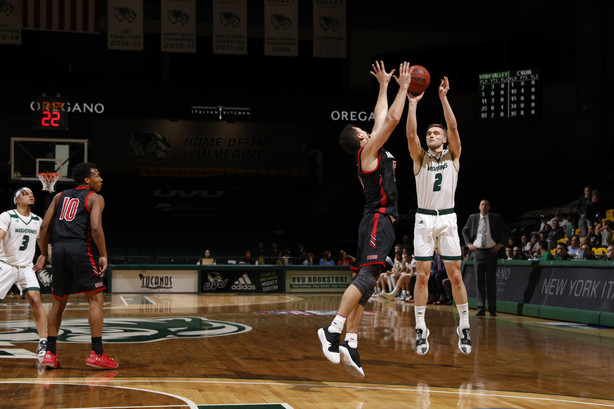 Utah Valley's Jake Toolson puts up a shot during the Wolverines' 92-84 win over CSU Northridge in the opening round of the 2019 College Basketball Invitational, Tuesday, March 19, 2019 in Orem, Utah. (Photo: Jay Drowns, UVU Athletics)
The next year, he followed Pope again — back to Provo.
In his lone season as a graduate transfer at BYU, Toolson improved his game even more. He became a jack-of-all-trade for the Cougars during a 24-8 season, averaging 15.2 points, 4.8 rebounds, 3.9 assists and 1.1 steals per game en route to West Coast Conference newcomer of the year honors in Pope's first season in charge in Provo.
Paired alongside Washington Wizards Exhibit 10 contract signee Yoeli Childs, as well as TJ Haws and Zac Seljaas (who bother signed to play overseas), the Cougars went 13-3 in WCC play with a win over then-No. 1 Gonzaga and a ranking as high s No. 15 in the AP Top 25.
But returning to BYU was about more than points, rebounds and assists for Toolson. Yes, he improved his game — but he also improved his life, and helped start a career as he was beginning a family that included wife Sarah and a young son Gus, who became a fixture at BYU practices as he learned to wobble and dribble on the Marriott Center hardwood.
Then over the summer, he and his wife met another surprise: another child, this time a baby girl, expanding the couple's man-to-man defense. With the world struggling under the weight of the coronavirus pandemic — a pandemic that canceled the NCAA Tournament in Toolson's senior season — the Toolsons were served a reminder of the most important things in life.
"Honestly, it's been a blessing," Toolson said. "She's just come and given us a calm presence and has blessed our lives in so many ways. It's been a blessing to spend a lot of time with them before things speed back up.
"I love being a dad; it's who I am, first and foremost, and I'm happy with the time I've been able to be with them."
×
Related Links
More stories you may be interested in