SPRINGVILLE — The list of failures has been long.
For six straight years, Springville's girls soccer team has qualified for the state playoffs and failed to get out of the first round.
The Red Devils lost in a variety of ways — a 4-3 loss to Wasatch and Viewmont in 2019 and 2018, respectively; a 3-0 shutout to Skyline in 2017; a home loss, 2-1 to Skyridge in 2016.
But not since a 4-0 win at Clearfield in 2014 has Springville advanced out of that pesky opening round, despite taking strong seeds — even a region title, in some cases — into that match.
So after Avery Frischknecht scored three goals for the third time in four games en route to an 8-0 home win Thursday over Hillcrest, head coach Taylor Campbell Isom took them aside and told them how proud she was.
"This was your first win of the postseason," the coach said, referring to the Red Devils' lengthy futility streak, "but it won't be the last."
Things feel different in Springville under the first-year head coach, a former Alta High center back standout who helped BYU to one of its best seasons in program history before being drafted by the locally owned Utah Royals FC.
And even Frischknecht herself will point plenty of credit towards the new coaching staff.
"She's awesome," said Frischknecht, who has committed to BYU. "She pushes us to a different level that I didn't know we had. She's uplifting, she makes us work hard, and she's honestly one of the best coaches I've ever had a chance to work with."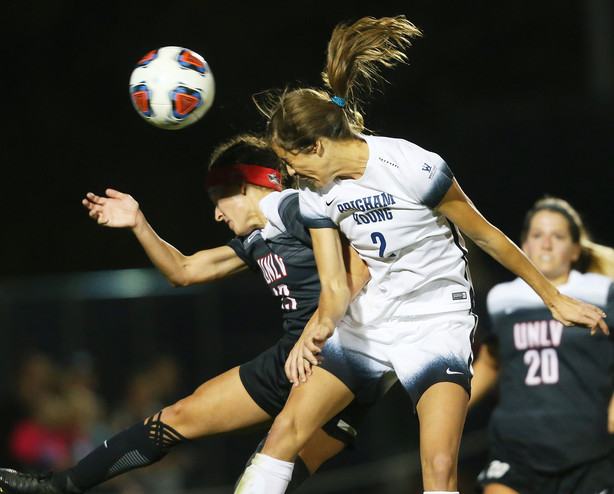 BYU's Taylor Campbell Isom (2) tries to head the ball into the goal around UNLV's Dakota Blazak (13) as BYU and UNLV play in the first round of the NCAA tournament in Provo on Friday, Nov. 11, 2016. (Photo: Scott G Winterton, KSL, File)
Lox Neves added three goals, and Fiona Jensen and Halle Fales also scored in front of backup goalkeeper Kaitlin Pickett, who earned the shutout. But the victory goes well beyond the top performers Thursday.
After exorcising a half-decade's worth of first-round demons, Isom pointed to her depth — to the camaraderie and fellowship of a team that has come together, and not just in a varsity vs. JV sort of way. As soon as the former BYU star took her first head coaching job, she dismantled the barriers between varsity and junior varsity and formed one team — a side where she even occasionally jumps in at center back during practice.
That cohesion has paid dividends for the 15-2 Red Devils, who stormed to the Region 8 title with a 13-1 record.
"We have a team camaraderie that's amazing," Frischknecht said. "We have this fight, too, where we just want to get it. I think we can go far in this tournament."
Frischknecht can sometimes beat the one-time Division I soccer player and No. 14 overall selection in the 2018 NWSL collegiate draft — and Isom stresses sometimes. But coaching isn't just about giving back or collecting a stipend, either.
It's a way for Isom to stay involved in her own personal soccer journey.
"The reason I'm coaching is because I can no longer play, because of my knee and things that happened," said Isom, who retired due to injuries after spending the 2018 NWSL season on the Royals' practice squad. "This is me still being involved in the game. It's huge, and it still fills that need that I have in my life.
"If they want to play college soccer, I want to help them. If they want to be a pro, I want to help them. But if they just want to have a great high school season, then I had one of the greatest, so I will help them do that, too. I just want them to have a great soccer career — no matter where it stops."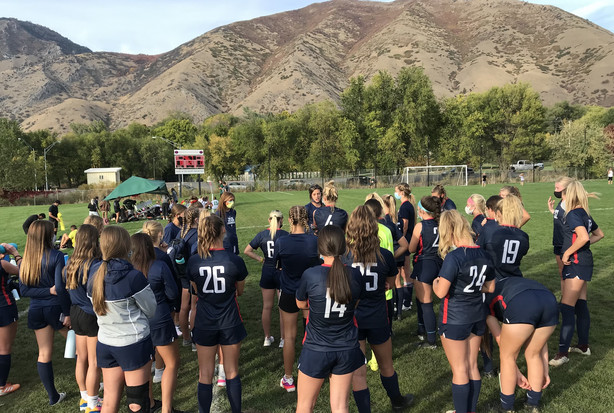 Former BYU star and Utah Royals FC draft pick Taylor Campbell Isom is the first-year head coach of Springville's girls soccer team, which went 14-2 in the regular season and beat Hillcrest 8-0 for the Red Devils' first postseason win since 2014. (Photo: Sean Walker, KSL.com)
Springville will face Brighton, which held off Timpview 2-1 in Thursday's opening round, on Tuesday. The winner will advance to next Thursday's quarterfinals — a spot Springville hasn't been since a 4A state semifinal appearance in 2009.
If they get there, it will be because of Frischknecht, Jensen, Neves and the rest of the Red Devils, and not their first-year head coach, Isom insists.
But the last piece won't hurt, either.
"I hold the same expectations that I would for myself," Isom said. "But I want them to learn how to play the game without me manipulating it.
"But they aren't all going to be Taylor Isom; I don't want them to be. I understand they are different players. But if I see something, I will definitely let them know. Because the competitiveness is still there."
Tournament Time
Class 5A first-round results (click for box scores)
Class 6A first-round results (click for box scores)
×
Photos
Related Links
More stories you may be interested in