PROVO — BYU football was coming off a remarkable one-loss season, with a national ranking in the low teens and featuring a hotshot quarterback with a young gunslinger named "Gabriel" standing in its way.
Sound like the setup to the Boca Raton Bowl, which will kick off Tuesday at 5 p.m. MST between the 16th-ranked Cougars' Zach Wilson and UCF's Dillon Gabriel?
Think again.
This Gabriel was Garrett Gabriel, who as a freshman at the University of Hawaii was getting set to face then-No. 18 BYU (6-1) in a midseason Western Athletic Conference game in the islands in 1989. It was the first of two victories over the Cougars that led to local Hawaii media referring to the "Gabriel jinx."
Garrett, the father of the aforementioned Dillon, went off for 440 yards and four touchdowns to beat Ty Detmer and BYU, 56-14 to help set ablaze an already well-lit fire that continues between the Cougars and Rainbow Warriors to this day (at least in Hawaii).
With that background Dillon Gabriel has joked previously he could never be a BYU fan — a lot of Hawaiians feel the same way — but took a decidedly different tact this week when the Knights' opponent for the Boca Raton Bowl was announced.
"I'm super excited," said Dillon Gabriel, who hails from Mililani, Hawaii. "It's a great opportunity. I've got a lot of respect for BYU; they've got a great team with a lot of Polynesian ties, which is something I grew up around. It's going to be a showdown with us as a matchup.
"We're excited to be playing there, and it'll be a fun time when we go down there."
1990, DG's father Garrett Gabriel defeats #4 ranked BYU & Heisman QB Ty Detmer.

In 8 days, Dillon Gabriel faces a ranked BYU team and Zach Wilson in the Boca Bowl.

Like father like son
pic.twitter.com/MvSPBaPC9B

— Barstool UCF (@UCFStool) December 14, 2020
Gabriel has thrown for 3,353 yards and 30 touchdowns with just four interceptions for the Knights (6-3), the sophomore's second season with more than 3,000 passing yards. But what would make dear old dad more proud than beating BYU?
Few things might compare.
"It's almost funny because of how he got the chance to play them, and also me," the younger Gabriel told Orlando-area reporters this week. "But all of the guys in the locker room are super stoked."
When the rising program that is Central Florida lines up for the third time ever against BYU on Tuesday, Dillon Gabriel won't be the only one facing a blast from the past. His head coach may be flush with flashbacks, as well.
Josh Heupel is in his third season with the Knights and has coached UCF to a third straight bowl game — including the 2018 Fiesta Bowl in his first season succeeding Scott Frost. But before the 42-year-old native of Aberdeen, South Dakota, arrived in Orlando, he was a co-offensive coordinator, quarterbacks coach and assist head coach at Utah State.
Before that, he was a high-rising quarterback in the Beehive State — first briefly at Weber State, and then at Snow College, leading the Badgers with 2,308 yards and 28 touchdowns before a Heisman Trophy runner-up year with Oklahoma in 2000.
Heupel prefers to keep the bowl experience and focus on his players, his team. But it's hard to ignore the history between the former NFL draft pick and the state of Utah.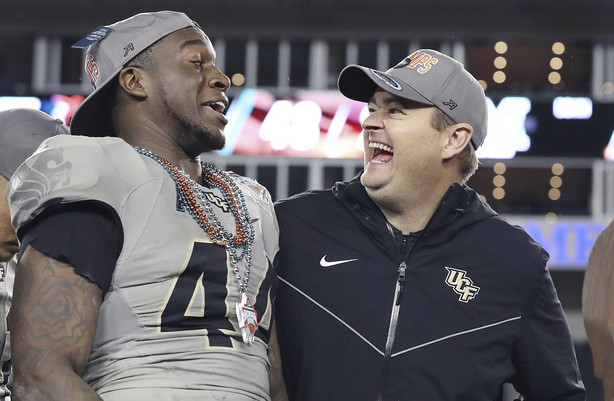 Central Florida linebacker Nate Evans, left, and coach Josh Heupel smile after the team's win over Marshall in the Gasparilla Bowl NCAA college football game Monday, Dec. 23, 2019, in Tampa, Fla. (Photo: Stephen M. Dowell, Orlando Sentinel via AP)
"Our players and staff are really excited about the opportunity to get to play again," he said. "Being inside the state of Florida, a bunch of our players' families have the opportunity to be at the game.
"It's a win-win, and we're excited about it."
That history will be part of his future, too. Heupel has already sent his running backs coach and co-offensive coordinator of the past two seasons, Anthony Tucker, to join Blake Anderson's new staff at Utah State, where Heupel himself coached in 2015.
It's there that Tucker will try to replicate the No. 2 total offense in the country, one that averages 44.3 points per game.
"It's a great opportunity," Heupel said of Tucker. "All of your staff members, when you bring them here you want them to grow. I think it says a lot about what we're doing here that teams across the country see and have respect for what we're doing.
"As a co-offensive coordinator here, we're really proud of what he's done and what he's invested in our program."
Heupel and Dillon Gabriel will face a pretty good offense on the other side of the field at FAU Stadium, a BYU team that averages 43.0 points per game and is led by Wilson, who joins Dillon Gabriel in the top-five nationally with 3,267 yards and 30 touchdowns with three interceptions.
And like the rest of the bowl experience, he's excited.
"He's a great dude. He plays really well, and it shows with their record. They're a great team," Dillon Gabriel said.
"Growing up 'round Polynesian ties, I know it's a great culture that they have."
He'd just never be a fan — for obvious reasons.
[embedded content]
ON THE AIR
No. 16 BYU (10-1) vs. UCF (6-3)
Kickoff: Tuesday, Dec. 22 at 5 p.m. MST
TV: ESPN
Streaming: WatchESPN
Radio: BYU Radio, KSL Radio 1160 AM/102.7 FM
Series: Tied, 1-1
×
Related Stories
More stories you may be interested in