SALT LAKE CITY — BYU's "Splash Sisters" came to play Monday in the first round of the NCAA women's basketball tournament.
And then, they didn't stop playing to finish the job in a first-time upset among the 64-team bracket.
Paisley Johnson Harding poured in 28 points and five rebounds, and Shaylee Gonzales added 17 points, six rebounds and four assists to help 11th-seeded BYU overturn a 12-point second-half deficit to rally by No. 6 Rutgers 69-66 Monday at Texas State in San Marcos, Texas.
The last team in the field with a "50-50, at best" chance of making the tournament, per coach Jeff Judkins — or at least, among the Last Four In, according to ESPN — the Cougars became the first team in the 64-team bracket to upset a higher-seeded opponent (after an all-chalk Sunday).
Former Salem Hills standout Lauren Gustin added 10 points and 11 rebounds for the Cougars, her 15th double-double of the season for the JUCO All-American from Salt Lake Community College who was recently named AP All-America honorable mention.
Teegan Graham supplied 9 points and five assists for BYU (19-6), which forced 20 turnovers off the nation's No. 3-rated team in turnovers per game.
Nursing a one-point lead with 30 seconds left, Gonzales was fouled on a 3-point attempt from the left wing. The West Coast Conference co-player of the year knocked down six free throws in the final 30 seconds to help the Cougars secure the first lower-seeded upset victory of the 2021 tournament.
"I got to that line, and told myself I was making those shots," said Gonzales, whose team will face the winner of No. 3 Arizona and No. 14 Stony Brook in Wednesday's second round. "Those shots were big time, and I needed to make all of those to win the game.
"I wouldn't have done it without my teammates."
Arella Guirantes had a game-high 30 points, six rebounds and three assists to lead Rutgers, and Diamond Johnson added 13 points, four rebounds and two assists for the Scarlet Knights.
Tekia Mack did all her scoring in the second half, adding 11 points and four rebounds for Rutgers.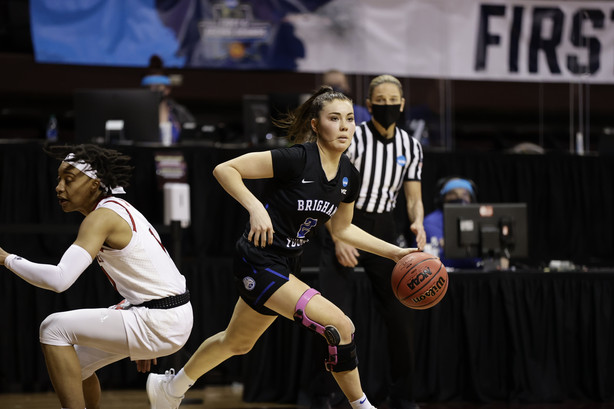 The Scarlet Knights (14-5) hit just one field goal in the final 24 seconds, but the 3-pointer by freshman Liz Martino pulled Rutgers within two with 5 seconds left. The Knights were down two when the officials went to the monitor on a foul call with 0.9 seconds left — an eerily reminiscent scene to Gonzaga's last-second comeback win on Jill Townsend's buzzer beater in the WCC championship game.
This time, though, BYU was determined to not let history repeat itself.
"I just thought of the Gonzaga game," Gonzales said. "We were up 10 or 12 (in Las Vegas), and I knew we couldn't let them come back. Good teams don't let good teams come back and take over. We totally took over control of the game, and I'm super proud of my team for how we handled it."
With all due respect to Gonzales, Gustin, Graham or Kaylee Smiler, who hit a critical 3-pointer down the stretch to preserve the lead — or even Guirantes — the star of the game was Harding. BYU's emotional leader and all-WCC first-team selection showed up when it mattered most.
"She was doing awesome, and I'm so proud of her," Gonzales said of Harding. "She really stepped it up when we needed her the most.
"It was a team effort, and we got each other open. It was a true team effort tonight, and I'm super proud of them."
In one sequence in the first quarter, Harding drew an off-ball charge on one end to negate a bucket — then followed up with an and-one drive to the rim to put the Cougars up 8-5 with 4:54 left in the first.
A senior who has already decided to take advantage of the NCAA's fifth year of eligibility due to the COVID-19 pandemic, Harding was doing a bit of everything for the Cougars. That included some haphazard mishaps, like committing four of BYU's first five turnovers — but it also led to drawing charges, forcing turnovers, and playing a key role in forcing Mack to the bench for all but two minutes of the first half.
"I wish I could get all my players to do what she does," Judkins said of Harding's uncanny ability to draw a charge. "She's an unbelievable defensive player, as well as offense."
Let's dance. pic.twitter.com/CvrJSaVmaC

— BYU Women's Hoops (@byuwbb) March 22, 2021
She also drew the assignment of guarding Guirantes, and while "holding" a player to 30 points doesn't seem like much, it took the projected top-10 pick in this year's WNBA draft 18 shots to get there — with just two 3-pointers.
"When she came to BYU, that was something I challenged her to be — not just offensively, but one of the best defensive players. She proved it tonight," Judkins said. "She guarded the best player on the floor, and she didn't hold her down — but she had to work for them.
"I told her, you can't stop her. But make her work hard for every point. I thought Paisley did a great job of that tonight."
Guirantes, a senior and top-10 projected pick in the WNBA draft by ESPN, had 12 points and three rebounds to lead the Knights at the break. Harding had 14 to lead BYU, which got 8 points and two assists from Gonzales.
In a tournament with a focus on equality between genders, the Cougars scored 12 points off 11 first-half turnovers, but Rutgers outrebounded BYU 19-10 and outscored the Cougars 14-4 in the paint to take the 6-point halftime lead.
Rutgers used a 9-2 run out of the half to push the lead to double digits, knocking down three of the Knights' first four shots from the field and adding six free throws to take a 43-32 lead midway through the third quarter.
"When we were down 12, I called a timeout and told them 'we're not going to get this back all in one shot. Let's see if we can cut it to seven or eight,'" Judkins recalled. "We did that, then we made some stops and the kids made some big shots."
Yes, they did. The Cougars trailed just 50-43 after three quarters after Smiler drained her first shot of the game on a 3-pointer with 21 seconds left in the period, and the comeback was officially on.
Harding drained her fourth triple of the game to pull BYU back within three, 54-51 with 7:16 remaining — a single-handed 6-0 spurt that also included an and-one play moments earlier. Gustin capped a 10-0 run with a putback bucket with 4:37 remaining to give the Cougars their first lead of the second half with 4:37 to go, and BYU never trailed again.
"At the end, every player on the floor came to help the team win," Judkins said. "Teegan hit a 3-pointer, Shaylee got fouled and made those foul shots, Smiler hit one (three). As a coach, that's what makes this exciting and I'm so happy for them."
×
Photos
Related Stories
More stories you may be interested in