LOGAN — It's now official.
Utah State formalized an earlier agreement with men's basketball coach Craig Smith this week that extends his contract through the 2025-26 season, a deal that adds two years to his previous contract quietly finalized in 2019.
The new deal would incrementally add to Smith's base compensation, over the additional two years of his contract at the same rate of his previous deal, according to a copy of the amendment obtained by KSL.com via public records request. The amendment, which was signed Dec. 22, 2020, and goes into effect immediately, would add $25,000 in base compensation over the remaining years up to $900,000 beginning in the final year, between April 1, 2025 and March 30, 2026.
The amendment includes an increase to Smith's media rights and endorsement compensation, primarily in the form of his weekly coach's show on radio and internet streaming to a fee of up to $350,000 by 2025-26.
The new deal is worth $6.4 million over the life of the eight-year contract.
In three years in Logan, Smith has proven to be worth every penny to the Aggies. Utah State is 68-22 under Smith, including a 38-13 mark in Mountain West play that includes back-to-back league tournament titles.
The former South Dakota coach's .771 winning percentage against Mountain West competition ranks second in league history behind only BYU's Dave Rose (.781) and just ahead of Nevada's Eric Musselman (.741), San Diego State's Brian Dutcher (.726) and Utah's Rick Majerus (.698).
But perhaps more importantly, Smith has revitalized the Aggie fan base with two NCAA Tournament bids (including one before the 2020 tournament was canceled due to the coronavirus pandemic), a Mountain West player of the year in Sam Merrill, and defensive player of the year in Neemias Queta, the 7-foot-3 center from Portugal who is rewriting the school's record book for blocked shots.
"We love Utah State. It's been an amazing place for our family and a great move for our family. We love it here," Smith said in a statement announcing his extension. "It is a tremendous league. We are surrounded by amazing people from top to bottom, including our athletic director John Hartwell, the athletic department, our coaches, our staff, our players, the people living in Cache Valley and the entire Aggie family. I've been in this business for a long time, 25 years, and this has been a phenomenal place to live and a great experience. We are excited to continue this journey at Utah State."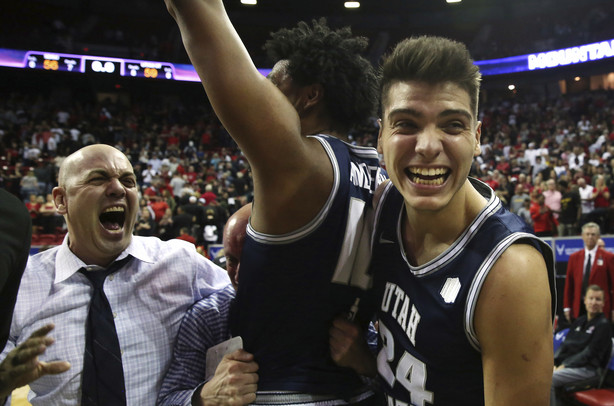 Utah State head coach Craig Smith, left, with players Alphonso Anderson, center, and Diogo Brito (24) celebrate following an NCAA college basketball game against San Diego State for the Mountain West Conference men's tournament championship Saturday, March 7, 2020, in Las Vegas. (Photo: Isaac Brekken, Associated Press)
If the university terminates the contract early, it will owe Smith 75% of the remainder of his base salary for each year not expired, pro-rated if necessary. If Smith terminates the contract, the coach (or his new employer) would owe the university 25% of the pro-rated contract for the remainder of the terms, according to the deal.
Other incentives, such as $100,000 for a national championship, $25,000 for a conference title or tournament championship, and $5,000 for each rivalry win over BYU and Utah, remain in the contract. BYU recently announced a similar extension to the contract of head coach Mark Pope through 2027. Terms of the deal were not made public, and BYU — as a private university — is not subject to public records request.
"In less than three years he has established a consistent standard of excellence in our men's basketball program," Hartwell said. "Coach Smith understands and excels at all aspects of a successful program from recruiting, to player development, to opponent scouting, to community relations and all points in between. Under Craig's leadership, we look forward to continued success in the Mountain West Conference and on a national level."
The deal also sets aside a salary pool of $565,000 for Smith's coaching staff, currently divided between Austin Hansen, David Ragland and top assistant Eric Peterson.
Coming off back-to-back road losses to league-leading Boise State, fourth-place Utah State (14-7, 11-4 MW) hosts Nevada on Friday and Sunday in the Dee Glen Smith Spectrum in Logan, followed by the final regular-season home game of the year next Thursday against Wyoming. That game, as well as next Saturday's season finale at Fresno State, was part of an extra week of the season applied by the conference to help make up games canceled due to COVID-19.
The Mountain West tournament is scheduled for March 10-13. The event, which tips off in the Thomas and Mack Center in Las Vegas, will be held without fans and other spectators due to virus protocols.
×
Related Stories
More stories you may be interested in