HILL AIR FORCE BASE — Long before Col. Jenise Carroll became an accomplished military officer she had a strong sense that she could attain whatever goals she strived for if she put in the effort, even if, she says, it wasn't always necessary.
"(I was) very energetic, all around sports and very smart," the Houston native described herself growing up in southeast Texas. "(I) made straight A's in school, never studied. I'm one of those kids. Would do my homework and go out and play football, dodgeball, you name it, ran track, played volleyball."
Then, as she approached high school graduation, she thought, "OK, the sports are great, but what do I need to do with my life?"
The eldest of two daughters, Carroll said she was raised primarily by her mother and maternal grandmother after her father passed away when she was a young kid.
"Really, it was about embracing the village. So it was my mom, her (nine) siblings and so I grew up really, amongst my mother (and her) sisters and brothers," she said. "That's really how my foundation was formed, with my grandmother and all of my aunts and uncles."
"My grandmother was a homemaker … truly was my bedrock and my inspiration that basically let me know that there was nothing I couldn't do," Carroll said. In the ensuing years, she has applied that inspiration to forge a successful career in the U.S. Air Force.
Earlier this year, Carroll took over as the new commander of the 75th Air Base Wing at Hill Air Force Base. A career personnel officer, she had previously served at the Pentagon as director of Legislative Affairs for U.S. Central Command.
In her new role, she leads efforts to support the Ogden Air Logistics Complex, two fighter wings, along with 50 associated units while supervising 27,000 active duty, civilian and contractor personnel. In addition, she also heads up base support for the operation of the 1,500-square-mile Utah Test and Training Range in Utah's west desert.
Ironically, being a military officer was not anything she aspired to in her youth growing up in Space City.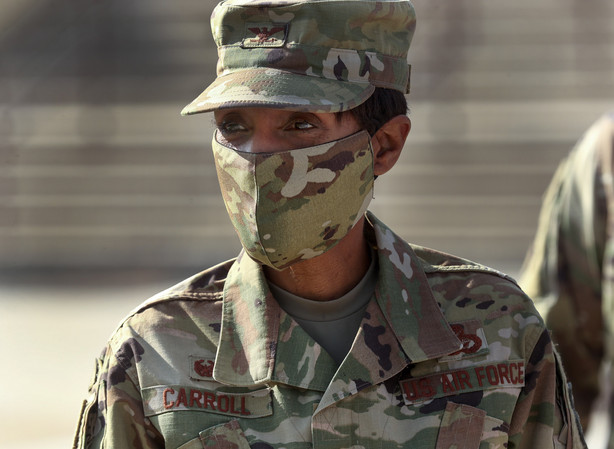 Col. Jenise M. Carroll, the new 75th Air Base Wing commander at Hill Air Force Base, wears her mask as she greats members of the media at the base near Clearfield on Monday, Aug. 3, 2020. (Photo: Steve Griffin, KSL)
"My goal was to be a businesswoman and travel the world," she said. "I would tell my grandmother, 'I'm going to be a Fortune 500 businesswoman, travel the world and make big decisions.'"
While she did make good on those aspirations, her career path was not at all what she imagined. After graduating from high school at 16, she enrolled at the University of Houston but left after a semester because she wanted to save money "to go away to school."
Having learned about cars from her late father, who built race cars and owned a gas station, she got a job at an auto parts store where she became a manager before joining the Air Force.
"When I (enlisted), my goal was to join, get my degree, get out and then pursue that professional job of being a businesswoman to travel the world. Never in a million years did I believe I'd still be sitting here now as the wing commander of a huge installation — the second largest installation in the Air Force," Carroll said. "I didn't even think that it was possible because I'd never seen a female wing commander during all the time as a young airman."
She credits having great leaders to help her reach her full potential as an airman. She described how once while serving as a member of the honor guard at a ceremony, Thomas Moorman Jr., a four-star general and former vice chief of staff of the U.S. Air Force, approached her and inquired if she had ever considered becoming an officer.
"My response was 'no'. And he says, "'Well, you should think about it,'" she recalled. "At the time, I was like, 'No, I don't want to do that. I'm just gonna do my time, get out and then go for it.'"
Not long after another leader, Chief Master Sgt. Al Forte, told her that if she was not going to pursue being an officer then she should get out of the military.
"I challenged the chief and I said, 'Well chief, I'd like to be the first female chief master sergeant of the Air Force,' she explained. "He says, 'Well, I think you'll be better served to be a commissioned officer.' And I said, 'Why is that?' And he says, 'I just think you can make a larger impact.'"
"So I thought about it. He said, 'You really should consider applying. It doesn't hurt you to apply,'" Carroll said. "So of course, I apply. I get selected and the rest is history. I get commissioned in January of 1996. Looking back, it took them to push me to get a commission because there was no other leaders that I saw that looked like me."
Since then Carroll has spent the past 20-plus years literally moving up the military ranks to the position she holds today. And she still wants to do more in the years ahead.
"It's really about how to move things forward when it comes to being a woman in this position. We've only had three (female) African American (generals) active duty in the entire 70 years of the Air Force," she said. "So for me serving as a wing commander, there are no guarantees, but it does afford me the opportunity to get to the next level. If the Air Force invests in me and believes that I should be a general officer, it's totally up to the Air Force. You get to a certain rank, it's left up to the Air Force to decide if they will promote you to the next level."
×
More stories you may be interested in