HOLLADAY — On the Sunday before school started at Bonneville Jr. High School, B.J. Christenson finished what he set out to do. It only took him 87 days, 250 total hours, and 2,400 buckets filled with weeds, rocks and dirt — but the school's old cinder track was cleared out and ready for students and the local community to use it.
Back in May, Christenson found himself with a lot of time on his hands due to working from home during the pandemic. With his extra time, he decided to do something he'd wanted to do for quite a while: clean up the track at the junior high school near his home that has trained on for years.
Christenson, who is a former University of Utah steeplechaser and Ironman World Championships competitor, appreciates a good place to train, and the Bonneville Jr. High track was just that.
"The track is in my backyard," he said. "It is a cinder track, which is rare. I think it is the only cinder track left in the state. A cinder track isn't fast like a rubber or even cement one, but it is soft on the legs. I have run on it for years, and it has become overrun with weeds. I thought that cleaning it up would be something to fill my time, and it would be a great way to do something positive for the community."
Christenson said he first started with a small garbage bag and shovel and began weeding the inside lane. Soon, however, he realized that he may have taken on something that was more than he bargained for.
"There was a lot more work to be done than I had anticipated," he said. "To get it done, I had to break it down into phases and treat it much like I would when preparing for an Ironman. I first did the inner loop, then worked my way toward the outer loop. Each time I finished a phase, I would reward myself with a treat or something."
Christenson talked about the uneasiness that has been going on in the world and how taking time to improve his community felt, in a way, like he was fighting against the tribulations in the world.
"While I was working on the track, there were so many bad things happening in the world," he said. "There was so much destruction, and it felt really good to be building something up when so many things were being torn down."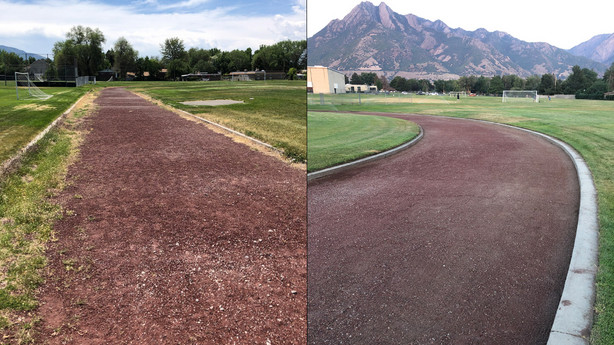 Images showing what the Bonneville Jr. High track looked like before (left) B.J. Christenson cleaned it up and after (right) his project was finished. (Photo: B.J. Christenson)
Christenson said as the project went on, he felt a sense of ownership and of loyalty to his community.
"I have long referred to the track as 'my track,' but now I really feel like it is," Christenson said. "I think too often we wait for other people to do things that we can easily do ourselves. We say things like, 'I pay taxes, so it should be taken care of.' But that money gets stretched pretty thin. If we can all do our part to better our communities, I think we will feel more connected to them. It has done that for me."
Bonneville Jr. High School Principal Rocky Lambourne said that he is grateful for Christenson's work on the track, which is used by students and the community alike.
"Over the summer, we noticed that all of a sudden, the track was getting weeded," Lambourne said. "We didn't know who it was, but we knew it was a huge project. We heard that it was a local runner, and that made sense. He did an amazing job. Nobody asked him to do it, which shows what an amazing individual he is. He saw a need and he acted. We want him to know that we really appreciate it."
Christenson said that his work on the track is far from complete because he won't let it get overrun with weeds again, noting a recent run where he plucked a few budding weeds out. He also said that he would love to hold an official event at the track when the pandemic slows down. But for now, he is enjoying running on the newly cleared cinder track that he affectionately calls his own.
---
×
Photos
More stories you may be interested in