PROVO — Tom Holmoe admits he had never met Todd Stewart before this spring.
It's not malicious or a sign of disrespect. But the BYU athletic director had simply never crossed paths with his counterpart at Western Kentucky.
With 130 schools in the Football Bowl Subdivision and the Cougars and Hilltoppers separated by 1,600 miles, that's hardly a surprise. Even as Holmoe works his way around the college football universe scheduling games for his FBS independent football team, there are likely to be several other ADs he's never met.
So when the two found themselves entangled in a Twitter poll to determine mascot supremacy between BYU's Cosmo and Western Kentucky's Big Red this past April, they simply rooted for their respective sides with no ill will and a bit of internet fun.
Then controversy struck — Hilltopper fans lofted claims of ballot stuffing, alleging that BYU fans (and former punter Jonny Linehan) had purchased internet bots to vote on the Twitter poll sponsored by Sirius XM radio.
So Holmoe reached out to Stewart to repair the rift, and a scheduling alliance was soon fostered, he explained this week during a Sirius XM ESPNU virtual watch party on Zoom.
"Things were getting a bit out of hand," Holmoe said with a chuckle. "BYU fans can lose their scruples, and I had to call Todd and say, 'sometimes this happens.' We had a great conversation … but then he suggested, let's play a basketball game. Well, it's hard to play basketball right now, but when it came up that we needed games (in football), one of the groups that was open was Western Kentucky.
"As soon as I saw that, I called Todd. It sometimes takes a year to get a game together, but this took two days. That's a cool story that came out of COVID; not all of it's bad. Some of it is good."
Huge thanks to everyone who came out for tonight's @SXMCollege pep rally! Special thanks to @BenHartsock@byu_cosmo@WKUBigRed@TomHolmoe and @ToddStewartWKU! Had a blast. pic.twitter.com/gCnbsige9r

— Nicole Auerbach 😷 (@NicoleAuerbach) October 30, 2020
In a year when BYU's football schedule was reduced to as few as two games, with Power Five teams canceling and others pulling off the schedule, Holmoe needed as many allies as he could get. The Cougars would play anyone, anywhere, and just wanted to play amid the COVID-19 pandemic.
Western Kentucky felt the same way.
The Hilltoppers, coming off a 9-4 season in Tyson Helton's first season as head coach, didn't have their schedule hit nearly as hard as BYU. WKU's scheduled game with Indiana was canceled when the Big Ten postponed the football season, but Stewart was quick to add Louisville from the ACC as a season opener.
When Old Dominion canceled its football season, though, it left a hole in the middle of Conference USA play for the Hilltoppers on Halloween night. The Cougars initially had a bye that weekend — but in the college football climate of the summer and early fall, bye weeks go out the window.
So the two teams moved quickly to get it done. In a sport where contracts are often scheduled years or decades in advance — BYU has dates as far out as 2035 — the Cougars and Hilltoppers set up Saturday night's kickoff (8:15 p.m. MT, ESPN) in two days.
"I think the best thing is we're having this conversation now about playing a game," Stewart said. "It will be our seventh game. We all had a shared experience of being at basketball tournaments in March, and then it ended overnight.
"There were some bleak times in March and April. But I can't compliment our players and our staff well enough. It's gone exceedingly well for us."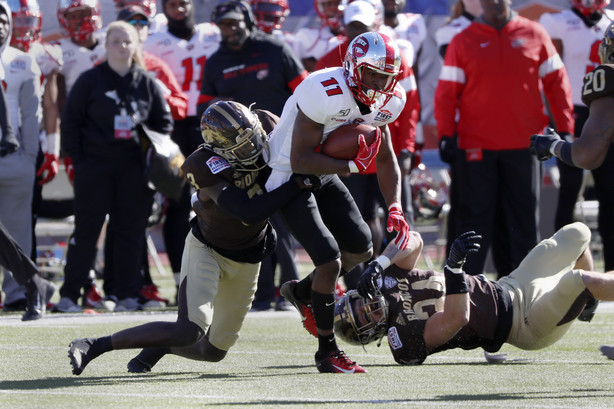 Western Kentucky wide receiver Lucky Jackson (11) is tackled by Western Michigan cornerback Anton Curtis (3) after a reception during the first half of the NCAA First Responder Bowl college football game in Dallas, Monday, Dec. 30, 2019. (AP Photo/Roger Steinman)
Western Kentucky is 2-4 in 2020, with losses to Louisville, Liberty, Marshall and UAB. But three of their six games have been decided by one one score, including a 20-17 conference win over Middle Tennessee an a come-from-behind 13-10 victory last week against FCS Chattanooga.
But like the Cougars, the Hilltoppers are just happy to be playing football — and playing BYU for the first time in program history.
They've even briefly discussed an additional series, and Holmoe joked online that a new grandchild in Louisville may make him eager to take BYU to Bowling Green, Kentucky for a game in the not-so-distant future.
At the very least, a basketball series — one that BYU owns 3-0 but in which the two teams haven't met since 1955 — could easily be in the works.
"We would certainly like to, though geography is a challenge," Stewart said. "We don't have much history, but we'd love to make something more happen."
Holmoe's schedule at BYU is filling up fast, and even 2020 has rebounded to add 10 games with the recent additions of Mountain West foes Boise State and San Diego State.
But he'll keep Stewart's number in his rolodex, and if the Cougars and Hilltoppers can work out an arrangement, Holmoe knows they're only one phone call away.
After all, the two sides brought together by an internet poll are now forever linked in a history that includes a global pandemic.
"If you want to play a game, you'll fight to get it done," Holmoe said. "If you don't want to play, you won't. But there are things you can do to try to make it work. That's what Todd and I said from our first call: let's try. And here we are."
[embedded content]
HOW TO WATCH, LISTEN, STREAM
No. 11 BYU (6-0) vs. Western Kentucky (2-4)
Saturday, Oct. 31
Kickoff: 8:15 p.m. MT
TV: ESPN (Beth Mowins, Kirk Morrison, Stormy Buonantony)
Streaming: WatchESPN
Radio: BYU Radio, KSL Radio (Greg Wrubell, Riley Nelson, Mitchell Juergens)
Live stats: Game Center
Series history: First meeting
Weather: Mostly sunny, high of 64 degrees with an overnight low of 36
×
Related Links
More stories you may be interested in