BYU fans cheer during the Vegas Kickoff Classic in Las Vegas on Saturday, Sept. 4, 2021. BYU won 24-16. (Jeffrey D. Allred, Deseret News)
LAS VEGAS — There were several heroes in BYU's 24-16 win over Arizona in Las Vegas, not the least of which being quarterback Jaren Hall and trusty wide out Neil Pau'u.
But plenty of credit has to go to the "12th man" Saturday night at Allegiant Stadium.
In the moment BYU needed them most, the Cougar faithful came alive. With their defensive backs peddling the edge of the end zone and Arizona driving for the potential game-tying score, down 21-13 midway through the fourth quarter, it was the Wildcats' faithful who were seizing momentum.
No more than a third of 54,541 fans, all clad in masks amid COVID-19 protocols at Allegiant Stadium, were wearing red Saturday night, but Arizona's minority section bellowed with "UofA" chants — and they had good reason to.
But a swell of boos hissed out of the mouths of a few Cougar faithful, and in one mighty roar, the decibels turned. "UofA" quickly morphed into "B-Y-U," and as the Cougars returned from a break, the rest was history.
Chaz Ah You sprint toward the line of scrimmage for a short gain, Tyler Batty forced a 17-yard sack, and Arizona missed the ensuing 44-yard field-goal attempt to stay down eight.
And the rest was history.
"Our whole defense was feeding off that," said BYU defensive lineman Uriah "Lopa" Leiataua, who had three tackles and a sack. "I kid you not, I was gasping for air. But when that happened — we feel it.
"Thank you so much, Cougar Nation. That was dope."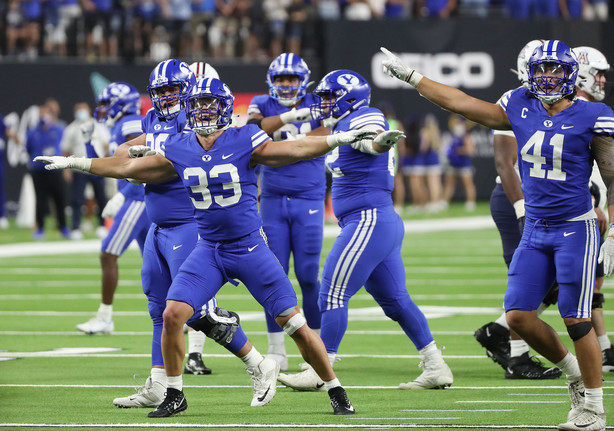 The Cougars wouldn't have been in that position, protecting a lead and everything else, without Hall's 198 passing yards, or Pau'u's 126 yards receiving — or the two touchdowns that brought the two together.
They probably wouldn't have been there were it not for Tyler Allgeier and his 5.5 yards per carry average for 94 yards and a touchdown, either.
The crowd's response is less tangible, but the players felt it, no less.
"It was fun to see a lot of blue; it felt like a rivalry game," Allgeier said. "I'm just grateful for Cougar Nation, and for the other team, for putting this together for us."
Added Leiataua: "Cougar Nation was killing it, especially on defense. They wanted to call us out? We just went crazy."
It was anything but unexpected, too.
"It was fun," Hall said. "I've said it before, we have the greatest fans in the world. To be in this environment, in the new Raiders stadium, it was great. To be in this environment was surreal.
"It was contagious, for sure."
With a 21-3 advantage all-but evaporated thanks to a safety and one electrifying Wildcats drive, the Cougars used the momentum of the stop and failed field goal to bleed 3:43 off the clock over eight plays, then pushed the deficit back to 11 points, 24-13, on Justen Smith's 40-yard field goal.
Arizona never threatened again.
But when it looked like the Wildcats might, Hayden Livingston did the rest. The former quarterback from Rigby, Idaho, whose wife Erin stars on the Cougars' top-tier women's volleyball team, sealed the win with a kiss, pulling down an interception in the back of the end zone to help BYU run out the clock with less than five minutes remaining.
Moments change games, and that was definitely one of them. Perhaps, in many ways, the biggest one.
The crowd erupted. Allegiant Stadium felt like a home game — maybe, in some ways, because of the large confines provided by an NFL stadium — even moreso.
The players would love for nothing more than to find out next week in their official home opener, the one against archrival Utah.
"I want to see our stadium packed, honestly packed, next week," Leiutaua said. "Let's get it packed."
×
Photos
Related Stories
More stories you may be interested in