ST. GEORGE — Proposed plans for development outside of Zion National Park's east entrance have the potential to result in hundreds of new jobs and generate millions of new money in annual southwestern Utah GDP, according to a new report by University of Utah's Kem C. Gardner Policy Institute.
The report, released Tuesday, analyzed the growth of Zion National Park as a tourism destination over the past decade along with various proposals and projects expected to happen outside of the park.
Zion National Park experienced a 47.5% spike in visitation between 2014 and 2019, according to National Park Service data. Future development plans for the area have been referred to as "EVZion+" and were proposed as a way to disperse visitors and solve "traffic jams, air pollution, lack of parking, long lines and crowded hiking trails" that had emerged as the park experienced a surge in visitation.
The future projects near the park's east entrance that could come within the next decade include an East Zion Visitors Center, 150 homes in residential developments, four new hotels with over 300 rooms and 42 miles of new hiking and biking trails.
The policy institute also looked into the new electric vehicle shuttle fleet that Zion National Park will roll out in the coming years. It noted that the project includes shuttle service from the south entrance to the east entrance as early as this year.
Using visitation and spending calculations, the report estimated that the East Zion EVZion+ projects could create 451 new Kane County jobs every year through 2030. In addition, it would create $16.5 million in additional earnings, nearly $30 million in new GDP and $4.4 million in new state and local tax revenue.
It could also support nearly another 100 jobs every year in Washington County along with $4.3 million in additional earnings, $7.3 million in GDP, and $1.1 million in added state and local revenue, the report added.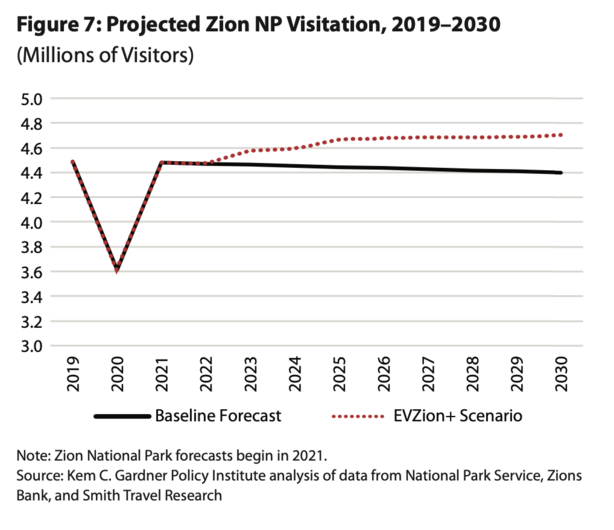 Kane County Commissioner Brent Chamberlain said the findings highlighted the power of new development closer to the park's east entrance.
"Public-private investment in infrastructure, including a new visitor center, electric shuttle system, over 40 miles of new trails, and new lodging and retail services, will help with Zion National Park overcrowding and create both good jobs and economic growth across Kane and Washington counties," he said in a statement Tuesday.
The report also highlighted some interesting trends pre-COVID-19. It found that people traditionally visiting Zion National Park are considered "big spenders." For instance, the researchers found that the average travel party spent $1,133 per stay in 2019.
But that's not just money spent inside the park. In the report, Gardner Policy Institute senior research analyst Jennifer Leaver and senior research economist Levi Pace wrote that visitation to Utah's five national parks produces "a 'halo effect' by drawing visitors to parks and local gateway communities as well as generating additional visitor spending in Utah's regional and statewide economies."
In all, visitors spent a record $253.6 million in Kane and Washington counties that year, which supported close to 4,500 jobs, as well as $140.5 million in earnings, $235.3 million in GDP, and $42.2 million in state and local tax revenue.
While an economic boon, Zion's growing popularity led to new concerns of overwhelmed infrastructure, road congestion and pollution. That prompted calls for ways to break up crowds from going to the same routes and parts of the park.
Over the past few years, some projects have emerged. Officials for the Zion National Park Forever Project said in 2019 that there was a plan for an East Zion Visitor Contact Station that would include a museum, exhibits, food, a theater and more trails close to it.
Other future plans that have been proposed include four hotels ranging in size from the 30-room Zion Ponderosa Lodge to the 182-room Grand Mountain Lodge. There are also four subdivision proposals that would result in over 150 homes and about 294 units.
The idea is that a visitor center, more trails and more development would ensure Zion visitors aren't located in the same part of the park.
While Zion National Park visitation dropped in 2020 as a result of the COVID-19 pandemic, visitation began to surge last fall. That's carried into 2021. Preliminary National Park Service data shows 332,979 total visits to Zion National Park through February this year, which would be a 28% increase compared to the first two months of 2020. The total visits through February 2020 were the park's previous record high.
The unprecedented start to the year is why Leaver and Pace wrote that they believe the region will return to 2019 visitation and tourism revenue levels this year, which would be a tourism recovery well ahead of other regions in the state.
Meanwhile, they argued that the growth without "future infrastructure investments" could hinder park experience and economic growth.
"As EVZion+ plans are realized, Kane and Washington counties will both experience economic and fiscal benefits above baseline expectations," Leaver and Pace wrote. "Gains in Kane County will be particularly pronounced as a share of its economy. … In addition, the authors feel it is important for Zion NP managers and east entrance developers to consider emerging local, national, and global issues as they develop future park management plans and direct infrastructure investments."
×
Related Stories
More stories you may be interested in