SALT LAKE CITY — There was a time when Andy Reid was just a recently graduated BYU football player spending a year as a graduate assistant to the Cougars' offensive line coach.
That was back in 1982, when Reid, a former teammate of Jim McMahon and current BYU athletic director Tom Holmoe, was still trying to figure out what he wanted to do with his post-playing career.
Just under 40 years later, Reid is a defending Super Bowl champion going for his second title as a head coach and third overall as the Kansas City Chiefs face the Tampa Bay Buccaneers on Sunday (4:30 p.m. MDT, CBS).
Football was always an inspiration for Reid. But more important to the winner of multiple NFL coach of the year awards and defending Super Bowl champion was his faith and his family. Both of those things have been on full display as he leads the Chiefs toback-to-back Super Bowl appearances, becoming just the fourth NFL team in the past 20 years to make consecutive appearances in the league's title game.
If coaching was the passion for Reid, even going back to his college days in Provo in the 1980s, then teaching was always his calling. And that's a big reason why everyone — from players to club management to opposing coaches — seems to have a positive affinity for Reid.
Yes, everybody loves Andy Reid — but few more than the Chiefs and fellow members of The Church of Jesus Christ of Latter-day Saints, a vital characteristic of Reid's personality that impacts both his professional and personal life.
"I treat people the way I want to be treated," Reid said during this week's all-virtual Super Bowl media events. "I think whether it's through what I learn in church or family, we're here as teachers.
"It's what I do; I look at myself as a teacher, in my case, of young men — whether it's on the field or off the field. If I can give them any experience that I may have had to help them become better players, husbands or fathers, I try to do that."
[embedded content]
Reid has steadily risen up the ranks since his time spent on BYU's offensive line. He broke into the NFL in 1992 as Mike Holmgren's assistant offensive line and tight ends coach, rose up to become assistant head coach and quarterbacks coach in Green Bay, and accepted his first head coaching position in 1999 with the Philadelphia Eagles.
But he's held a certain affinity for his linemen in the 20-plus years since becoming a head coach, Kansas City guard Nick Allegretti admits.
"I haven't been a part of too many programs where the head guy is an offensive line coach," said Allegretti, adding that Reid regularly looks for ways to improve the Chiefs' line play. "It's pretty cool that he's given us these opportunities.
"He's definitely taking care of us. He's an O-lineman at heart, and it's pretty cool to play for a head coach who has that offensive line background."
Just shy of his 63rd birthday, Reid has experienced a career renaissance since moving to Kansas City following his firing by the Philadelphia Eagles in 2012. The Eagles had just struggled to a 4-12 season, the worst of Reid's head coaching tenure, and a parting of some kind seemed imminent.
It didn't make it any easier for Eagles owner Jeffrey Lurie, though, who released a unique statement upon letting go of the face of his franchise after 14 years.
"Andy Reid won the most games of any head coach in Eagles history and he is someone I respect greatly and will remain friends with for many years to come," Lurie said. "But it is time for the Eagles to move in a new direction. Andy leaves us with a winning tradition that we can build upon. And we are very excited about the future."
In freeing Reid to go to Kansas City following his ending in Philadelphia, the Eagles also allowed the BYU graduate to join a storied club: NFL coaches who were fired and went on to find Super Bowl success (Philadelphia, for its part, won a Super Bowl title five years after releasing Reid).
The list includes Bill Belichick, who was fired after five seasons with the Browns and went on to win six Super Bowls in nine appearances with the New England Patriots. Pete Carroll, fired by the Jets and Patriots, also dots the list, as does the Buccaneers' former head coach Tony Dungy and Jon Gruden, who has since returned to the place of his unemployment with the Raiders.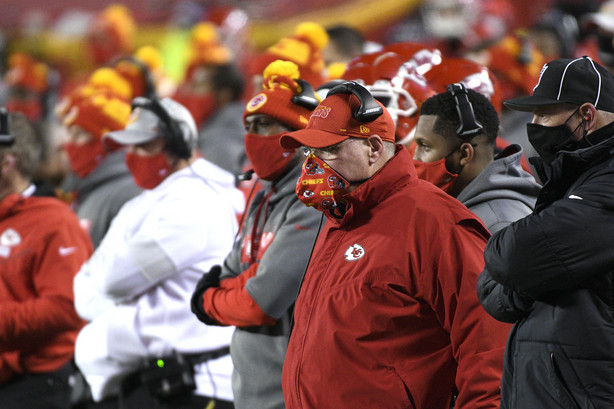 Kansas City Chiefs head coach Andy Reid watches from the sideline during the first half of the AFC championship NFL football game against the Buffalo Bills, Sunday, Jan. 24, 2021, in Kansas City, Mo. (Photo: Reed Hoffman, Associated Press)
Of course, Reid has had elite players on his Chiefs team that could be on the verge of a dynasty, if they can get past arguably the game's greatest quarterback in Tom Brady on Sunday. At the top of the list is Patrick Mahomes, the half-billion-dollar quarterback who has led the Chiefs to a 16-2 mark in a season adversely affected by a global pandemic.
Reid's preparation is unmatched in the way he maximizes the players' and coaches' time every hour, day and week, Kansas City safety Tyrann Mathieu said.
"Coach Reid has spearheaded this whole thing; he's the leader of it all," he said. "To see him show up each and every day with work on his mind, as a player, you want to follow suit, to listen to that guy, and to play for that guy."
Tight end Travis Kelce was a 2013 third-round draft pick by the Chiefs and is one of three players who has been in Kansas City during Reid's entire tenure.
"I think what he does the best as a leader, as a coach, is he challenges the guys to meet expectations," said Kelce, who caught 105 passes for 1,417 yards and 11 touchdowns in 2020. "The past two weeks, we've had the full game plan in and we've been able to get after it in practice. The fact we can trust him, he's very aware it's Week 21, and a lot of guys are banged up — but at the end of the day, we've got to get our work in.
"Going into a bye week before the actual game, coach Reid does a great job of making sure we don't miss a day, a snap or a rep. Sure enough, I think we're as ready as we've ever been this week."
Success hasn't changed the affable head coach that many lovingly refer to as "Big Red." When Kansas City won last year's Super Bowl title — the first in the BYU graduate's career as a head coach — Reid famously celebrated with a cheeseburger and then went back to working on the next season.
This year, he's joked he may have to get a double cheeseburger if the Chiefs win back-to-back titles.
Same ol' Andy Reid, says fullback Anthony Sherman, another member of the Chiefs' 2013 squad who Reid calls "sausage."
"He's not going to change who he is," Sherman said. "He's got a great personality. And the biggest thing is, he lets us be who we are. I think that's what makes Coach so lovable; he's just one of those guys who cares about you, and you don't want to let him down — kind of like a dad."
Maybe that's what makes Reid so much more than a coach — the fact that he takes pride in being a father figure to his players. While his primary role is to win football games and develop players, Reid takes an active role in their personal lives, as well, constantly checking in on his players, assistant coaches and their families.
Reid doesn't hand out copies of the Book of Mormon at the team's training facility every day. But those who know him say his faith is on full display.
"We've had the opportunity over the last couple of years to share some intimate moments with our beliefs that mean a lot," said former BYU safety Daniel Sorensen, the Chiefs' leading tackler who served a two-year church mission in Costa Rica. "I'm just grateful I've been able to be around him and to see the man that he is, even outside of football. It's pretty special; not too many people get to have such a relationship with their coach outside of X's and O's."
Sure, he wants to make great football players. But more importantly, Reid wants to raise great men, husbands and fathers.
No matter if or how many more Super Bowls he wins, that will be the defining characteristic of the legacy of Andy Reid.
"Everyone was excited for him last year," Sorensen said. "We're just as excited for him this year. We're excited to be back.
"I think we'll have another opportunity to get him another ring, which is exciting."
×
Photos
Related Stories
More stories you may be interested in