SALT LAKE CITY — Here are 10 stories you may have missed over the weekend. As always, click on the headline to read the full story.
1. Man killed, woman critically injured in shooting at upscale Salt Lake apartment complex
A man died and a woman was critically injured early Sunday in a shooting at a downtown Salt Lake apartment complex, police said.
2. Latter-day Saint leaders share message of peace, hope during annual Christmas devotional
This time last year, President Russell M. Nelson of The Church of Jesus Christ Latter-day Saints sat beside 7-year-old Claire Crosby. He played the piano as she sang Silent Night.
3. Utahns talk about participating in vaccine trials
The U.S. Food and Drug Administration still needs to formally sign off on it, but Pfizer's vaccine already has the approval of one Utah girl who recently received her second dose in the vaccine trial for teens.
4. New pilot manages emergency landing on Utah freeway — with no injuries or damage
After its engine failed, a small passenger plane was forced to make an emergency landing on the I-80 freeway near Jeremy Ranch Saturday evening.
5. Biden officially secures enough electors to become president
California certified its presidential election Friday and appointed 55 electors pledged to vote for Democrat Joe Biden, officially handing him the Electoral College majority needed to win the White House.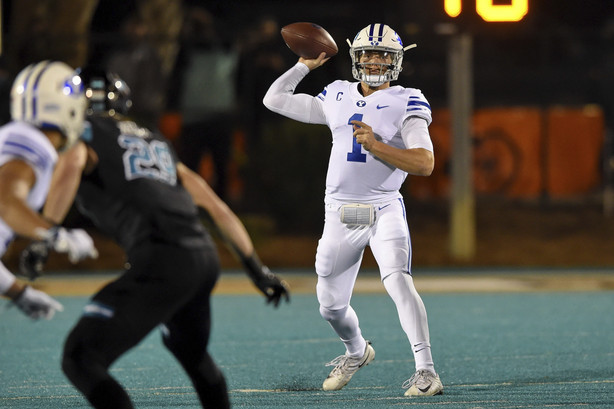 Sports
1. BYU unbeaten no more with loss to Coastal Carolina, 22-17
CJ Marable ran for 132 yards and two touchdowns, and No. 18 Coastal Carolina handed BYU its first loss of the season, 22-17, in the first-ever matchup of two top-25 teams Saturday night at Brooks Stadium in Conway, South Carolina.
2. Utah holds on to claim 1st win of season despite late 'vanilla,' 'nonimaginative' offense
The defense held strong, however, and stopped Oregon State short of a come-from-behind win as Utah claimed a too-close-for-comfort 30-24 win Saturday night at Rice-Eccles Stadium. It's Utah's first win of the season, and it comes in December.
3. Utah Royals FC reportedly moving to Kansas City
The Equalizer's Jeff Kassouf reported Saturday that while the sale of the team is not official, the National Women's Soccer League has informed the URFC players the team will be heading to Kansas City for the 2021 season. While not official, the sale is imminent, according to multiple reports.
4. BYU basketball survives upset bid to hold off Utah State for 9th-straight win
Connor Harding hit the go-ahead 3-pointer from the left wing with 57 seconds left, and Alex Barcello had 23 points, five rebounds, two assists and two steals to help BYU survive in-state rival Utah State, 67-64, Saturday night in the Dee Glen Smith Spectrum.
5. Air Force air raid (what?) sparks Falcons' rout of Utah State
If you can't outgain Air Force (3-2) through the air, you don't have a chance. And the Aggies didn't stand much of one in their final home game of 2020. All those good feelings following the breakthrough win last week were quickly forgotten as Utah State (1-2) was routed by the Falcons, 35-7, at Maverik Stadium.
×
More stories you may be interested in