SALT LAKE CITY — Here are ten stories you may have missed over the weekend. As always, click on the headline to read the full story.
1. Hiker missing 12 days in Zion National Park found 'safe and well,' family says
On Oct. 6, Holly Courtier, 38, had been dropped off by a private shuttle bus at the Grotto parking area. She was scheduled to be picked up by a shuttle bus later that day but never returned, officials said. Her intended travel plan was unknown, according to the National Park Service.
2. House Speaker Pelosi 'optimistic' on coronavirus relief deal before U.S. election
House Speaker Nancy Pelosi said on Sunday that differences remained with President Donald Trump's administration on a wide-ranging coronavirus relief package but that she was optimistic legislation could be pushed through before Election Day.
3. University of Utah reports sexual assault on campus
The University of Utah late Saturday warned its campus community of a sexual assault that was reported earlier that day.
4. Rep. Chris Stewart trying again to create sixth national park in Utah
Rep. Chris Stewart has reintroduced legislation to create a sixth national park in a piece of the Grand Staircase-Escalante National Monument.
5. Protesters rally against Trump at Women's March in Salt Lake City
Some 200 protesters joined a Women's March in downtown Salt Lake City on Saturday to voice their opposition of President Donald Trump and encourage other women to vote.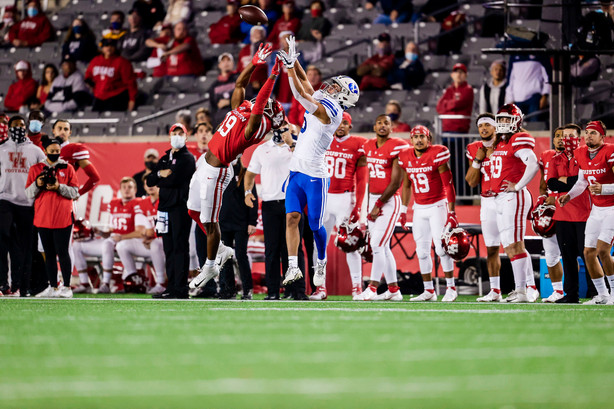 Dax Milne receives the ball from quarterback Zach Wilson. BYU played Houston at TDECU Stadium in Houston, Texas on Oct. 16, 2020. (Photo: Jaren Wilkey, BYU Photo)
Sports
1. Zach to Dax: Career nights from Milne, Wilson keep No. 14 BYU unbeaten with 43-26 win at Houston
Dax Milne caught nine passes for 184 yards and three touchdowns, the third time in four games the junior wide receiver has eclipsed the 100-yard receiving mark.
None were bigger, perhaps, than his final touch.
2. HS football playoffs: Corner Canyon leads 4 Region 4 teams atop 6A; Brighton, Sky View, Juab, Beaver take top seeds
The Utah High School Activities Association released its final RPI ratings Saturday, and with them came the unveiling of the 2020 football state tournament brackets.
3. BYU climbs to No. 11 in Coaches' Poll, No. 12 in AP Top 25 after win over Houston
The Cougars inched up two spots to a tie for No. 11 in the latest edition of the USA Today Coaches' Poll, and climbed two more spots to No. 12 in the latest Associated Press Top 25.
4. What comes next for Utah Royals FC after 2-0 loss to OL Reign, winless NWSL fall series?
Utah finishes the year winless since a 1-0 victory over New Jersey-based Sky Blue FC on July 4, their only win in five matches of the mid-summer closed bubble tournament.
5. Cedar High School girl's cross country coach Bob Corry retires after 35 years
On October 21, at the Utah 4A state championships, head girl's cross country coach Bob Corry of Cedar High School will retire, leaving a powerful and positive voice ringing in the minds of the thousands of girls he has coached over the years.
×
More stories you may be interested in